A restaurant on East Lake Drive in Montauk was destroyed in an overnight fire last week, leaving nothing but smoldering wreckage on Friday morning, just hours before it was set to open for the season.
Emergency dispatchers received the first call about a structure fire at 435 East Lake Drive at 12:11 a.m. Friday. The spot had long been home to Rick's Crabby Cowboy Cafe, the name by which many locals still referred to it. New owners were preparing to open it as Maison Close Montauk last weekend.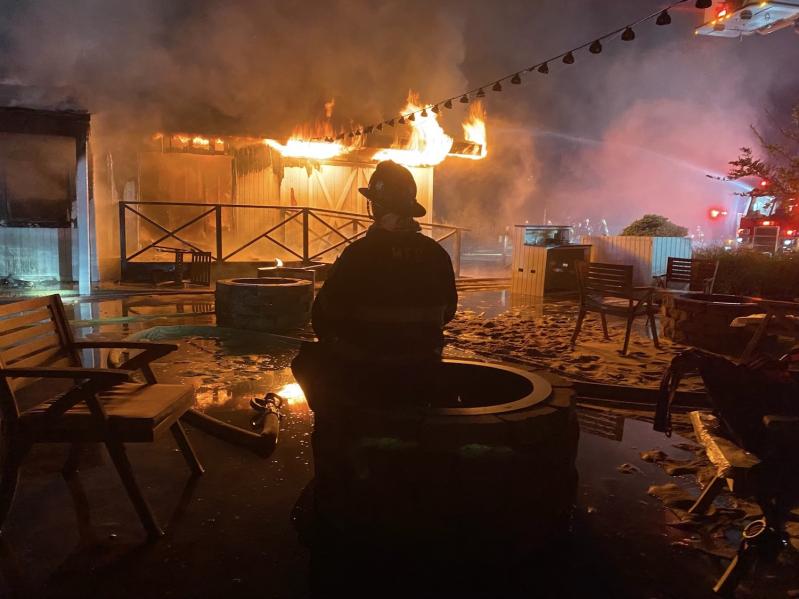 "When our first responders arrived, the building was fully engulfed," Eddie Ecker, a captain and public information officer with the Montauk Fire Department, said on Friday morning. "We responded with multiple apparatus: two pumpers, two water tankers, our tower ladder, and a couple of ambulances. There were patrons in there, but everybody was safely removed."
The Amagansett Fire Department was also on scene. East Hampton Fire Department responders headed east to back up the Montauk department, and the Springs Fire Department stood by at East Hampton.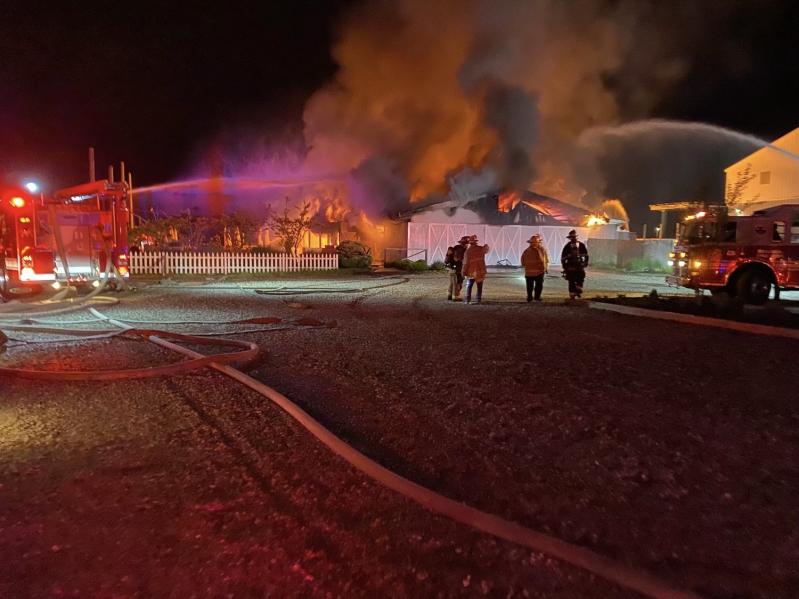 The flames lit up the sky and could be seen from all around Lake Montauk.
"What a fire," said Kimberly Esperian, a resident of Second House Road, who said she woke up to sirens between midnight and 1 a.m. "It was billowing smoke. The bells kept going off — never heard them going off so often."
Ms. Esperian described a scene of locals watching the fire burn from the Montauk Yacht Club, across Lake Montauk from the restaurant. "There were about eight of us there, and others coming and going. Two firemen had come out from Southampton because they heard about it," she said.
East Hampton Town fire marshals were on the scene Friday morning trying to determine the cause of the blaze. As of yesterday morning, the fire marshal's office was said it was "still under investigation" and that it had no new information to release.
The fire rekindled twice on Friday morning. The building was damaged irreparably.
Mr. Ecker said late Friday morning that heavy equipment was brought in to knock down the remains of the building.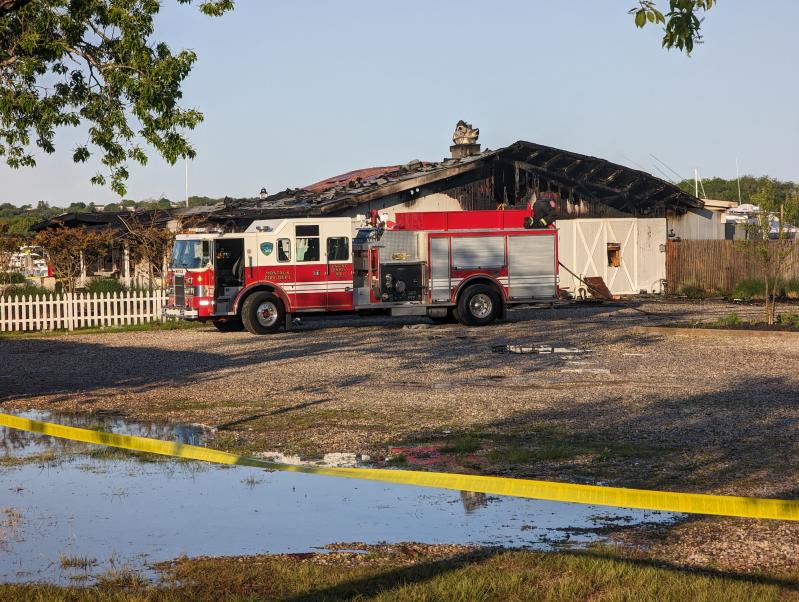 The restaurant was set for a grand opening last weekend as Maison Close, which also has a location in Manhattan. "Maison Close Montauk boasts an open yet intimate space that features the same elevated Parisian bistro cuisine with a beachside setting that's befitting to its new outpost," read an announcement on the restaurant's website. It was to be run by the same group operating the restaurant Talya at Ruschmeyer's on Second House Road in Montauk.
On Friday morning, news of the fire was sent out by the restaurants' public relations firm, R&CPMK. "We are sorry to announce that last night a fire claimed Maison Close Montauk at 435 East Lake Drive. The team is thankful that no one was hurt and for the assistance and bravery of the Montauk Fire Department. They are cooperating with authorities as they investigate the matter, and we do not have further updates at this time," said Nicole Cappuccio, an account manager.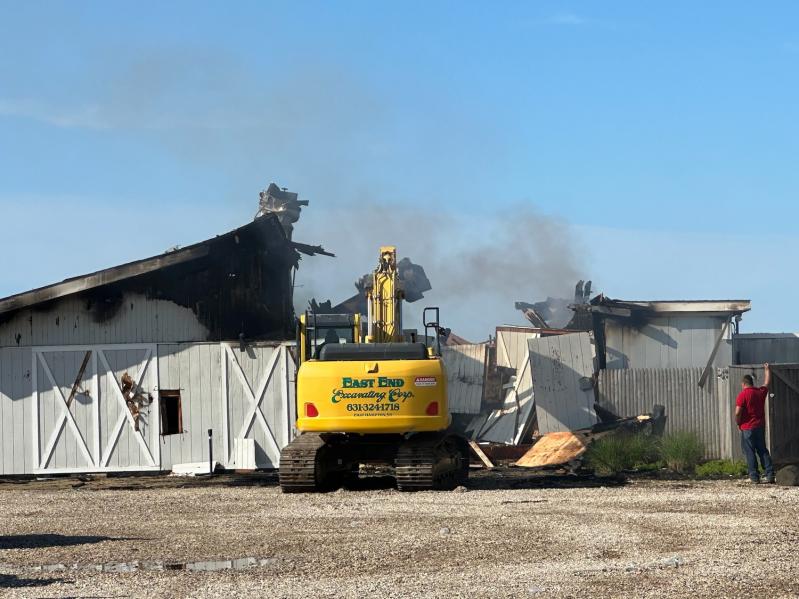 The property sold in April of 2021 for $13.9 million to Jeremy Morton, who also purchased Ruschmeyer's and already owned Morty's Oyster Stand (the former Cyril's Fish House) on Napeague and Provisions Water Mill.
Later that year, 435 East Lake Drive L.L.C. proposed a 14-unit luxury resort with a 110-seat restaurant, bar, swimming pool, and fitness center there. The East Hampton Town Planning Board came down hard on the redevelopment plans, with one member calling it "way out of bounds" and "way too large."
The East Lake Drive property is five acres and includes 6.75 acres of additional underwater land with 22 boat slips.
The application was ultimately withdrawn.
This story has been updated since it was first published.