A passer-by who called 911 early Friday morning about the smell of smoke around Pantigo Road and Spring Close Highway in East Hampton led firefighters to Moby's, where they discovered heavy smoke inside the restaurant and a "deep-seated, heavy body of fire" in the basement, according to East Hampton Fire Department Chief Gerry Turza.
Alerted at 5:45 a.m., the team "made an aggressive attack and brought the fire under control in short order," the chief said. Firefighters conducted a rapid search in zero-visibility conditions on the upper floors of the building to locate possible tenants in two second-floor apartments and a third-floor attic. Luckily, any occupants had left before firefighters arrived.
The Fire Department responded with three engines, one tower ladder truck, one heavy rescue truck, a hose truck, two tankers, and two fire police vehicles. The East Hampton Village Ambulance Association provided medical monitoring of firefighters, and both the Amagansett and Sag Harbor Fire Departments responded with rapid intervention teams, later put to use when additional manpower was needed.
The Springs Fire Department stood by at East Hampton's headquarters with an engine that was called upon to respond to an automatic fire alarm in the Hansom Hills area. A deputy fire coordinator from Suffolk County was also on the scene to assist.
Responders were "faced with extensive overhaul," meaning they had to check behind walls to extinguish multiple hotspots as the fire burned in void spaces and floor decking, Chief Turza said. The heavy timber-style framing of the old building helped keep floor support beams from burning completely through.
"Firefighters were severely hampered by heavy stock and equipment stored in the basement, which restricted access to several areas," the chief said. "Fairly extensive" damage was confined to the basement and first-floor bar areas of the building, with smoke damage throughout.
The fire was brought under control with no injuries, but significant damage to the building. Emergency personnel finally left the scene by 9:30 a.m.
The fire's origin and cause are being investigated by the town's fire marshal's office.
"We're grateful that the small fire at the restaurant last week caused only minimal damage and everyone is safe, thanks to our local firefighters who acted quickly," a spokesperson for the restaurant said yesterday. "We're working closely with the Town of East Hampton . . . to reopen better than ever by Memorial Day weekend. We'll know the exact date shortly of our reopening next week, and will share on @mobysny once we're able to confirm."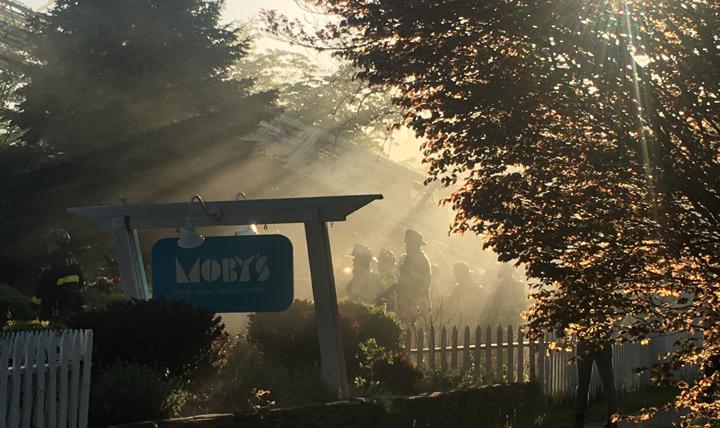 ---
This story has been updated since it was first published.