In a case that started in August 2020 with two felony charges following an alleged road-rage fight in East Hampton Village, which left a Springs teenager with severe brain injuries, Charles Streep left the East Hampton Town Justice Court Wednesday having accepted a plea deal: guilty of disorderly conduct for obstructing vehicular or pedestrian traffic.
Disorderly conduct is a violation, not a criminal charge. Mr. Streep, who lives in East Hampton and Manhattan, was fined a total of $375 — $250 for the violation and $125 in court fees. It was his second in-person appearance in town court since his arraignment.
Justice Steven Tekulsky noted that there had been a "comprehensive evaluation of the facts and evidence" in the case and gave Mr. Streep an unconditional discharge. In a statement released afterward, two of his attorneys, Andrew J. Weinstein and Brian DeSesa, said their client was "extremely grateful that justice has finally been served."
"In our view, today's court proceedings confirm what we have previously indicated — that Mr. Streep was innocent of all criminal charges that had been lodged against him," they said. "We were confident from the outset that, notwithstanding the distorted and self-serving narrative being peddled to the media by Mr. Peralta and his attorney, a full, fair, and impartial review of all the evidence in this case would establish that Mr. Streep did not commit any crime."
Mr. Peralta, 19, was 18 when the physical altercation with Mr. Streep, now 32, occurred in a parking lot off Main Street in East Hampton Village. Witnesses told police it started when Mr. Streep's Audi ran a stop sign, almost colliding with Mr. Peralta's Ford. A video recording released several months afterward shows that they tussled with each other; both wound up on the ground.
Mr. Streep then left the parking lot, exiting through the entrance to the Chase Bank drive-through lane. Mr. Peralta was taken to Stony Brook University Hospital that evening, where emergency brain surgery was performed. He has said that he still experiences bad headaches; now, a long scar from that surgery snakes up the side of his head from his right ear. His medical bills have surpassed $125,000.
Now that the criminal case has concluded, discovery and arguments in Mr. Peralta's civil case can resume. He is seeking both compensatory and punitive damages. Judge Barbara Jaffe of New York County Supreme Court had stayed the civil case pending the outcome of the criminal proceedings.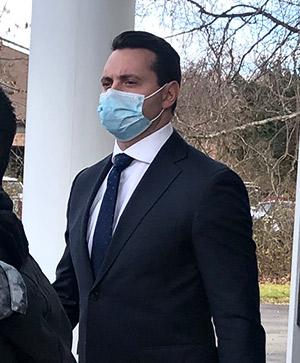 Mr. Peralta was not present in the courtroom to hear the outcome of the case, having arrived at 11:01 a.m. It was initially scheduled for 11 a.m., but Mr. Streep was called up early, and Mr. Peralta learned of the outcome from a reporter. He remained even-keeled as he was being interviewed.
"It's already done," he said. "I was always willing to testify for the criminal case, and now that it's over, I'm . . . ready to go on with it, with the civil case."
He said he didn't think Mr. Streep "meant to do damage."
"I'm getting back into my normal self, being happy again, but the past year has really been a rough time."
In the courtroom Wednesday, after the plea and charge were dismissed, Mr. Weinstein sought to recast the case and spoke out on the approach used by Mr. Peralta's attorney, Edmond Chakmakian. Mr. Weinstein said Mr. Chakmakian "courted" the media and "peddled a false and deceptive narrative" driven "solely by a desire to line their own pocket."
Mr. Weinstein claimed that Mr. Peralta lied about how the incident started, and pointed to a video which, he said, proved Mr. Streep was not even close to the stop sign on the Circle that Mr. Chakmakian says he "blew through." Instead, Mr. Weinstein argued that the video evidence showed Mr. Peralta illegally crossing a double yellow line on Main Street as he headed west and turned into the Circle at an odd angle and at "an excessive rate of speed."
Mr. Weinstein also pushed back on the narrative that Mr. Streep had somehow "beat down" Mr. Peralta. Instead, he said Mr. Peralta, who was a high-school wrestler, had injured his head only during the process of grabbing Mr. Streep and body-slamming him to the ground. He claimed that both men hit the ground at the same time and that Mr. Streep himself had sustained a concussion and fractured vertebrae.
Finally, on the issue of Mr. Chakmakian's effort to have the charges elevated to a hate crime, Mr. Weinstein said Mr. Streep was unfairly painted as a racist who allegedly spewed racial epithets during the altercation. Mr. Weinstein cited the accounts of three witnesses, including an initial 911 call made by Mr. Peralta's girlfriend, none of which described the use of such slurs. The ultimate irony, Mr. Weinstein said, was that Mr. Peralta himself had recently been kicked off certain social media platforms for the use of hate speech.
Mr. Weinstein concluded by saying that his goal was to show how the case got to where it was, and to dispel any notion that there was favoritism in dealing with Mr. Streep, who is a nephew of the actress Meryl Streep. Instead, he said, Mr. Streep was penalized only with a fine simply because he had "committed no crime."
Responding later Wednesday to Mr. Weinstein's comments, which were relayed by his assistant, Mr. Chakmakian said he was surprised, and suggested the defense attorney "needs to read" the detectives' report and the witnesses' statements again.
"They clearly said that David was either slammed or dropped to the ground. That's what caused his injury — not David defending himself."
Mr. Chakmakian said he was not able to be in court Wednesday because "the district attorney gave me a whopping 20 hours' notice."
As for the civil case, he said it is "going full steam ahead."
"Nothing arising from the outcome of the criminal case will affect the civil matter," Mr. Chakmakian said. "It's a completely different system — a much lesser burden of proof. I don't have to prove intent, I just have to prove that Streep was negligent in causing David's injuries."
Mr. Peralta said he tries not to think about his encounter with Mr. Streep. "I'm trying to not make it have so much of a big impact emotionally," he said. "If I'm being honest, if the criminal justice system is not going to judge him, one day someone will, God will, and that's how it's going to be."