Andrew Mitchell took the stand Friday morning, giving the jury its first glimpse into what happened on the evening of Sept. 5, 2019, when his longtime girlfriend, Patchita Tennant, shot him three times. 
Jurors also got a picture of the couple's life. Over their 20 years together, Mr. Mitchell was often unfaithful and went about his own life while Ms. Tennant worked long hours at the CVS she managed in East Hampton and cared for their young daughter.
Eric Aboulafia, an assistant district attorney for Suffolk County, anticipated the questions Mr. Mitchell's transgressions would raise. He questioned his own witness about his other relationships, including a four-year marriage to a woman in Indiana while he was living with Ms. Tennant and, more recently, one with a woman he brought to the United States and rented a cottage for in Riverhead. He also asked Mr. Mitchell about a prior misdemeanor conviction related to his construction business.
Ms. Tennant's attorney used Mr. Mitchell's past to chip away at his credibility during cross-examination Friday afternoon. 
Mr. Mitchell, who owns his own construction company, Mitchell Design Builder, in Water Mill, said he had two meetings in East Hampton on the day of the shooting. (He previously worked for the East Hampton firm Ben Krupinski Builders.) He stopped by the Riverhead cottage of the woman he brought to this country, identified only as LaToya, but she was not there. He soon left and got to the house he shared with Ms. Tennant on Pleasure Drive in Flanders a little after 7 p.m. No one else was there. 
He said he checked out a problem he was having with his pool and then went upstairs to the master suite, where he took a shower. He texted Floria Bautista, a woman who took care of the couple's then-3-½-year-old daughter, Vanessa, to say he was home so she could drop the child off. He was at the bathroom vanity shaving when he heard a knock at the bathroom door.  
Ms. Tennant was on the other side of the locked door; she said she needed a head scarf that was in the bathroom. He unlocked the door and handed it to her, then closed the door and locked it again. While he continued to shave, he could hear the doorknob turning as Ms. Tennant tried to enter. She asked why the door was locked. 
"Isn't Vanessa out there with you?" he recalled saying to her. He was naked, and he testified that he always locked the door so that his daughter could not barge in. He said Ms. Tennant told him Vanessa was outside sleeping in the car. 
He said Ms. Tennant banged on the door. She grew more upset. "The door was busted open," he said, adding that the first thing he did was look at the damaged door jamb. He began to ask if she was going to pay to have it repaired, "not realizing that was the least of my worries." 
Ms. Tennant was standing in the doorway with two hands on a revolver, pointing at him, he said. At first, he thought it was a toy. He said he does not know anything about guns, but he knew it was a revolver. 
"She was serious," he said. She reportedly told him, "You think I'm joking?" before firing the first shot. 
He felt a burning sensation in his chest. "Now I know it's a real gun," he recalled thinking. He said, "Are you crazy? You're going to kill me!" 
"Yes, I'm going to kill you and then kill myself," she said next, he told the jury. 
She ran around the bed and jumped on top of it and then fired another shot toward the bathroom. He felt it again in his chest. He testified that he thought, "I've got to get that gun from her, otherwise she's going to finish me off." 
Despite feeling weak — "like I was drowning" — he lunged at her on the bed to try to grab the gun. It went off again. They struggled and fell on the bed. He said he grabbed the gun's handle while she was still gripping it, and pulled the trigger in an attempt to empty the barrel. He was shot three times in total, but five bullets were fired.
"I didn't want her to get shot and I didn't want to get shot anymore," he told Mr. Aboulafia during his nearly two hours under direct examination. He said he heard "click, click, click" and knew there were no bullets left. 
Asked on cross-examination by Ms. Tennant's lawyer, Matthew Tuohy, how he managed to know how to discharge bullets, especially in the middle of a struggle, he said, "I'm 47. I've watched many movies." 
"Wasn't it your gun?" 
Mr. Mitchell denied he owned a gun or had seen that one before. "I don't like guns," he said. 
"You somehow figured out how to manipulate and discharge the bullets?" 
Mr. Mitchell finally admitted to having used a gun once with a friend at the Calverton Shooting Range.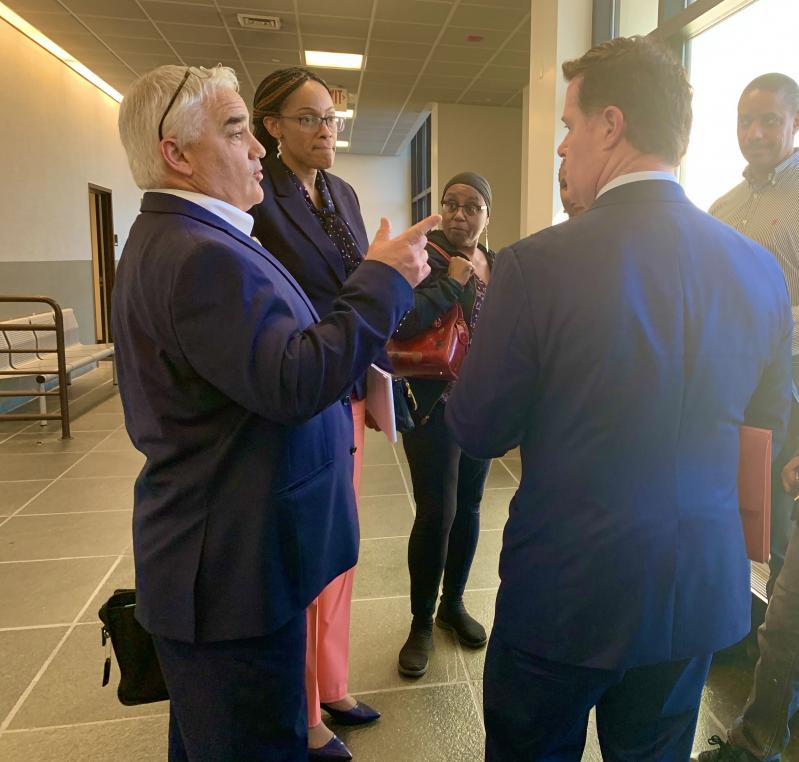 Mr. Tuohy said it was Mr. Mitchell who had been the aggressor when he found out that Ms. Tennant was taking his daughter to sleep at her family's house that night. Mr. Tuohy asked him if he got the gun from his closet, telling her to leave his house and that he would write her a check. When Ms. Tennant tried to knock it out of his hand, a struggle ensued and he got shot.
"That's not true. That's not what happened," Mr. Mitchell said several times over.  
After Ms. Tennant ran from the house, he called 911. He was airlifted to Stony Brook University Hospital, where he underwent a three-hour lifesaving surgery for a collapsed lung. A portion of his lung was removed. He was in the intensive care unit for eight or nine days. 
"At that point I was just hoping I would live for Vanessa," he said. 
Mr. Aboulafia showed Mr. Mitchell photographs already entered into evidence of the master bedroom and bathroom following the shooting. Mr. Mitchell pointed out Ms. Tennant's head scarf on a chair, next to black duct tape, which he said had not been there before his shower. He also pointed to the cellphone she had left behind on the dresser in front of the bed, next to a pair of gloves, which he also said had not been there earlier. 
A small brown handbag belonging to Ms. Tennant next to the dresser had a single bullet in it amid some tissue paper. A detective later testified that no prints were found on the cartridge. 
The prosecutor finished up by asking if Mr. Mitchell still loved Ms. Tennant. "I care about her a lot. I don't know if I still love her after she tried to kill me." 
Mr. Tuohy pressed further about his other romantic relationships. He previously testified in 2004, just a year after Ms. Tennant had moved in with him in another house he owns, that he'd married another woman, Rhonda, who lived in Indiana. He claimed each woman knew about the other, and that he only visited Rhonda but never lived in Indiana. 
"The truth is you really weren't honest with her," Mr. Tuohy said to him. 
"I was not dishonest with her. I was direct and she knew," he said of Ms. Tennant, who appeared to get emotional. 
Mr. Mitchell and Rhonda's marriage ended in 2008. He said keeping up a long-distance relationship and traveling were difficult. 
In 2012 and '13, his relationship with Ms. Tennant grew difficult, too. He said they never saw eye to eye. He wanted to build a house in the Caribbean, but she did not. In fact, she could not travel outside the country because her work visa had expired, but he often vacationed overseas. He told her they could get married once he obtained United States citizenship. Although he did become a permanent resident, he is still waiting to become a citizen. 
The couple remained together, buying the Flanders house together in 2015. In January of 2016, their daughter was born. Ms. Tennant had three miscarriages before that. "When Vanessa came that kind of pulled us together, closer," Mr. Mitchell testified. But by 2018 their relationship was rocky, he said. 
They had heated arguments, he said, but they were never physical. "I know the consequences of ever putting my hands on a woman," he said. "So I would excuse myself and go to the boat." He kept a 42-foot Hatteras not far away at Riverside Marina. 
In January, Mr. Mitchell flew to his home country of Grenada for a two-week vacation and was introduced, over a text message, to LaToya, who lived in St. Vincent, a small island about 80 nautical miles from Grenada. They continued a relationship over text for several months, and arranged to meet in Barbados while he was there for a golf tournament in May. A sexual relationship began, he said. 
He visited her in St. Vincent over the July Fourth weekend, and they decided she would move to the United States. He picked her up at the airport on July 27 and put her up in a cottage in Riverhead. On Thursday, Dee Muma, who owns a horse farm and property on Roanoke Avenue in Riverhead, testified that Mr. Mitchell told her he rented the cottage for his sister.  
While Mr. Mitchell claimed he always put his daughter first and treated Ms. Tennant with respect, Mr. Touhy asked him how that was, when he had "paramours up in cottages and having liaisons with them." 
Meanwhile, Mr. Mitchell accused Ms. Tennant of trying to set his boat on fire. He said he often spent Friday nights on his boat because he played golf nearby on Saturday mornings. On the night of Aug. 9, Ms. Tennant went to it, but he wasn't there; he was at the cottage. In the morning when he returned to the boat, he found the stove on. 
Ms. Tennant had grown increasingly suspicious with the amount of time he spent out of their house. She met LaToya twice at Mr. Mitchell's office, where she worked as a bookkeeper, in August. Ms. Tennant accused him of cheating, saying, he recalled, "The girl can't even look me in the eyes." He denied the affair. 
Ms. Tennant and Mr. Mitchell made plans to spend Labor Day weekend on the boat with Vanessa, but, she told him, "I cannot do this anymore" without further explanation, and took their daughter and left, he said. 
Ms. Muma testified on Thursday that just a few days later, on Sept. 4  — the day before the shooting — she saw Ms. Tennant on that property, within view of LaToya's cottage. She did not know her by name at the time, but approached the sport utility vehicle Ms. Tennant was sitting in when she heard yelling coming from inside it. 
The trial will continue on Monday. Ms. Tennant is expected to take the stand next week.