What is it like to go into a burning building to snuff out a fire? To ride to a blaze in a fire truck with the siren blaring? To help a neighbor in need? 
Many say these experiences are both thrilling and fulfilling, but drawing new recruits into the fire services on the East End, which are still all volunteer, is harder than ever, in part because the required training for new members often takes place far away. But this summer an entry-level firefighting class is being planned in Wainscott, making it the perfect time for people on the South Fork to get involved, local fire chiefs say. 
It will be the first time in recent memory that the 110-hour class, run by the Suffolk County Fire Academy, has been held in East Hampton Town. It will take place in August at a regional training facility run by the East Hampton Town Fire District Association. 
"Having this class out east means less time sitting in traffic to get to a three-quarter-hour class after working all day. This takes the edge off," said East Hampton Fire Chief Gerard Turza Jr. Chief Turza sits on the recruitment/retention committee for Suffolk County Fire Rescue Emergency Services, and said he sees firsthand how volunteerism is down not just locally but countywide. He was instrumental in bringing the new-recruit training to Wainscott.
"We're trying to make it easier for somebody to take time out of their life to get it done," said Chief Ed Johnston, the deputy director of the Suffolk County Fire Academy. The Yapank academy, founded in 1943, offers training for all 109 departments in Suffolk, including 13 entry-level, or Firefighter 1, classes a year, most of them held farther UpIsland, at a cost of roughly $14,000 per class, which comes from tax dollars funneled through Suffolk County Fire Rescue Emergency Services.
The Wainscott class is especially good news for prospective volunteers from Montauk, said Montauk Fire Chief David Ryan. "You can find three hours; you can't always find six," he said of the extra travel time it would take to get from Montauk to Yaphank, a 58-mile ride one way, typically a 90-minute drive without traffic. The 19-mile ride to Wainscott will take about 30 minutes.
(This summer, the entry-level firefighter class will also be held for the first time on the North Fork, at the Mattituck Fire Department.)
Only the classroom sessions will be held at the Wainscott facility; trainees will still have to travel to the academy in Yaphank for three hands-on classes on Saturdays. 
After years of talks with local fire chiefs, the academy has begun using the Wainscott training facility more frequently, offering several classes there this year. Chiefs have found success when classes are held regionally rather than at various different firehouses. 
The Lawrence Franzone Training Center, named after a former Montauk fire chief, is on Industrial Road in Wainscott. The town owns the building, once home to Walt Disney Imagineering, and leases it to the association, made up of the six fire districts that serve residents from Montauk to Bridgehampton as well as Sag Harbor. Commissioners and chiefs from the districts oversee it. 
A two-story residential structure built inside the facility is piped with a smoke machine and has movable walls to allow for constant floor-plan changes, a maze prop, and forcible entry simulators. Outside, there is a roof operations prop, a vehicle extrication training pad, and props simulating a propane or butane emergency.
All the equipment at the center can be used by the fire departments to provide their members with further training.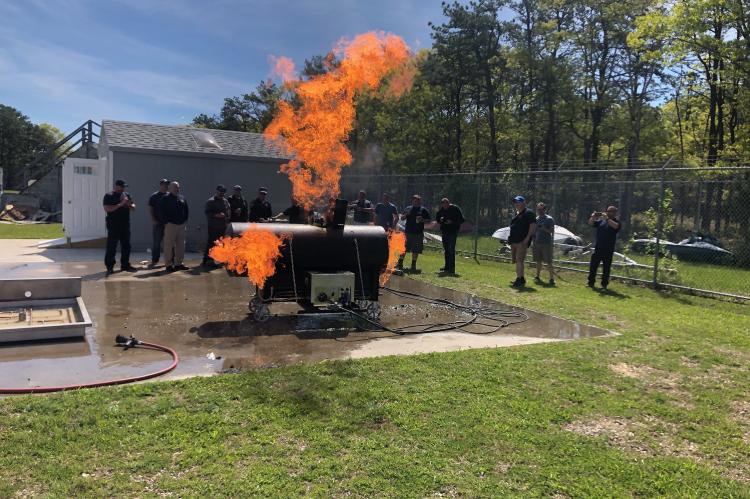 The entry-level class will begin in late August, and while that may seem a long way off, volunteers have to join a department in order to sign up for the training, and the process can take longer than some might think. Depending on the department, it may be several months before new volunteers are accepted on the rolls. 
Registration for the class, which can accommodate a maximum of 50 trainees, begins in late June. 
How do you know if you're firefighter material? 
"You have to be physically fit. You have to be in decent, good health," said Darrin Downs, chief of the Springs Fire Department. And it helps to have your family's support. "You need to be willing to wake up in the middle of the night," he said with a laugh. 
New members need not be in their late teens or early 20s. "Sometimes you're waiting for the right moment in life when the kids are older, work is more stable. We need help from all stages of life," Chief Turza said.
Chief Downs described a woman in her 60s who recently joined his department's ranks. "She's older than half of the department, but she climbs mountains in her spare time. She's in better shape than 98 percent of our department. . . ." 
Chief Turza recalled an older man who walked in off the street interested in joining the East Hampton department last fall. He was not sure whether fighting fires from inside was for him or if he should instead stick to exterior operations, like hose or ladder handling or even helping direct traffic as part of the fire police.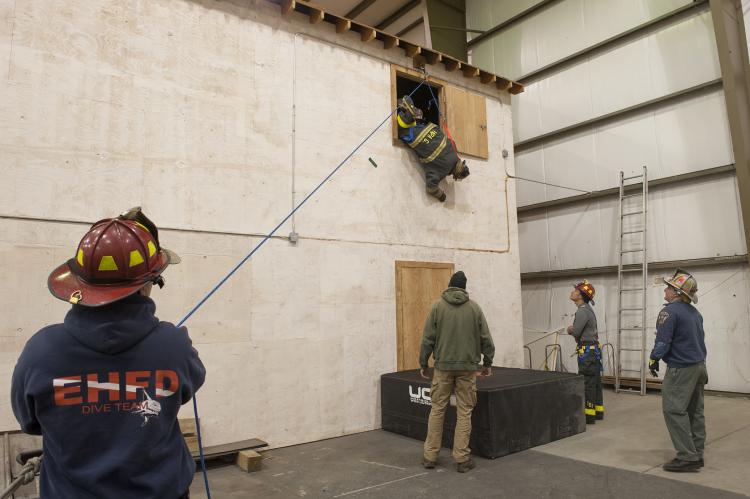 "He went through fire school and loved it. He loved every minute of it," the chief said, and was so enthusiastic that now he is pursuing additional training. "You would have thought he was in the fire department for years." 
Diversity is important, Chief Turza said. "We come from all different backgrounds. We have people in all trades, active and retired, and that helps form a very robust and effective work force, especially when you couple it with varied demographics." 
The East Hampton Fire Department has room for 195 people on its rolls and has roughly 140 now. The Montauk Fire Department has 118 members, 24 of whom are in the ambulance company. Springs has an average of 85 members, and Amagansett has 88, 61 of whom are firefighters.
While most departments require that members live within their jurisdiction, many also accept those who work in their district. And Amagansett, for instance, accepts firefighters from elsewhere who summer there. Individual departments can answer questions about residence requirements.
"The bottom line is we need help," said Chief Turza. "If you've got the desire to join the community, if it's always been a thought in the back of your mind, come and see what we're all about."
Chief Johnston said those who complete the class successfully earn a sense of accomplishment and pride. "It's a great feeling. It really is. Some people don't know they had it in them," he said. "If you're community-oriented and living in that neighborhood, why wouldn't you want to help that neighborhood?" 
The class will be held every other Tuesday, starting with an orientation on Aug. 25, at 7 p.m. The final exam will be on Dec. 5.