Update: The owner of the New Age, a commercial fishing vessel from Montauk that took on water Wednesday morning, forcing its crew to evacuate the boat 25 nautical miles south of Fire Island, raced to his boat and is now aboard, heading for a New Jersey port in an effort to save it. 
Chris Winkler of Montauk, the boat's owner, had just landed at J.F.K. Airport after a two-week vacation with his girlfriend, Tracy Stoloff, when he received a call from the Coast Guard that his crew had been forced overboard. "The first question out of Chris's mouth when he was talking to the Coast Guard is 'How is my crew? Where is my crew?' "
One crew member was injured and taken to the hospital.
Mr. Winkler was told that it was too dangerous to try to save the boat, though it had not yet sunk or capsized, Ms. Stoloff said Wednesday evening.
He called his brother-in-law, Matt Fabrizio, and they raced to Mr. Fabrizio's boat in the Islip-Bay Shore area, while Ms. Skoloff retrieved some gear from his garage for their trip to the New Age. Mr. Winkler was able to get onto his boat, which was still floating and drifting, and use pumps he had brought to get enough water off it so he could try to make the trip to Belford, N.J., the nearest and safest port, Ms. Stoloff said.
"He is steaming the boat right now," she said around 6 p.m. A Coast Guard cutter was trailing him. "They saved that boat," she said. 
Ms. Stoloff received a call from a petty officer with the Coast Guard, who, alone on the boat, updated her. She said he should be at the port in three to four hours.
Mr. Winkler has owned the New Age for 30 years. 
Originally: The captain and crew of New Age, a commercial fishing vessel out of Montauk, had to abandon ship with water washing over the deck while 25 nautical miles south of Fire Island Wednesday morning. One person was taken to the hospital. 
Coast Guard Sector Long Island Sound first received a distress call from the 45-foot boat, operated by Capt. William Carman, at 4:35 a.m., according to Petty Officer John Hightower.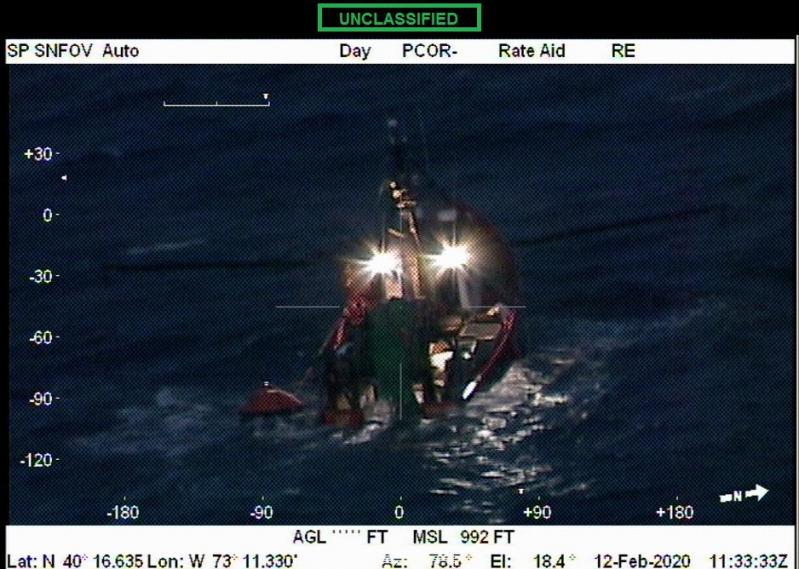 Chris Winkler of Montauk owns the New Age. He could not immediately be reached.    
The dewatering pump was not working, and the three men on board told the Coast Guard they were preparing to deploy a life raft and were donning flotation devices. 
A 45-foot response boat from Coast Guard Station Fire Island arrived at 6:44 a.m. and found the three men in the water. Though they had deployed the life raft, they were not in it, Officer Hightower said. All three were wearing survival suits, used in cold weather.
One of the men, whose name was not released, was injured when jumping overboard, the petty officer said. A medevac helicopter from Air Station Cape Cod flew him to Good Samaritan Hospital in West Islip. He is expected to recover. 
The boat has not yet capsized, but it is flooded and drifting. The Coast Guard is monitoring the situation while a plan for what to do with the boat is formulated.