No one was seriously injured in a multi-vehicle accident on East Hampton's Main Street Tuesday afternoon. 
The pile-up, which spilled onto the sidewalk in front of the Huntting Inn in the village, happened just after 4 p.m. The driver of a Honda sport utility vehicle, which was towing a travel trailer used for camping, either fell asleep at the wheel or experienced a medical emergency while heading east, East Hampton Village Police Capt. Tony Long said.
The Honda hit a Range Rover that was also heading east. The impact caused the trailer to become disconnected from the Honda. The Range Rover and the trailer also hit a Volvo, which may have been parked on in front of the Huntting Inn at the time. Police were still investigating. 
A street light was also taken down in the crash.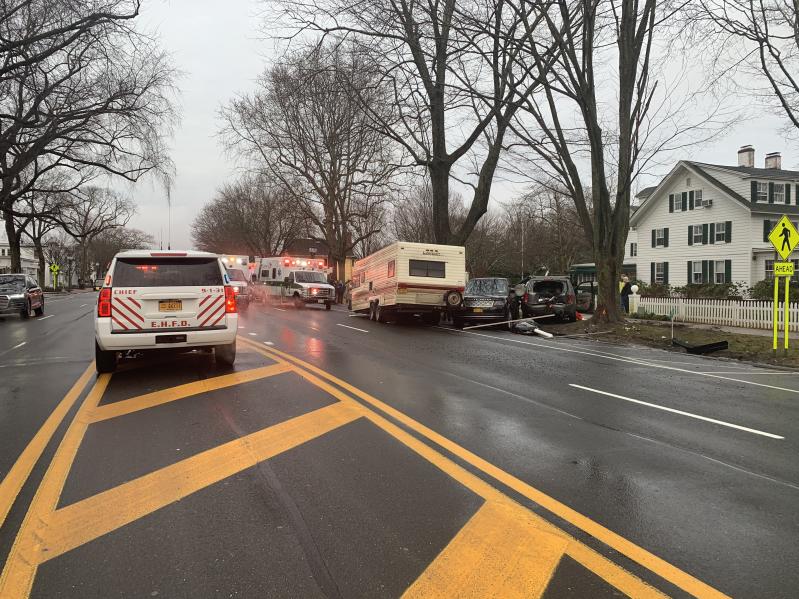 All three of the ambulances from the East Hampton Village Ambulance Association responded to the scene and transported patients to Stony Brook Southampton Hospital, but no serious injuries were reported. Police said most patients were taken for precautionary reasons. One of the vehicles was carrying two small children.
Traffic in the eastbound lanes on Main Street, which is part of Montauk Highway, was diverted down David's Lane while police cleared the scene. 
Captain Long said he did not anticipate any criminal charges being filed. The names of those involved in the crash were not immediately available.