A driver was seriously injured when his pickup truck slammed into a tree and burst into flames in Springs on Friday just before midnight. 
Jason Norris told The Star that he and his wife were asleep inside their house on Neck Path when they heard "a giant explosion and woke up to a giant fireball right outside our front window." The accident was first reported at 11:52 p.m.
He found a pickup truck ablaze across the street from his house. He said he was on the phone with 911 when an East Hampton Town police officer who had been in the area arrived — within a minute of the accident.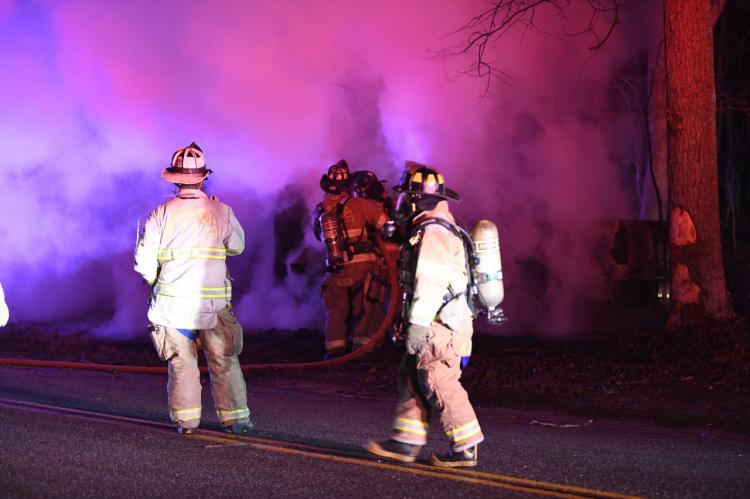 The driver was on the ground, in the woods, away from the fiery truck, according to Mr. Norris. He had made it out of the vehicle without burns. 
Mr. Norris said the man was screaming. His leg was obviously broken and he was "banged up and bloody." 
Mr. Norris said the driver told him he swerved to avoid a deer. The truck appeared to have grazed one tree and then hit a large oak head-on. Flames reached about 30 feet in the air, leaving behind a charred trunk and branches.  
The driver's name was not released. Mr. Norris said no one else was in the single-cab truck.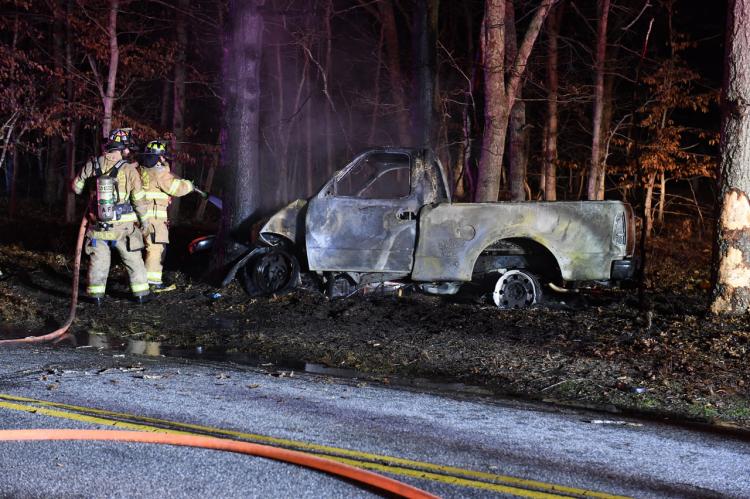 The Amagansett Fire Department's ambulance was called "forthwith" to the scene. Emergency medical service personnel requested a Suffolk medevac helicopter to take the driver to Stony Brook University Hospital, the nearest level-one trauma center.
Officers on the scene requested that detectives be called to investigate the cause of the crash. 
Meanwhile, firefighters extinguished the fire. "It was a huge, huge explosion, and all the flames were coming over to our side of the street," Mr. Norris said. He hosed down the vehicles in his driveway and outside of his house out of fear they would catch fire, he said, before firefighters could control the flames.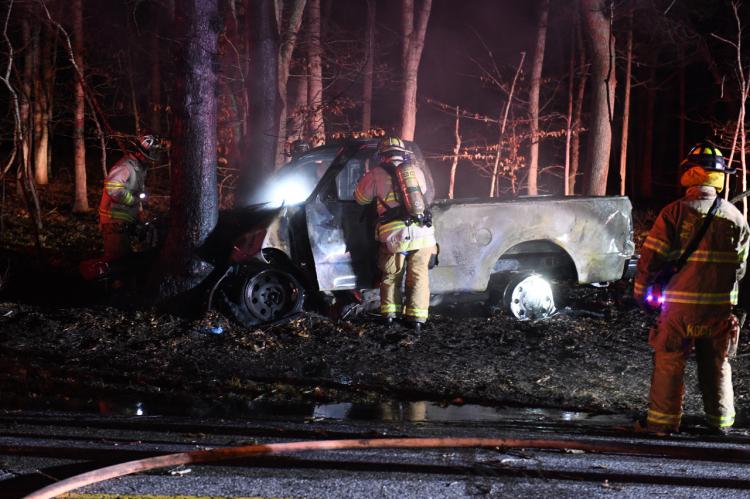 Neck Path, between Old Stone Highway and Accabonac Road, was closed. The road appeared icy in places around the time of the crash. 
With Reporting by Doug Kuntz