You've likely noticed more water puddling, or maybe a new rivulet running through your yard after rainstorms, or miniature lakes increasingly pooling along roadsides. With more severe storms bringing torrents of water in short bursts these days, the earth struggles to keep up. The loss of old-growth trees without replacement, along with significantly more roofs and asphalt driveways that are impermeable to water, all compound the issue.
All those drops add up: half an inch of rainfall over a 30-by-10-foot driveway or road can total more than 90 gallons, according to the U.S. Geological Survey, if it comes down quickly enough. But what's there to do about it?
The answer may lie in rain gardens as an opportunity to work with nature to restore balance, using the contours of the land to capture water that flows to lower elevations.
Situating a garden at the nadir of the water's path becomes productive: the plants' roots absorb rainwater and nitrogen runoff, while the soil filters particulates before they end up in our waterways. It's broadly known that nitrogen from fertilizer increases algal blooms and cloud the water to disrupt the balance of seagrass and our beloved bivalves. Land-lubbing plants in a rain garden can improve our troubled aquatic ones.
Tony Piazza of Piazza Horticultural in Southampton has worked on several rain gardens, both public and residential, including one near the library on Main Street in East Hampton. Filled with native plants blooming from spring into the fall, in addition to providing berries or seed heads to sustain birds in the winter months, he says it's a great example of a rain garden that is both scenic and functional.
"Habitat restoration is the key to reversal of native bird and pollinator decline," Mr. Piazza said. Rain gardens are one way to ameliorate the dramatic loss of 3 billion birds in North America over the past 50 years, a decline in bird population by one third, according to the journal Science.
Reflecting on the impact of his rain garden projects, he said that "the space was put in balance with the local ecosystem. The wildlife returned. There was a tangible sense of correctness in the landscape."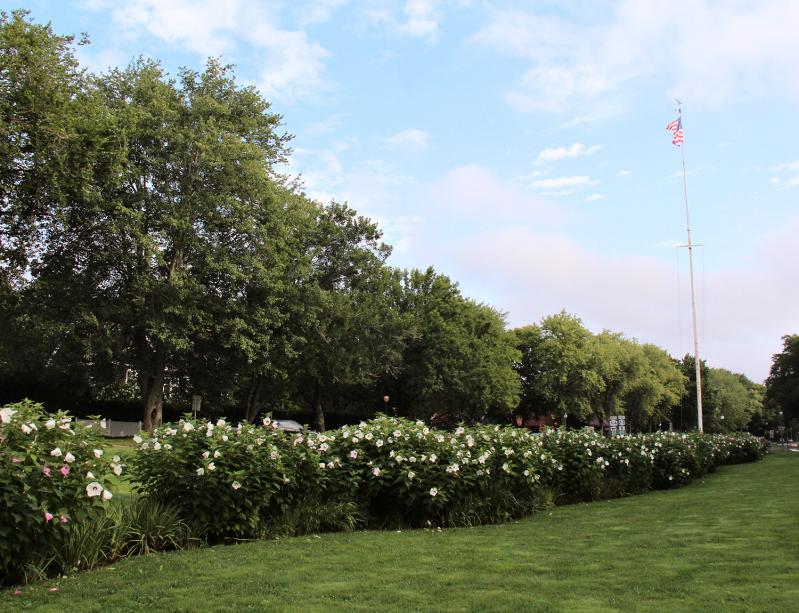 There are thriving examples of rain gardens to be found locally. East Hampton Town has constructed several rain gardens and bioswales, some implemented in concert with the Surfrider Foundation. Kim Shaw, the environmental protection director for the Town of East Hampton, and Mellissa Winslow, senior environmental analyst for the town's Department of Natural Resources, have noticed positive environmental changes in these areas since using green solutions in place of grey infrastructure.
Ms. Winslow noted the improvement near the Hook Mill in East Hampton Village. "Methodist Lane had a history of flooding issues, but since installing the rain garden, that's been alleviated," she said.
On the other end of Main Street, James Lane suffered from standing water after heavy rainstorms, which became a breeding ground for mosquitos when water remained stagnant for several days.
The benefits associated with the rain garden reach beyond flood and mosquito control. "The beautification of shrubs and plants has changed the areas dramatically. It functions to filter out pollutants, and also acts as a pollinator garden," Ms. Shaw said.
Why won't lawns accomplish the same thing? The much more substantial roots of shrubs, perennials, and carexes grow deeper and absorb more water to prevent runout and erosion; broader leaves and woody stems have more surface area to capture raindrops. Certain native plants thrive with occasional periods of rain and absorb nitrogen in the water. Once established, they'll require little to no supplemental watering, whereas a lawn is high-maintenance and unforgiving.
Before planting a rain garden, one should assess the amount of sunlight and presence of deer. Mr. Piazza suggested a selection of plants that bloom from early spring into the fall, providing a steady source of pollen and nectar. Berries and seed heads not only add winter interest but also sustain nonmigratory birds through lean winter months. There are many options to consider: low-maintenance and breezy carex, colorful perennials, or go for height and deeper roots with shrubs. The deer-resistant bayberry's shiny, paddle-shaped leaves with berries is a lovely anchor and source of food for birds in wintertime. The hibiscus-style blooms of rose mallow (Hibiscus moescutus) are a feast for the eyes and for pollinators. Clethera (Clethera alnifolia) and winterberry (Ilex verticilta) tolerate part shade, whereas the charming pompom heads of button bush (Cephalanthus occidentalis) grow best in sun.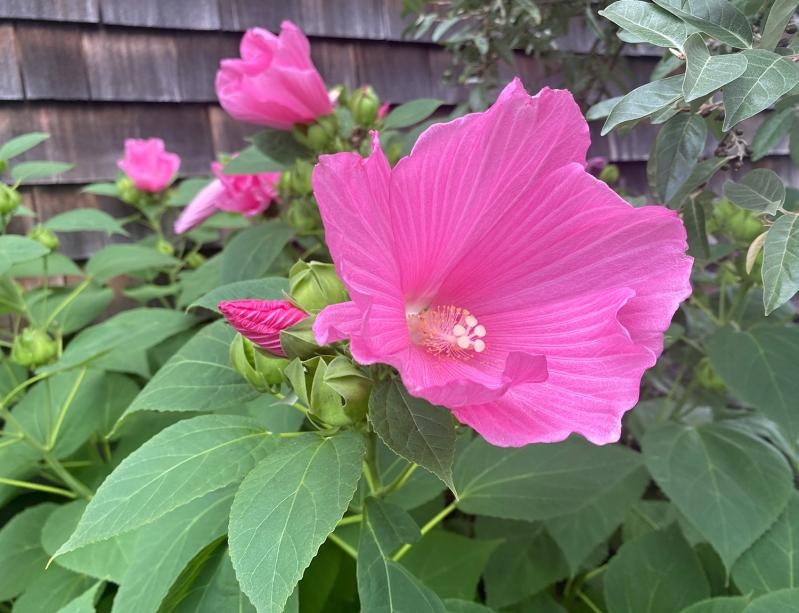 For perennials, swamp milkweed (Asclepias incarnate) is a critical host plant for Monarch butterflies, blue flag iris (iris versicolor) and cardinal lobelia and great blue lobelia add color and height. Varieties of vernonia are another colorful addition to deer-grazed areas. If deer are present in sun-drenched rain gardens, rely on native grasses like Switchgrass (Panicum virgatum), rush (Juncus efussus) and American sweet flag (Acorus americanus).
If space or conditions preclude a rain garden, using permeable pavers or planting trees will absorb rainwater before it's channeled to a catch basin. Mr. Piazza recommends black tupelo (Nyssa sylvatica), a lovely and adaptable mid-size tree that does well with occasional wet conditions while also tolerating drought and salt. It grows in sun to part shade, with a glorious show of fall color. Its flowers attract pollinators, and birds enjoy its drupes.
When designed efficiently, water will be absorbed by a rain garden within a few hours and won't become stagnant. To establish the most effective plan, assess the conditions: the size of the garden needed for the volume of water, the quality of the soil and the amount of light. Dense or compacted soil can be amended, and a French drain can be added if needed. It goes without saying to work downstream from homes and other structures. The removal of invasive plants is a critical step, too.
"Just get plants in the ground," Mr. Piazza encouraged, "and have fun with it."
—
Sarah Alford is a writer and photographer covering food, gardening, and sailing. Her work has also appeared in EAST, The Star's award-winning magazine.