"If fishing is a religion, fly-fishing is high church," Tom Brokaw once said. 
I've lived and fished my entire life here on the East End, but I've never picked up a fly rod. Growing up, very few people around these parts even had such a rod in their possession. Fly rods, at least to me then, were only for those who fished idyllic freshwater streams in the distant mountains.
I fell into the routine in my early youth of fishing with a basic boat and spinning rods. Way back in high school, one of my fishing friends decided to build his own fly rod from a large, seven-foot Fenwick blank that he ultimately matched with an expensive Pflueger reel. A year later, he gave it to me, claiming that it was too heavy to cast and not practical for local fishing. 
It still looks great. 
That's because it has hung over a door in my house for the past 40 years. Even the fly my friend made by hand and tied to the monofilament leader remains on the original floating line. The rod has not touched any water. 
For others though, the art of casting a fly to a specific fish by sight is an elevated art form that goes well beyond merely baiting a hook, lowering it to the bottom, and waiting for a tug on the line. Fishing with a delicate fly rod in shallow water requires patience, determination, finesse, concentration, discipline, and skill, attributes I rarely exhibit all at once.
Not so for Capt. Paul Dixon, a fly-fishing guide with To the Point Charters of East Hampton, who has risen to the apex of this field. The Southern California native received his first fishing rod at the age of 3 and, after attending the University of California at Irvine, spent the 1970s learning his trade on the West Coast. Fishing is in his blood. 
Dixon eventually migrated to New York, where he oversaw the fly-fishing department at Orvis on Madison Avenue for five years and also began one of Orvis's first saltwater fly-fishing schools. But by the early 1990s, he left Midtown to captain one of the first flats skiffs to fly-fish in the Hamptons and Montauk, and in the Florida Keys in winter. 
Perched high atop the aft poling platform directly above his 18-foot Hewes skiff, Dixon looks more like an accomplished symphony conductor, albeit one in sunglasses and sun-resistant clothing. In perfect rhythm, he quietly navigates an estuary or flat that may be only a foot or two deep.
He is a maestro with guide pole in hand, who leads a multitude of anglers and celebrities, including Roger Waters of Pink Floyd, a regular client, to experience a special day on the water in serene surroundings, primarily chasing striped bass but also bluefish, bonito, and false albacore. No fishing on the dark side of the moon here. It's all in the daylight where every fish caught is safely released to fight another day.
As a pioneer in this specialty fishing locally and his unabashed advocacy to help preserve the stocks of striped bass and other fish, Dixon was recently named to receive the 2021 Izaak Walton Award from the American Museum of Fly Fishing. It's an honor akin to a baseball player being enshrined in the hallowed halls of Cooperstown. 
"Paul was among the first to discover Long Island's striped bass flats fishery and since then has spent decades fine-tuning his craft between the Hamptons and South Florida," the museum said in a statement. "In addition, he has been a great advocate for conservation, spending countless hours in service of the Bonefish and Tarpon Trust, and other organizations. Paul is truly a worthy honoree." 
"To be honest, I was very taken aback when I got the news about the award," said a modest Dixon on Friday evening, after returning from a day on the water. "It's a very nice honor, but I've also been very fortunate to have been in the right place at the right time in my career."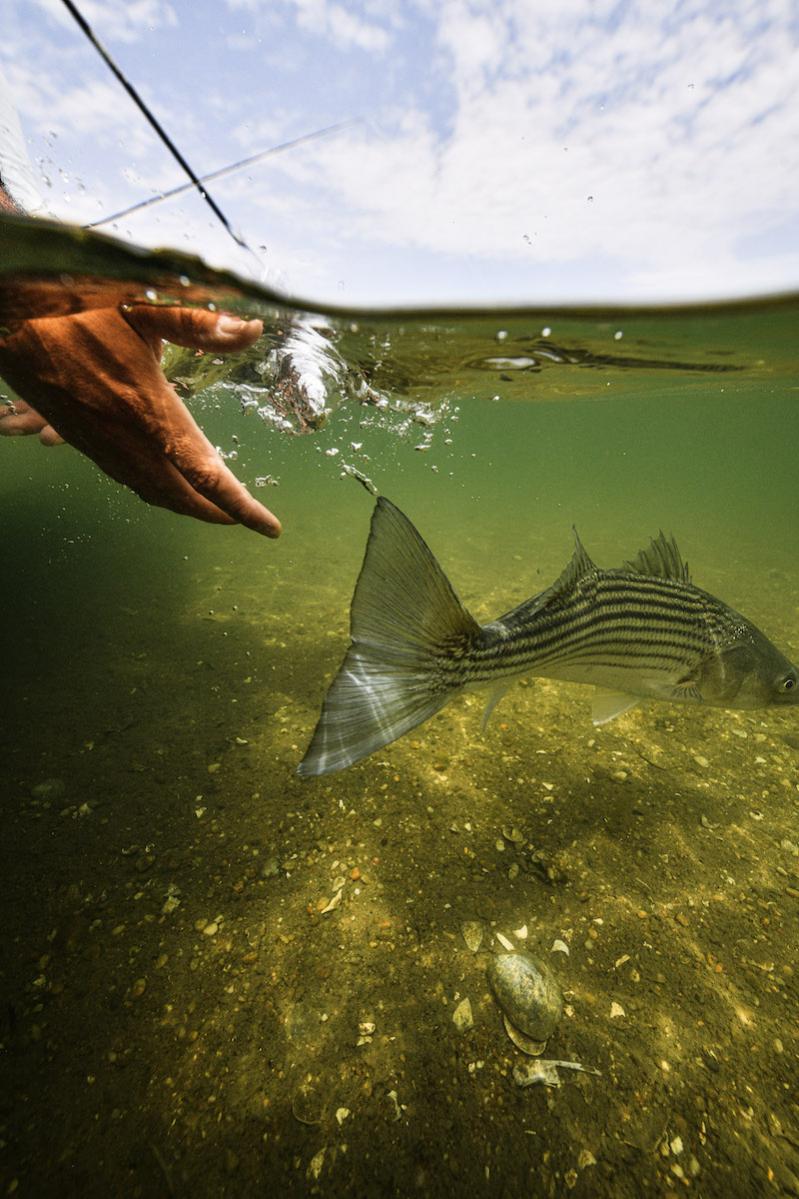 As stated in the award for Dixon, conservation has always been at the forefront for him, whether he's on land or at sea. "Conservation is my thing and I've been fighting these battles forever," he said. "It's vital that we protect and enhance the ways we can help protect fish. As for stripers, it's been an up-and-down battle over the years, and it's discouraging to see a dropoff in their population." 
As with fishing, there are always tough days, and that's the challenge if you want to book a trip with Dixon, as his schedule locks up well in advance. 
"Every day has been taken this season and that includes the next 60 days," said Dixon, who has also made numerous appearances on various fishing shows on ESPN and other networks. "The pandemic has brought many more inquiries, but most of my schedule this year was booked up before the virus became established. Still, it's nice to see more people, especially those new to fly-fishing, want to take it up."
As for the current fishing scene, Dixon is optimistic for a nice fall run of stripers, blues, and false albacore. "There's just a ton of bait everywhere in the water, which itself bodes well. We caught our first false albacore yesterday, and they should be here in greater numbers in the next few days. Hopefully we'll have a nice shot of stripers too as the bait flushes out of the bays towards Montauk."
Given his sixth sense in tracking down fish, no doubt Dixon will know where to go.