Than softly falling snow
Fussing over every flake
And making sure
It won't wake someone.
— Charles Simic, "There Is Nothing Quieter," The New Yorker, Feb. 8
There is nothing quieter than snow. The only sound I hear is a friendly neighbor shoveling my sidewalk. Later he will stop by to ask if I need more help. My friend Alicia said her neighbor did the same and felt, like I did, that people are more generous and helpful when it snows.
Though alone since my husband passed away almost a year ago, I don't feel lonely inside this lovely snow globe. In the early morning I boil the hot water and pour it into the icy birdbath. A little while later my "attractive visitors," as he would call them, the bluebirds, would arrive, forming one by one a chorus line perched around its edge. They will soon be joined by a family of red cardinals from next door. Known to be a sign of the return of a loved one, they signal Al's visit, while their brilliant color dazzles against the freshly fallen snow.
I read that "snow is inherently nostalgic," and memories of times past go through my mind. I remember listening to the radio in the kitchen with my sisters and brothers as the voice read the list of schools canceled — "Holy Cross Grammar School closed!" — and we would cheer and then, armored in our snowpants, parkas, and rubber boots with clips over our shoes (there were no UGGs then or anything that resembled them), go outside to play. Once I saw my young, beautiful parents having a snowball fight, their laughter the only sound drifting over the yard, so unlike them, taking them away from the responsibilities of their busy lives taking care of a tribe of children and patients.
There was the time when I was walking through Washington Square with my then very quiet and reserved boyfriend. Suddenly, he broke out in song, "Let it snow, let it snow, let it snow," at the top of his lungs. People started applauding and cheering him on. I was shocked and delighted that he agreed, and, channeling Dean Martin, sang:
The weather outside is frightful
but the fire is so delightful
and since we've no place to go
let it snow, let it snow, let it snow
Snow covers all the flaws not only out your window but inside your head as well. I feel the guilty pleasure of staying inside all night and day. Decisions, a constant source of stress for me, go away, leaving just the simple pleasures — shall I nap or watch "The Crown"? Exercise is abandoned, the computer and cellphone put aside, and contentment slowly consumes you; your mind is clearer and anxiety disappears.
The fireplace becomes an altar of spiritual renewal. I remember the ritual of building a fire in the old house, one I did not welcome when it was my turn, getting the logs and kindling from the scary basement with its creatures casting shadows nearby, and carrying the wood upstairs, then twisting the newspaper and laying the kindling and logs on top of the cast-iron holder as we all piled on the sofa surrounding it.
Creating comes easy, tackling Julia's beef bourguignon a breeze; the muse finally lands and my writer's block dissolves as the pen travels unimpeded from line to line across the pages of my marble notebook.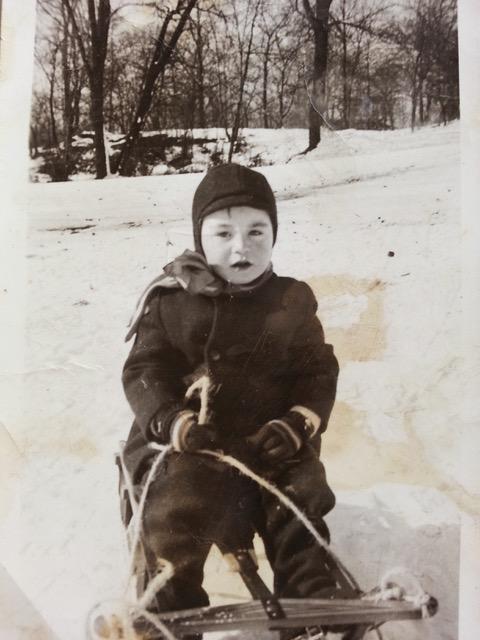 In the past, Al, a tabloid journalist, considered himself a master at preparing for a storm. He would predict that each one foretold disaster and would head out early "to beat the crowds," returning with candles, batteries, flashlights, food for a week, and of course a few bottles of excellent wine for the occasion, which it was for him. Usually the storms were a whimper instead of a roar. But sometimes the power really did go out, and I remember nights when I would light the candles and we ordered pizza with anchovies and drank Margaux while he told stories that seemed new, though I had heard them many times before.
Looking out onto Christopher Street and the West Village from where we sat, with the snow gently falling across the city, I remember thinking how lucky we were to be there. It was the perfect storm on a perfect night, in another time and place, and it was heaven . . . all because of the snow.
---
Nora Sheehan's essay "The Holiday Dress" appeared in the Dec. 31 "Guestwords." She has been creative director Travel & Leisure and Elle Decor, among other magazines, and can be reached at [email protected]. Her common-law husband was Al Ellenberg, an editor with The New York Post.