Montauk's favorite son, John L. Behan, who, with broad bipartisan support, was the East End's voice in the State Assembly for the better part of two decades, and who, for three years afterward, headed the state's veterans affairs office before retiring from public service in 1999, died in his sleep of a heart attack at home last Thursday at the age of 76.
Mr. Behan, whose legs were blown off above the knee by an anti-tank mine while defending his Marine patrol from machine gun fire near Da Nang, Vietnam, on May 23, 1966, was a ceaseless advocate for veterans throughout his adult life.
He went back to Vietnam two times — in 1985 and 2006. "Both were healing trips," his wife, Marilyn, said.
The chief aim of the New York State delegation Assemblyman Behan led there in 1985 — the first government delegation the Socialist Republic of Vietnam had welcomed — was to retrieve the remains of American soldiers, she said. The chief aim of the second visit was to hand over a $20,000 check to an organization that was clearing the land of unexploded ordnance and land mines, which were still claiming many lives long after the war ended in 1975.
After being wounded, Mr. Behan, who suffered severe internal injuries too, underwent eight operations during the course of a year's hospitalization, near the end of which he was told by doctors at the Philadelphia Naval Hospital that he would never walk again, that he would have to use a walker. It was a prediction that he — a three-sport athlete at East Hampton High School, where he led the Student Council — made sure did not come true.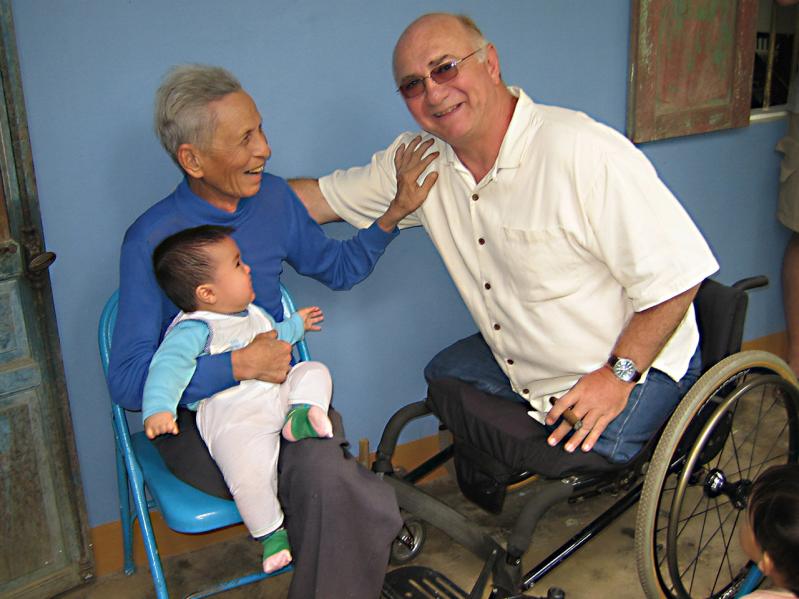 ---
"I can't imagine learning to walk when you've had both legs amputated above the knee," said his former campaign manager, Ron Greenbaum, during a telephone conversation Saturday. "But John did it. He was a man among men, a helluva guy. . . .  The Vietnam Veterans organization in Suffolk County worked their butts off for John when he ran for Perry Duryea's seat — with Perry's blessings — in 1978. That was the year Perry ran for governor. The veterans loved him for his sacrifice and for his continuing involvement with veterans' issues."
Not only did Mr. Behan learn to walk again, using only a cane, but, with his wife's encouragement, he continued to excel athletically, winning gold, silver, and bronze medals in international paralympic competitions, in Lima, Peru, in 1973, and in Montreal in 1976, setting a world record in the precision javelin throw, to a target, in those games.
That the javelin was his forte presumably would not come as a surprise to those who knew him to be a straight shooter.
"He was inspiring to all whom he touched," said his former aide, Fred W. Thiele Jr., who later succeeded him in Albany. "Working for John was not just a job — you became part of his family. His generosity to me sparked my career in government. . . . In the past few days, I have heard so many use these words in speaking of him: 'larger than life,' 'icon,' 'hero.' . . . We're all the richer for having known him."
Mr. Behan was born on Veterans Day, Nov. 11, in 1944 in Flushing Hospital, a son of Joseph Lester Behan, known as Lester, and the former Marie Hand, who, according to Marilyn Behan, ran a seafood restaurant in College Point. It was at that restaurant, she said, "on a Friday fish night," that she first met her future husband and his family, when she was 14 or 15.
Their paths diverged for a while thereafter, when his parents moved to Hampton Bays, and, later, following the drowning death of John's younger brother, Joshua, to Montauk where Lester Behan captained the Peconic Queen party boat fleet.
John Behan's first job, his wife thought, had been as a riding teacher for Shank Dickinson at the Deep Hollow Ranch in Montauk. "He was a cowboy," she said wistfully. "He wore many hats."
They met up again, she said, "after he was wounded," and were married at St. Fidelis Roman Catholic Church in College Point on Oct. 19, 1968.
The seven-time-decorated Marine first ventured into politics in 1971 when he ran with Walter Hackett and Mary Ella Reuterhan for East Hampton Town office — he as a justice of the peace candidate — on the Independent Voter line.
Even then he attracted broad-based support. Robert Gwathmey, the Amagansett artist who soon after found himself at the center of a nationally prominent free speech case for having flown the Peace flag, described the 27-year-old former Marine sergeant as "a strong man, unaffected and energetic, with principles and devotion. He will fight to preserve those very qualities that endear the East End to you and me."
The late Lee Hayes, a Tuskegee Airman in World War II, said in endorsing Mr. Behan that year, "John Behan is the kind of man you can look in the eye and know he is straightforward. He'll be a great town justice."
Mr. Behan, who was endorsed by The Star, came in second in the three-way election, losing out to that year's top vote-getter, Sheppard Frood, while outpolling the Democratic candidate, Joseph LaGattuta. He was never to lose an election after that.
Twice elected as an East Hampton Town Assessor, in 1976 and '77, he went on to win nine straight terms in the State Assembly before becoming the head of the state's veterans service agency under Gov. George Pataki.
In 1976, he was cited in Newsweek Magazine's Bicentennial July 4 issue as "a refreshing, positive-thinking and optimistic leader."
Soon after Ronald Reagan became president, his daughter, Maureen, according to Mr. Greenbaum, said at a fund-raiser at the Nassau Coliseum a few days before the appointment was to be announced that Mr. Behan would be named to head the national Department of Veterans Affairs. At the last minute, the president wound up choosing Bob Nimmo, a World War II pilot who had served in the California State Legislature, instead.
"John would have been the greatest Veterans Affairs administrator ever," said Mr. Greenbaum, who added that Mr. Behan, during his life in public service and afterward would visit Walter Reed Hospital regularly "to tell the patients that there was life after their terrible wounds. . . . I loved the man, his courage as a human being was amazing, the way he picked himself up. How he survived was a miracle. He was deserving of so much respect and admiration. During his campaigns all I would have to do was make a call and a check would arrive."
Karl Grossman, who has covered Suffolk County politics for almost 60 years, agreed with Mr. Greenbaum that Mr. Behan would have been a great V.A. administrator. "One important thing to note," he added, "was that John Behan led the effort to create a Peconic County on the East End. It was initially Evans Griffing's idea, but John led the next wave. . . . He was a heroic figure in his life and as an independent-minded figure in politics."
"One word describes him," said Kenneth P. LaValle, the former longtime state senator from this district. "Patriot."
Mr. LaValle said further, "I can still see him insisting on pulling himself up onto the Atlantic Boxing Club's ring in Shirley during his first run for the Assembly, so he could speak to the crowd."
In the State Legislature, Mr. Behan, who also had opposed the Shoreham nuclear power plant, served on the Assembly's standing committees on veterans affairs, environmental conservation, labor, and rules, as well as on the legislative task force for people with disabilities and with the task force on volunteer firefighters in New York State. He headed the Legislature's Republican conference as well.
Mr. Thiele and Mr. Behan "worked closely for almost three years on bills relating to justice for veterans exposed to Agent Orange, on helping our local police, protecting our fishermen, and as advocates for the formation of Peconic County," the assemblyman wrote in an email. "His impassioned speech on the floor of the Assembly led to the creation of the first Assembly standing committee on veterans affairs, of which he became the ranking member."
Following the state delegation's trip to Vietnam in 1985, "Mr. Behan," said Mr. Thiele, "was honored to lead, along with Mayor Ed Koch, New York City's 'Welcome Home Parade to Vietnam Veterans' down the famed canyon of heroes."
Concerning his own successful political career, "I have told [Mr. Behan] many times publicly and privately, that I owed him a debt of gratitude I could never repay. . . . My condolences go out to Marilyn and his entire family. We remember the good times. Semper Fi!"
Mr. Greenbaum, who first met Mr. Behan at the Behans' liquor store near Montauk's docks in 1977, when he and his wife, Fran, went there to buy one of the parakeets Marilyn Behan was breeding at the time, recalled being so impressed by Mr. Behan's presence that he said he should call him should he ever consider running for political office.
Mr. Behan's life was seriously threatened a second time when, in the summer of 2004, he fractured his skull in a nighttime fall from a three-wheeled motorized scooter on his way to get the mail at the foot of the Behans' steep driveway on Fairview Avenue.
"A deer had run in front of him, he turned and lost his balance," said Mr. Greenbaum. "It was the second time he'd been airlifted — to Stony Brook Hospital in this case. They had to put a halo traction device on him to keep his neck and head stable. They didn't know if he'd survive. He was at Stony Brook for two months, and then in rehab in White Plains. It was a life-and-death battle again. And, again, he came back."
Mr. Behan retired from politics in the late 1990s, "retiring to his boat, Semper Fi," Mrs. Behan said, but he continued to be involved in local Republican affairs, including as chairman for a time of the East Hampton Town Republican Committee.
Besides his wife, Mr. Behan leaves three children, Jason, Jack, and Bridget Behan, all of Montauk, and five grandchildren, Jack, Harrison, Theodore, William, and Samantha Behan. He was one of eight siblings and is survived by a brother, James Behan of Westhampton Beach, and three sisters, Joan Fitzgerald of Southampton and Florida, Janice Marinov of Southampton, and Marles Behan of Aquebogue,
Mr. Behan was a member of St. Therese of Lisieux Catholic Church in Montauk. A wake is to be held at the Yardley and Pino Funeral Home in East Hampton on Sunday from noon to 4 p.m. Burial is to be Monday at noon at the Calverton National Cemetery in Wading River.
In lieu of flowers, memorial contributions have been suggested to Operation: Heal Our Heroes, whose phone number is 203-253-5785, or to the Montauk Boatmen and Captains Association, P.O. Box 2328, Montauk 11954.