Cintra Carter-Sander of Montauk and Ponte Vedra Beach, Fla., died on Aug. 3 at home at Marsh Landing in Florida. She had been in failing health for a week.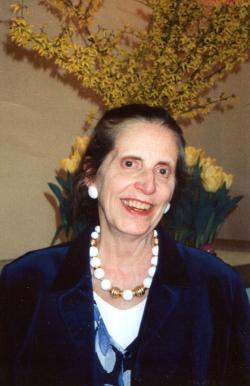 Mrs. Carter-Sander, who was 90, was often asked about her first name, which had been given to the eldest daughter in every generation of her mother's family since 1843, when Israel P. Hutchinson, an ancestor, was appointed by President James Madison to a diplomatic post in Portugal. The spelling of the name of Sintra, the town, was changed by the family for its own use in 1900. Mrs. Carter-Sander was the fourth generation to be so named. Her granddaughter Cintra McGauley Sedalik, the sixth Cintra in the family, was married recently at Monserrate Palace in Sintra.
Mrs. Carter-Sander was a resident of East Hampton after she married her second husband, Hans Sander of Princeton, N.J., a German-born architect who had designed and built the house there that she and her first husband lived in and where they reared their three children. While living here she was a member of the Amagansett Beach Association, the Devon Yacht Club, and the Maidstone Club.
She was born on Dec. 19, 1929, in Bryn Mawr, Pa., to William T. Carter, who as a child had survived the sinking of the Titanic, and Cintra Ellis Carter. She grew up there and attended St. Timothy's School and Philadelphia University of the Arts. She was a commercial illustrator of artwork for more than 52 Princeton charities and advertising agencies.
In 1950 she married Richard M. Huber, a scholar of American history and a professor at Princeton University. They brought up their children in Princeton. They divorced in 1963 and remained on good terms; he died in 2013.
Mrs. Carter-Sander married Mr. Sander in 1965 and they spent winters in Princeton and summers with his two children and her three children on Further Lane East in Amagansett. They were married for 10 years. He died in 2004. 
Casilda Carter Huber of Montauk and Ponte Vedra Beach said that her mother "was a terrific humanitarian who had great patience," a virtue she put to good use during her stint teaching art therapy to autistic children and adults at the Neuropsychiatric Institute in Pennington, N.J.
Mrs. Carter-Sander moved from Princeton to Marsh Landing in Ponte Vedra Beach about 30 years ago, spending the bulk of that time living with her daughter and her daughter's companion, Capt. Billy B. Campbell, and returning with them to their house in Montauk in the summers. "We were snowbirds together," Ms. Carter Huber said. Mrs. Carter-Sander's other daughter and her family also lived there.
At Marsh Landing, Mrs. Carter-Sander was an active member of the Women's Club and the Garden Club. She had been painting since childhood and enjoyed using acrylics. She loved gardening, Ms. Huber said, and was an expert with roses.
In addition to Ms. Huber, another daughter, Cintra Huber McGauley of Charleston, S.C., survives, as well as a son, Richard Miller Huber Jr. of Washington, D.C., and two stepchildren, Whitney Sander and Leslie Sander, both of California. Four grandchildren also survive: Richard Miller Huber III and Alexandra Lucile Huber of Washington, D.C., Cintra McGauley Sedalik of Charleston, and Gillan R. McGauley of Ponte Vedra Beach. Her brother, Rudolph "Foxy" Ellis Carter of Newport, died in 1994. Two nephews survive as well.
Mrs. Carter-Sander was a member of Trinity Church in Princeton and Christ the Redeemer in Ponte Vedra Beach. She was grateful for the loving staff who took care of her there at the end of her life. She was cremated and "she will be laid to rest in the Atlantic Ocean off Montauk," Ms. Huber said. The family will celebrate Mrs. Carter-Sander's life once it is safe enough to do so.