I believe we have all experienced a moment in our lives where time felt as if it stood still. There was a time many years ago on a hot summer afternoon on James Lane that I believe it did.
There has always been a silent separation between two ancient structures on James Lane, the wisteria-clad Home Sweet Home and its red-door neighbor Mulford Farm. Between these lovely old structures was a split-rail fence and an ancient, lichen-covered turnstile. Lonely summer wanderers walking to town from their day at the beach would visit one historic site, then cross the threshold to the next. The ancient turnstile seemed to creak out a song to the ragtag summer pilgrims' "turn, turn, turn every season, turn." Travelers from one historic house, crossing the threshold to another as they make their way into town.
It was at that threshold where I met Loretta Orion.
Those of us who work at historic houses know that beautiful summer days mean very few visitors. Everyone is at the beach — summer people, townspeople, day trippers, all flip-flopping down the sidewalk to the sandy beach.
Those days at a house museum can be suffocatingly hot and smothering with boredom. So there would be the busy work of sweeping the millstone step, getting your historic broom to battle a few stubborn cobwebs, and then weeding the garden. That was always the fun part. It was as if the garden offered a secret invitation to play.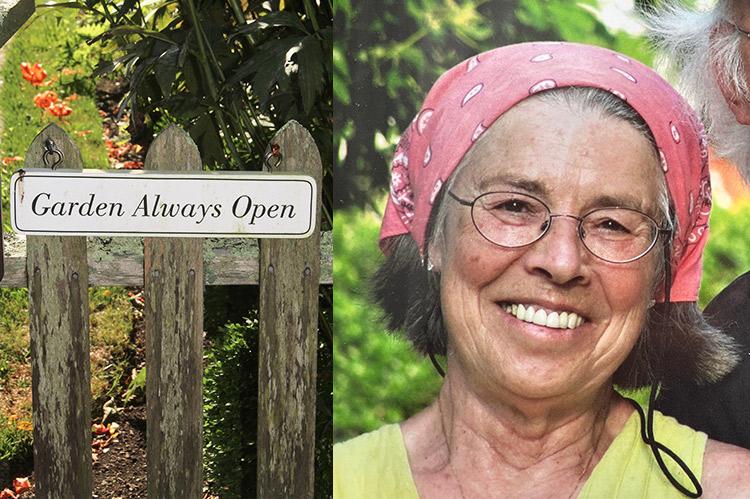 I saw Loretta with her patterned bandanna and garden gloves working away, and on this day with the hot sun and the still air, I decided to say hello. She was weeding near an angel trumpet plant (Brugmansia). Smiling, I told her that I had read somewhere that ladies in Victorian England would shake the pollen from the angel trumpet into their tea to have clairvoyant visions of the future! Loretta seemed to light up at that thought, and suddenly out of her flowed effortless stories of plants and history and witches and lore.
She shared a story about the day she had been working in the garden and suddenly felt different. Her perception became altered and the garden began vibrating with color and sound. Being a trained nurse in addition to being a herbalist, she realized that she was weeding underneath the hallucinogenic angel trumpet plant!
I then mentioned how a devil's trumpet (Datura) had grown spontaneously by the front door of Mulford Farm. Although Brugmansias and Daturas both are hallucinogenic and highly poisonous to human beings, the beauty of these plants never fails to fascinate herbalists and gardeners alike.
With one garden-gloved hand leaning on the split-rail fence, Loretta seemed to breathe out such glorious and obscure truths. She on her side of the fence with an angel trumpet and me on mine with the devil's trumpet at the doorway — like old friends — we shared stories of witches and wild women and her book "The Burning Times." I was spellbound by this lovely lady, such a generous soul to share her knowledge so freely.
The sun started to hang low. Hugh King emerged from the side of Home Sweet Home and Loretta and I said our goodbyes with hopes to have lunch sometime soon. That sometime, like so many other promises of "sometime," slipped away.
Yet, we had that magical day. When I close my eyes, I see her. A goddess at the gate, liminal with limitless knowledge; she stood waiting, just waiting for the open-minded, open-hearted, ready to fall into the deep of all that was and what could be at that lichen-covered turnstile while the light was still golden.
 — Colette Gilbert McClain