Not Alone
New York City
December 6, 2019
To The Star:
Sitting in my Upper West Side apartment, watching the city birds gliding by on high — missing many years in East Hampton, I read The Star, always a connection to my past, and what do I read but David Rattray's Mast-Head piece on aging. Specifically, his unfortunate misjudgment in depth perception common to those who wear glasses for the first time in their lives.
What a relief to find I'm not alone in my adjustments, indignities, and mistakes I encounter in growing old. How happy I was when I read this small piece, which reassured me that my husband's and my decision to keep subscribing to The Star was a wise one.
It comes as a shock to experience that we are getting on in years, feeling invisible, extraneous, physically not able to simply get up from a chair with the bounce of yesterday takes a bit of adjustment. However, seeing that you're not alone is a ray of needed sunshine.
I hope your knee recovers, which I am sure it will. But I want you to be sure to know that your misstep was providence for this 74-year-old ex-Hamptoner, who benefited from your sharing the beginnings of what will be many healthy, new, manageable, unexpected experiences we encounter as we move into those "golden" years. Many thanks!
Sincerely,
CANDY EDELBAUM 
---
Dorph's Gift
Sag Harbor
December 9, 2019
Dear David Rattray:
On Nov. 23, we attended Ken Dorph's gift to our community — a lovely (if at times, painful) way for us to come together and share time and energy looking at how and who we are racially.
"A Conversation About Race" began with his fine guidance — of a panel featuring Elaine Gross, the Rev. Kimberly Johnson, Brenda Simmons, and Steve Williams — all of them climbing right over that silent racial divide.
We then convened across the street to (well, it's still the Hamptons) continue the conversation. There certainly was a community feeling in that happily crowded and noisy back room at Page; that there are burgeoning numbers of Sag Harbor residents here for the conversation.
Then the crowning glory of our "conversation" — when the power of sharing the searing Bay Street Theater production of Lorraine Hansberry"s "A Raisin in the Sun" helped drive the conversation deep into our hearts — of all the things said and heard, and all as yet still unexpressed and unacknowledged.
Thanks, Ken. Let us continue.
Peace and love,
HEIDI and TOM OLESZCZUK
---
Fifty Years Ago
Springs
December 7, 2019
Dear David,
When I saw 1969 in "50 Years Ago" in the "The Way It Was" section, I felt addled, i.e., unable to think clearly, confused, or in the case of eggs, rotten. I was 21 in '69; seems impossible it was 50 years ago.
The headline "Talk of Tuition Hike Addles Springs" struck me wrong somehow: "Rattles" "Irritates" "Fries," or "Steams the Edgy and Highly-Taxed Springs" might be closer to the mark.
Thanks for your patience and good humor.
JOB POTTER
---
Treatment System
Springs
December 6, 2019
Dear Editor,
On behalf of the Springs School Board of Education and the Springs community, we would like to publicly thank the East Hampton Town Board for approving the recommendations of the water quality technical advisory committee in awarding community preservation funding of $227,272.72 to the Springs School. We would also like to thank the water quality technical advisory committee for recommending to the board that Springs School be granted the funding. We're also grateful to B.B.S. and H2M for their assistance with the application process.
The upgrade to a new hydro-action, low-nitrogen wastewater treatment system with nitrogen reducing bio-filter leaching field to treat the 5,000 gallons per day flow, will be turned over by the end of December.
We're excited to be working with Stony Brook Center for Clear Water Technology, which will monitor our nitrogen levels. We would be happy to share those results with the East Hampton Town Board and the water quality technical advisory committee.
Warmest regards,
DEBRA WINTER
Superintendent
---
Not Resigned     
Springs
December 7, 2019
Dear Editor Rattray,
Although you made some good points in your editorial "C.A.C.s Should Be Independent" there was a glaring error in the first sentence when you reported that I had resigned from the Springs Citizens Advisory Committee. I have not resigned.
There is no doubt that I was very unhappy with some of the procedural issues and was certainly considering not submitting my name for inclusion in the 2020 committee. And I certainly passionately expressed my views to pretty much anyone who would listen, including the town board in the public comment part of a town board meeting.
But eventually passion gives way to reason, and I came to realize that I had not tried hard enough to resolve the troubling issues that led to my contemplated resignation. I recently met, along with S.C.A.C. secretary, Patrice Dalton, with the committee's town board liaison, Kathee Burke-Gonzalez. We discussed a revised format for our meetings and agreed on protocols that will hopefully resolve the issues that proved troublesome in the past.
The Springs C.A.C. is a vibrant, multi-opinioned group of people, all of whom want what is best for our hamlet. I look forward to partnering with the town in 2020 to identify and resolve issues critical to the well-being of all (The) Springs residents.
Sincerely,
LORING BOLGER
Chairwoman
---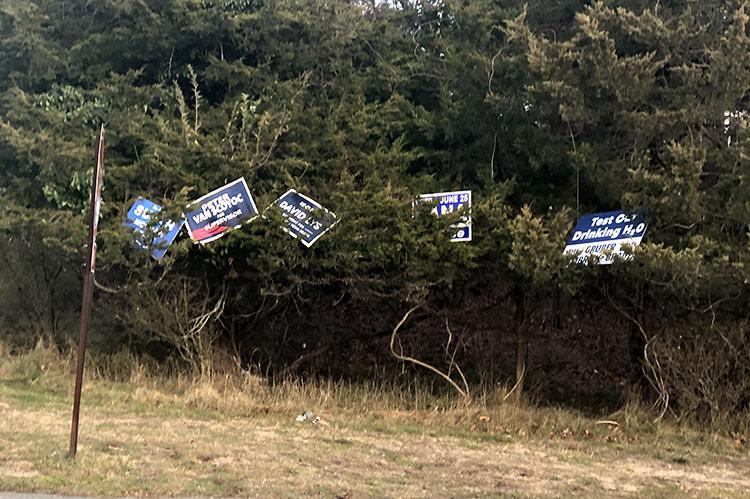 In the Street
Amagansett
December 9, 2019
To The Star:
Our own civic leaders cannot clean up their own mess. Bipartisan garbage in the street. How do we expect anyone else to respect our town's pristine nature when these signs (now over five weeks past due date) are littered all over town with prominent names of Gruber, Lys, and Van Scoyoc leading the way? A photo was taken Sunday during the Christmas sale at the Life-Saving Museum, just one corner of hundreds all over town. Just irresponsible and shameless.
JOHN MANNIX
---
Caring Service
Amagansett
December 6, 2019
Dear David,
East Hampton Meals on Wheels! Yes, well, it's not just the excellent service they provide, but the outstanding caring service. I cannot write enough about how wonderful these people are and what they mean to this 85-year-old lady.
I am told by the director of East Hampton Meals on Wheels that policy restricts disclosing names of those who bring sustenance and, yes, love, to these old bones.
But clearly, the two volunteers know who they are. In a difficult day for me, stressed out as I ran out of my heart meds, the two volunteers surely were the standard for Bonac's finest kind.
Forever grateful and God bless East Hampton.
LONA RUBENSTEIN
---
Novogratz Road
East Hampton
December 8, 2019
Dear David:
Your article about the efforts of Michael Novogratz to obliterate a town road and add it to his property at 58 Cross Highway in Amagansett is misleading the public. Your very first sentence says, "An apparent effort by the billionaire investor Michael Novogratz to enlarge one of his Amagansett properties by adding an unopened road to it was stymied last week by a stop-work order." Later in your article, you refer to it as "an unopened road."
A so-called paper road is a road that appears on a map or plat dedicating it to the public but that has not been opened, a technical, legal term of art.
The section of Cross Highway at issue is not an unopened road. Quite to the contrary, it was laid out by the East Hampton highway superintendent in 1914. He specified the metes and bounds of the road and had surveyor's monuments placed at its edge. Old photos furnished by former town attorney Rick Whalen show that it has been in use for many decades. It remains in use by the public today. A section of the Paumanok Path, a public hiking trail, runs the length of the section in question.
The law in the State of New York is absolutely clear. First, that pedestrian use alone is quite sufficient to establish that a right of way is "opened and in use by the public." It need not be paved nor accessible to vehicular traffic. Further, the law is clear that pedestrian use of the right of way, even though pedestrians use less than the full width of the right of way, constitutes for legal purposes use of the laid-out road to its full, defined width.
Indeed, it is common knowledge that almost all of the paved roads in East Hampton are not paved to the full width of the public right of way. The continuing public claim to the margins is amply maintained by the use of the paved section for transit.
A public road that is opened and in use by the public (hence not a paper road) may not be abandoned. Period. The relevant statutes do not permit this. Nonetheless, last year Stephen Latham, counsel to Mr. Novogratz and law partner of Chris Kelley, the boss of the East Hampton Democratic Committee, concocted a deal with Supervisor Van Scoyoc in which the town would give the road to Novogratz for nothing, and Novogratz would give back a trail easement for the Paumanok Path, subject, however, to restrictions on its use.
By this sham exchange, Novogratz purported to give something he did not own, the right to the trail, to the town that already owned the right to the trail and more.
In effect, Novogratz would have received a gift of town-owned real estate, the road, to enlarge his property, with the gift concealed, with the connivance of the town board, to make it appear to be not a gift from the town, but a gift to the town. The obvious impropriety of such a transaction did not prevent the machine Democrats on the town board from trying, not once, but twice, to give this gift to Mr. Novogratz, a client of Democratic party boss Chris Kelley's law firm.
Fortunately, a road cannot be abandoned by the town board. By law, road abandonment is an action of the tax assessors. The illegal deal foundered after David Buda, Jonathan Wallace, and I wrote a memorandum of law explaining the legal impossibility of the proposed deal and sent it to all of the public officials involved, including the tax assessors. That didn't stop Mr. Latham, however. With the sham swap off the table, he managed to persuade the Suffolk County tax authorities to remove the road from the Suffolk County tax map. This too foundered when comments made by Supervisor Van Scoyoc during a town board meeting tipped me off that something fishy was going on again. I urged Mr. Buda to investigate. He discovered the tax map scheme and documented to the county that the road did in fact exist. The county put the road back on the map.
The tax map does not even technically affect title to real property, only what is taxed. But even after the road had been restored to the tax map, Mr. Latham used the fake map with the road removed to obtain a building permit that did not satisfy the required setbacks from the road. Once again, Mr. Buda, ever on the alert, discovered the scheme and documented the impropriety to the building inspector, whereupon the stop-work order was issued.
The question you should be asking is why it falls to the brilliant and vigilant Mr. Buda, with some occasional assistance from me and Mr. Wallace, all of us private citizens, to do the work of the town board and town officials defending title to public property. To me, the answer seems obvious. We are burdened in East Hampton by a cronyist, political monopoly run by a tiny handful of people who are in control of the Democratic Committee and domesticated elected officials who have no independence from the Democratic Committee and its bosses.
The chief product of this mini-Tammany Hall is a long series of improper real estate transactions in favor of friends of the Democratic Committee and town board members. In addition to the attempt to give Mr. Novogratz a town road, these range from Mr. Van Scoyoc's notorious invitation to the owner of Duryea's Lobster Deck to sue the town as political cover for another improper deal to the persistent use of the Community Preservation Fund in deals of dubious public value that reward donors, political committee members, and other cronies with public money. The most recent example, moved by Councilman Lys, is the deal to use $160,000 of C.P.F. money to buy an unbuildable wetland lot from members of the Bistrian family who had made campaign contributions to Mr. Lys in excess of $10,000.
Meanwhile, essential public business, protecting drinking water, building affordable housing, closing gaps in emergency communications, to name but a few, go unattended.
Sincerely,
DAVID GRUBER
---
SNAP, Crackle, Pop
Springs
December 9, 2019
Dear David:
Remember "Snap, Crackle, and Pop" — the slogan for Kellogg's Rice Krispies? Well, under the Trump administration, another version of SNAP will disappear in a puff of smoke for many Americans. The administration has proposed a rule that would terminate SNAP benefits for more than 700,000 Americans.
SNAP, the Supplemental Nutrition Assistance Program (commonly known as food stamps), is one of the most important safety net programs, providing aid to more than 40 million Americans last year. In its current state, receipt of SNAP benefits is limited to able-bodied Americans without children or other dependents to three months every three years, with longer-term benefits available if they are working. Plus, state waivers to such limits may be available if local unemployment rates remain high.
The Trump administration proposal would strangle the SNAP program by prohibiting state waivers unless counties have an unemployment rate of more than 6 percent. The administration's shortsightedness ignores the economic benefits of the SNAP program. SNAP benefits go to Americans struggling to make ends meet, so SNAP benefits are likely to be spent immediately, further boosting the economy and increasing job creation. Also, people are more productive when they have three reliable and nutritious meals each day; cutting that aid only hurts their ability to participate in the work force.
Mr. Trump's campaign supposedly heralded a new G.O.P. philosophy, one more sympathetic to hard-working, "forgotten" Americans.Yet his policies make it clear that he holds struggling Americans in greater contempt than his predecessors.Not surprisingly, Sonny Perdue, the architect of this punitive initiative, is unapologetic for the misery his plan would impose on the most vulnerable Americans.
What does this mean to us locally? Some 6 percent of all households in our congressional district received SNAP benefits, according to the most recent data. The statistics are surprising: More than 54 percent of recipient households reported more than one person 60 years or older, more than 35 percent reported having children under 18 years old, almost 55 percent reported households having a disabled person, and almost 35 percent reported income below the poverty level.
Demographically, almost 80 percent of recipients were white, almost 15 percent were black, and some 12 percent were Latino. All these recipients will lose benefits because the overall unemployment rate in Suffolk County is reported to be well under 6 percent.
Given that the Trump proposal would have a significantly adverse impact on a large portion of our residents, one would hope that our congressman, Lee Zeldin, would put up a pitched battle to derail this impact. Yet again, one hopes in vain. Mr. Zeldin is only interested in being the loudest and most high-profile defender of Mr. Trump's malfeasance. This just compounds the injuries that the Trump policies inflict on the East End.
I hope you will join me in supporting Perry Gershon for Congress — he has promised that we would be his principal concern.
Sincerely,
BRUCE COLBATH
---
Green Light
Amagansett
December 8, 2019
Dear David:
On Dec. 14 New York State joins 12 other states and D.C. in allowing all residents to obtain a standard driver's license, regardless of their immigration status. This act, known as "The Green Light Law," will result in fewer unlicensed, uninsured drivers on our roads, making driving safer for all. It will allow a segment of our population the ability to drive their kids to school, get to doctor's appointments, do day-to-day chores, and drive to work; as long as they comply with requirements for obtaining a license. This includes proof of identity and New York State residency, as well as passing written and driving tests.
The law prohibits the Department of Motor Vehicles from sharing information regarding applicants with other government agencies without a court order or subpoena. The standard driver's license is not a new document and can't be used for federal identification purposes, such as boarding a plane.
The Green Light Law offers new freedom to many of our neighbors, will provide a boost to the local economy, and make East Hampton a safer place.
DAVID HILLMAN
---
Efficient Route
East Hampton
December 6, 2019
Dear Editor:
Carbon dioxide emissions hit a new high in 2019. Although emissions from coal declined, they were more than offset by an increase in emissions from oil and gas. The world is in crisis and thus we will see more heat waves, droughts, rising sea levels, coastal erosion, as well as food and water shortages. Coastal erosion in East Hampton is threatening about $5.5 billion in private property, according to the town's Coastal Assessment and Resiliency Plan. This is why the South Fork Wind Farm is so important. Yes, China and India need to do their part to reduce emissions, but we need to do our part as well.
The South Fork Wind Farm has been under consideration for a long time and now all parties need to focus on the benefit for the entire South Fork. The South Fork Wind Farm will produce renewable energy without any CO2 emissions. The most efficient route to bring the cable ashore is at Beach Lane in Wainscott. The cable would then go up two miles of residential roads, impacting a small number of homes during one off-season between November and March, and plug into the grid at the Cove Hollow Road substation. Once up and running, the South Fork Wind Farm will produce enough electricity to power 70,000 South Fork homes.
All affected parties including the town board, trustees, fishermen, and residents of Wainscott need to focus on the big picture and get the South Fork Wind Farm up and running.
JERRY MULLIGAN
---
Real Republicans
Springs
December 8, 2019
Dear David,
I read Don Matheson's letter in last week's Star pointing out that virtually all elected Republicans refuse to acknowledge the danger of what is accelerating climate change. I am a Republican and a veteran and, sadly, I no longer recognize my party and the principles for which it once stood. However, I am optimistic that there is a new silent majority. Conservative Republicans who believe in facts and common sense. My hope is that given time they will stand up and be counted. It is disturbing that it has not yet happened.
Common sense says that climate change is real. One can still argue about the amount of responsibility that humans bear, but why risk it! I have five daughters who will have to live with the consequences of our inaction. This should be a bipartisan issue, but the tribes will not allow for individual thought.
Today the party and the country are led by a faux Republican. A "patriot" who dodged the draft, a "genius" who hides his college records, a "business man" who bankrupted a casino, a "Christian" who doesn't go to church and an "innocent man" who refuses to testify.
It is time for the real Republicans to step forward and show what integrity means. For Republicans to accept that climate change is real and not being reluctant to say so is a great place to start.
DOUG JEFFREY
---
Sense of Urgency
Lido Beach
December 7, 2019
Dear Mr. Rattray,
The news about climate change keeps getting more terrifying. According to the latest U.N. emissions gap report, we're spewing more greenhouse gas into the atmosphere than ever when we need to be cutting it radically by using renewable power like wind and solar, and switching to electric vehicles powered by a 100 percent renewable grid.
Even as America relinquishes its national role as a climate leader, withdrawing from the 2015 Paris Agreement to reduce greenhouse gas emissions, states and localities collectively can have a beneficial effect on reducing greenhouse gas emissions. East Hampton is working toward 100 percent carbon-free electricity by 2020, a goal they may miss, but they'll make it soon to the benefit of all.
New York's Climate Leadership and Community Protection Act, signed by Gov. Andrew Cuomo this past July, has lofty goals: a 70 percent renewable electric grid by 2030, and a 100 percent renewable grid by 2040, an 85 percent reduction in greenhouse gas emissions economy-wide compared with 1990 levels.
But how do we get from here to there? In our current climate crisis, we don't just need political will. We need a total societal sense of urgency to solve these big problems. We also need concrete interim goals and ample funding. According to the emissions gap report, the window we have to limit global warming to livable levels is closing. We must make radical change before it shuts.
Very truly yours,
AMY K. POSNER
---
Electric Vehicle
New York City
December 4, 2019
Dear Mr. Rattray,
We've been having a continuous spate of anxiety-producing news about the climate. Most recently, the Global Carbon Project concluded that worldwide greenhouse gas emissions are still rising. Although there's been a slight decrease in emissions in the U.S., we're not lowering them radically enough to stop the temperature from going up and the ice sheets from retreating. This year will be one of the top three warmest on record.
In particular, petroleum use in cars and other vehicles continues to rise. We can do something about that. Here in New York State, Gov. Andrew Cuomo says he's dedicated to reducing vehicle emissions, but we've yet to see definitive action. His goal of 800,000 electric cars on the road by 2035 is a reach when we only have 45,000 now. That can change. 
The state needs to invest in significant charging infrastructure to make electric vehicle use easy and practical. Pollution fees for internal combustion cars could make E.V.s a more economical purchase, and could be used to develop a fund for sustainable options like E.V. purchase incentives and mass transit. Let's see Governor Cuomo take additional aggressive action to meet his ambitious goals of decarbonizing the transportation sector by 2050.
ROSMARUS SCHNECK
---
Should Hate
Plainview
December 6, 2019
To the Editor,
Nancy Pelosi says "I don't hate anyone," but I say there are plenty of people (both living and dead) that she (and all of us) should hate (or, if that's against your religion, are "deserving" of hatred).
My list of people meriting Pelosi's hatred includes the murderers who assassinated Presidents Kennedy, Lincoln, McKinley, and Garfield; the Sept. 11, 2001, terrorists who killed 3,000 people; the Sandy Hook, Parkland, Pittsburgh, Las Vegas, and other school and mass-shooting murderers; the Oklahoma City and Pan Am-Lockerbie bombers, plus thousands of "mundane/everyday" rapists, child abusers, kidnappers, pedophiles, lynchers, suicide bombers, arsonists, life-ruining Ponzi schemers — and plenty of other inhumane "animals" too numerous to mention — or even remember.
RICHARD SIEGELMAN   
---
Get It Over
East Hampton
December 9, 2019
To the Editor:
In 2006, 393 members of the House voted for the renewal of the Voting Rights Act. Thirty-three Republicans voted against it. The Senate passed it unanimously. George Bush signed it into law. In 2008, five million new voters registered to vote; 4.6 million were not white. If new registration continued at that rate in those proportions, nonwhites would be the voting majority (active voters) by 2018.
In 2013, the Supreme Court eviscerated the Voting Rights Act. What followed was a massive attempt to deprive minority voters of their right to vote. In the 2016 election a University of Wisconsin study estimates that tens of thousands of Democratic voters weren't allowed to vote and in two largely Democratic districts an estimated 22,000 voters were turned away. (Trump won Wisconsin by 23,000 votes.)
This week the House of Representatives passed a law to revive the Voting Rights Act. Only one Republican congressman voted for the act. A sign of the weirdness of the times and the collapse of the Republican Party as it once was.
Few things are less democratic and more fascist than the manipulation of people's rights to vote. Instead of doing everything possible to encourage people to vote, Republicans do the opposite. Instead of appealing to nonwhite voters they go the opposite way.
What happened to the Republicans? This vote was so basic, so simple, so absurdly obvious. How does one describe them without calling names? How do we function as a nation with this level of political and moral derangement?
The voting rights vote puts the impeachment issue into clearer focus. When Trump was saved by Barr from the Mueller inquiry he took it as a sign that he was impervious to legal intervention. After that mindless phone call and the whistle-blower action he became more arrogant and even dumber. He asked publicly for Ukraine and then China to investigate Biden. He tweeted comments about witnesses during their testimony. He refused to allow members of the government to testify. Three impeachable actions by every normal measure.
Then Mulvaney, again on the news, admitted to the quid pro quo as business as usual. (Mind-boggling.) Followed by Giuliani telling the world that he was in the Ukraine to dig up dirt on Biden. Then eight witnesses testified to the foreign interference request.
The response to the accusations against Trump was to denigrate the process and the witnesses and the Dems. Citing hatred of Trump and the "out-to-get-him" defense, unanimously, except one, as with the Voting Rights Act, they supported Trump.
This response disrespected the Dem­ocrats, the government, the Constitution, and the American people. Respond to the charges and bring in the witnesses. Get it over with.
Watching Newt Gingrich defend Trump on Fox, I am reminded of the time, when as head of the Moral Majority, he was caught shacked up in a hotel room with his girlfriend while his wife was dying of cancer in a hospital around the corner.
How much lower can we sink?
NEIL HAUSIG