Despite seven deaths from Covid-19 over the 24-hour period ending June 13, Suffolk County Executive Steve Bellone said on Monday that other metrics continue trending in the right direction as Long Island moves toward the third of a four-phase resumption of activity. Mr. Bellone had reported no deaths on Friday, the first time since March 16 that no resident had died as a consequence of the pandemic. 
During the county executive's call with members of the media, Gregson Pigott, commissioner of the County Health Department, said that he believes the spike in deaths represents a random variation. "The most important thing is it's been in the single digits for weeks," he said of deaths from Covid-19 infection. "We will have variations within the single digits, but we have not had over nine since before Memorial Day, I believe." To date, 1,955 people have died from Covid-19 in the county. 
Thirty-three Suffolk residents had tested positive in the 24-hour period, "a very good number," Mr. Bellone said. "We looked at the benchmark of 100" and the importance of remaining below that rate of new infection, "and we've been well below that." The 33 positive infections among 4,110 residents tested represents a less-than-1-percent rate, he noted. The total number of positive infections in the county stands at 40,692. 
Hospitalizations for Covid-19 increased by two, to 127, while those in intensive care unit beds decreased by the same number, to 38. "We're staying relatively flat," Mr. Bellone said. Of 3,045 beds in the county's hospitals, 1,089 are available, an occupancy rate of 64 percent. Of 576 intensive care unit beds, 251 are available, an occupancy rate of 56 percent. Twelve people were discharged from hospitals in the 24-hour period, he said.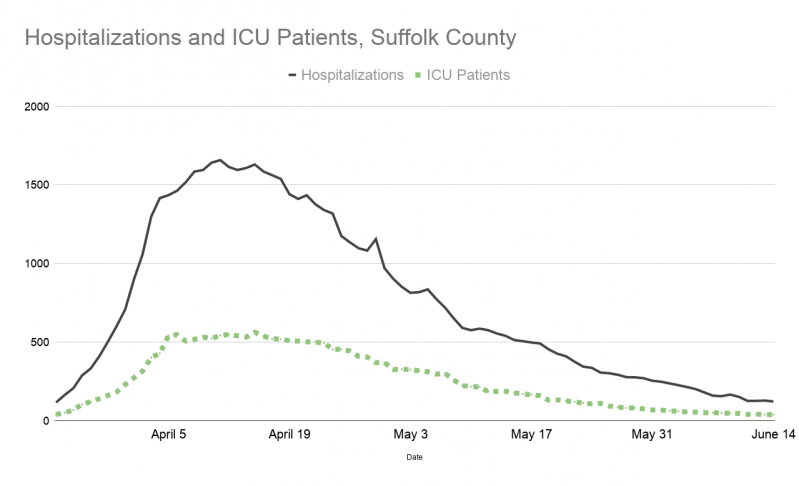 ---
Gov. Andrew M. Cuomo has touted the lowest rates of hospitalizations and deaths statewide since the pandemic began, along with details as to allowable activities in the third phase of reopening. Indoor dining, at no more than 50-percent capacity and with strict guidelines in place, will be permitted in phase three of reopening, which could happen on Long Island as early as June 24. 
"Looking forward to moving into phase three by next week," Mr. Bellone said. "Outdoor dining here has been incredibly well received. It's important for those restaurants, for the industry, to be able to open up and operate. These are businesses that obviously have been struggling, many people have been unemployed. Getting this industry open again is important," but must be done safely, he said. 
The county executive said "we've not seen a significant number of complaints" one day after the governor reported 25,000 complaints received about commercial sites where social distancing and other protocols were not being adhered to. The complaints largely came from the South Fork and Manhattan, the governor said. "We're going to enforce, and have been, any complaints," Mr. Bellone said. The county continues to coordinate with local police departments and partner law enforcement agencies. "If we receive a complaint, we will enforce that" and educate business owners as to safety requirements. 
The Health Department will send a reminder to all restaurants, Mr. Bellone said, as to statewide guidelines with respect to reopening. "The governor spoke about enforcement, the potential that violations could result in a suspension or revocation" of a business's liquor license. "We all want to see these businesses be able to open up again, get back on their feet, get people working again, and get people . . . back to a sense of normalcy. That's what we've seen in phase two, people coming back to outdoor dining. But importantly, we want to move to phase three."  
With many beaches open, restaurants now offering outdoor dining, and more than 100 protests held in the county, "we haven't seen any jump in the numbers at this point," Mr. Bellone said of new Covid-19 infection. "It's a very good sign to see the numbers where they are. What we're talking about today is . . . as we get into summer, let's make sure we remain vigilant and . . . prevent a spike from occurring."