With an increase in the federal supply of Covid-19 vaccines, Gov. Andrew M. Cuomo expanded vaccine eligibility yesterday to include people 60 and older, and on Monday, he announced a plan to open the East End's first state-run mass vaccination site on the Stony Brook Southampton college campus. 
"Supply is steadily increasing and we're opening new vaccination sites and expanding eligibility to match it," Mr. Cuomo said at a press conference on Tuesday. On Wednesday, people in certain professions that require interaction with the public will also become eligible for the vaccine. They include government and public employees such as sanitation workers and Department of Motor Vehicles staff, not-for-profit workers providing services to those in need such as children's case workers, and essential building service employees such as security guards, building superintendents, and cleaners, according to a press release from the governor's office. "New Yorkers over 60 years old and those who serve their fellow New Yorkers in the public sector are more vulnerable to Covid-19, and we're addressing that vulnerability by providing access to the vaccine," Mr. Cuomo said. 
Also starting on Wednesday, the state will allow any vaccine provider to vaccinate any eligible person. Previously, certain facilities were limited to serving a specific segment of the population; hospitals could only provide vaccinations to health care workers, for example. The lone exception will be pharmacies, which will vaccinate only people 60 and older and teachers. 
Even with the relaxed regulations, and increased supply of vaccine, appointments will likely still be hard to get because the "large population of eligible individuals still far exceed the supply coming from the federal government," the state said in a release. "Due to this limited supply, New Yorkers are encouraged to remain patient and are advised not to show up at vaccination sites without an appointment."
Although the state has operated mass vaccination sites for months, the closest one to the East End has been more than 60 miles away in Stony Brook. "I have led our East End elected officials in demanding more accessibility to the vaccine on the East End," said Assemblyman Fred. W. Thiele Jr. in a statement about the site opening at the Stony Brook Southampton college campus. "I had also personally lobbied Stony Brook University for a site at the Southampton campus. I am pleased that this request has been approved." 
It will be one of 10 new mass vaccination centers opening in the coming weeks across the state, including two others on Long Island, on the campuses of Suffolk Community College Brentwood and the State University at Old Westbury. Details about hours of operation and appointment scheduling will be released in the coming days, Mr. Thiele said. Once the site is ready, those eligible to receive the vaccine will be able to make appointments by using the state's Am I Eligible website.
Even closer to home, nearly 2,000 people received vaccines on Friday and Saturday at the vaccination site East Hampton Town developed at the former Childhood Development Center of the Hamptons building, now being called the East Hampton Center for Humanities. During a town board meeting last Thursday, Supervisor Peter Van Scoyoc got word that Suffolk County had agreed to provide the town with 1,000 doses. By 7:30 a.m. on Friday, a vaccination clinic for those 65 and older was up and running with volunteers guiding people through the process, and staff from Stony Brook Medicine administering the shots. "I rounded up 50 volunteers late Thursday night," said Councilman David Lys, who was on site to help oversee the operation. Mr. Van Scoyoc told members of the Amagansett Citizens Advisory Committee on Tuesday that East Hampton is "the first and only town in Suffolk County to put together a dedicated vaccination site. I'm very proud of that."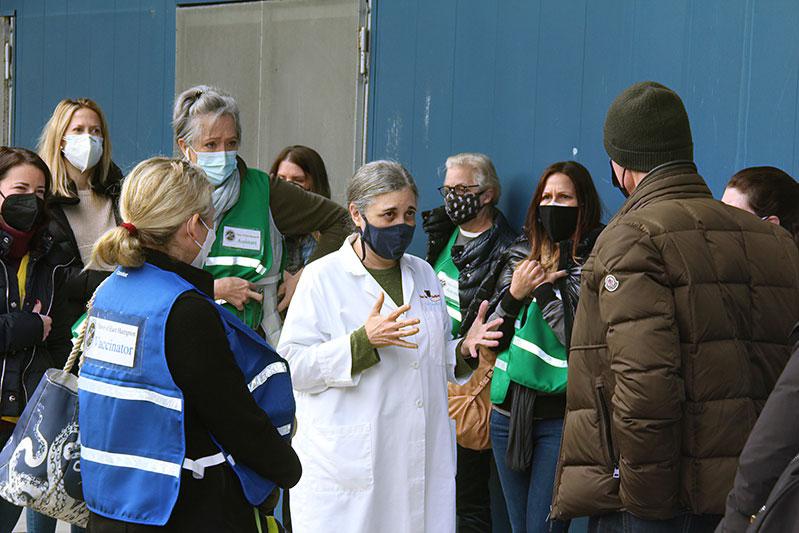 Nearly 1,200 people were vaccinated on Friday, according to the town, and several of the newly-vaccinated said they were grateful for the opportunity. "It's like a dream, I'm really happy," said Emily Liss, who had previously tried to book a vaccine appointment online "on Walgreens, CVS, the state site, the Suffolk County site, and on and on until my computer crashes or the site crashes." 
Catherine Crocitto said she had gotten so fed up waiting to get a vaccine, that she had driven to Stony Brook Southampton Hospital last Thursday to try to get an appointment. "The gentleman told me to get in touch with Fred Thiele, and in less than 24 hours, I got the appointment and I'm here today," she said. Edna Steck said she had preregistered on the town's ehtownvaccine.org website and received an email about the clinic the night before. "It worked very well today," she said. 
The following morning at the center, about 340 teachers, emergency workers, grocery workers, and volunteers received the second dose of a Pfizer vaccine, and in the afternoon, 340 residents with underlying health conditions received a first shot and were signed up to a get a second dose in three weeks, according to the town. In addition to holding its own clinics, the town also notified residents about a clinic held last Thursday at the Greek Orthodox Church in Southampton. "Getting our residents vaccinated is the most important effort the town can undertake right now," said Mr. Van Scoyoc.
To that end, the town is looking forward to holding even more vaccine clinics, said Mr. Lys. "We know our people better than anyone else, and we know our facility better than anyone else, and all these faces here, I can go down the hallway and say, 'Hi,' to at least one out of five or six people," he said. "It's fun seeing people talk to each other, and we all leave happy." 
With Reporting by Christine Sampson