Virginia Woolf was likely not talking about scrapbooks when, in her "A Writer's Diary," she advised the reader to "arrange whatever pieces come your way." But this magpie sentiment surely fits the 19th-century notion of collecting the ephemeral bits of one's life into albums that illustrated the scrapbooker's personal world.
The concept of a commonplace book goes back at least as far as the 15th century: preserving and often categorizing notes, correspondence, poetry, and recipes into an illustrated diary of sorts. Theater programs, autographs, and even cuttings from a new dress were commonly captured and adhered to blank paper sheets that were often bound into book form for preservation and sharing.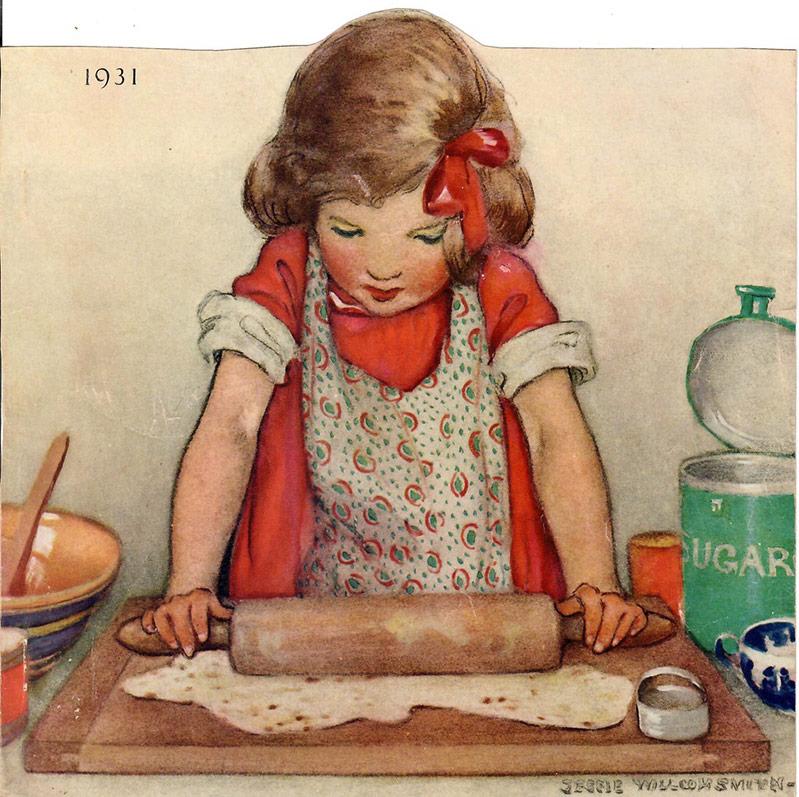 In Renaissance cities, small hand-colored prints were made just for the keepers of these popular albums. The prints might represent a religious holiday, scenes of balls and fashionable costumes.  During the Carnival season, Venetians loved collecting images of the mysteriously masked processions of street revelers and collaging them into fanciful compositions. 
By the beginning of the Victorian era, the scrapbook had taken on a life of its own. With photographs available, magazines ready to be cut up, trade cards given away freely at general stores, and fancy embossed dance cards handed around at parties, the hobby became incredibly popular, and most anything that could be adhered to a paper page found its way into countless scrapbooks.
At the turn of the 20th century, the era of fantastic full-color illustrations was having its golden age. Philadelphia became a center for educating young artists in the competitive field of illustration. In 1910, Howard Pyle, Maxfield Parrish, N.C Wyeth, Frank Schoonover, Charles Dana Gibson, and James Montgomery Flagg were some of the top male illustrators in America. But the hall of fame of illustration had room for some extremely talented and successful women, too, including Rose O'Neill, Bessie Pease Gutmann. Elizabeth Shippen Green, Carolyn Parker, Virginia Frances Sterrett, Mabel Lucie Attwell, and the topic of this article, Jessie Willcox Smith.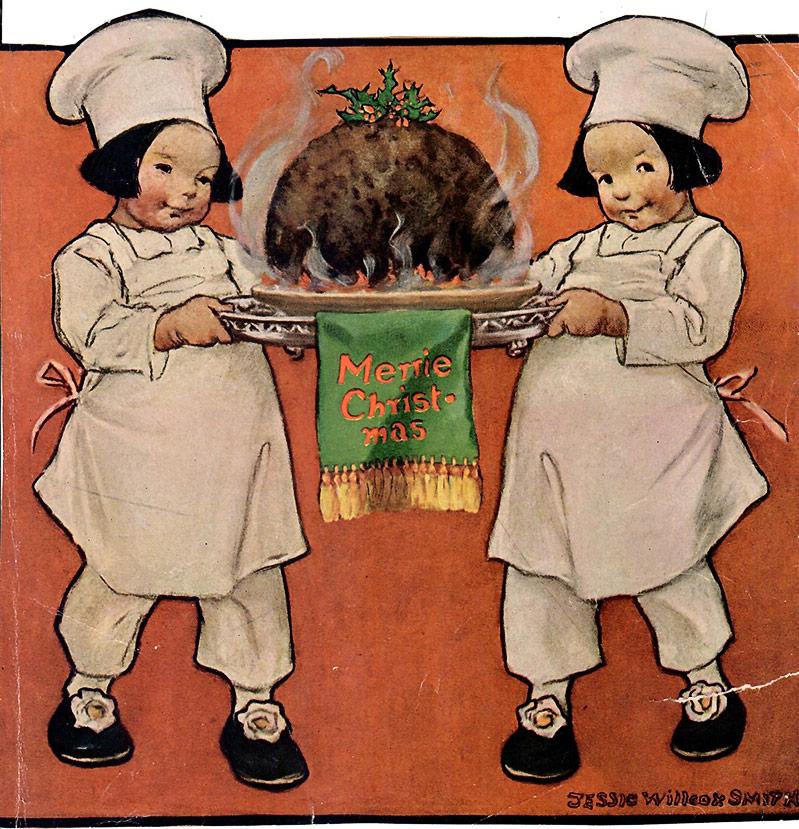 Strong illustrations by these artists — sometimes seductive, sometimes quaint — often decorated the covers of the hundreds of magazines geared to housekeeping, sport-hunting, children's pursuits, and travel. McCall's, The Studio, Harper's Weekly, The Delineator, The Youth's Companion, Life, Ladies' Home Journal, and St. Nicholas Magazine all contained wonderful ads and illustrations for any scrapbooker's scissors and paste.
Several years ago, an attic on Newtown Lane, in the old Osborne House on the corner of Osborne Lane, was being cleaned out, and among the many memories unearthed were three scrapbooks and a collection of 50 carefully trimmed illustrations by Jessie Wilcox Smith, the dean of America's great commercial artists. Some of the Smith illustrations were mounted on black craft paper, but all were contained in an embossed gray card-stock folio titled "Pictures: Jessie Willcox Smith." Most came from magazine covers and portrayed children and mothers. All were brilliantly composed, colorfully painted, and as charming as all get-out. Each illustration is so sentimental and sweet, you can see why a publisher would seek out Miss Smith to provide a painting that would propel a customer's hand to pull the monthly journal off the magazine rack, promptly put down the exact change, and carry it home.
Jessie Willcox Smith was born in Philadelphia in 1863. She trained to be a teacher and was leading a kindergarten class by 1883. For fun, she took an art class and realized that she could draw. By 21 she was sure her future would be art related and enrolled in the School of Design for Women. In 1885, she studied at the Pennsylvania Academy of the Fine Arts with the likes of Thomas Eakins and Thomas Anshutz. She was still a student when she first had an illustration published. After graduation, she took a job with the Ladies' Home Journal. Ever interested in improving her skills, Smith studied with one of America's pre-eminent illustrators, Howard Pyle, at the Drexel Institute.
While in Pyle's studio, Smith met two fellow students who would remain friends, Elizabeth Shippen Green and Violet Oakley. After sharing a studio together in Philadelphia, the three leased Villanova's Red Rose Inn, not just living and working there but running it as a hotel. All three continued creating illustrations for books, advertisements, and magazines. After they lost the lease on the inn, they had an old farmhouse remodeled in West Mount Airy, Pa. Jessie Willcox Smith continued to thrive as an artist until 1933, when her eyesight diminished. Critics consider her one of the greatest illustrators of children and often compare her works to Mary Cassett, a fellow Pennsylvanian.
After half a century or more in an attic trunk, these sweet and sentimental illustrations will be on display in the Kitchen Gallery at the East Hampton Historical Society's Thomas and Mary Nimmo Moran Studio, at 229 Main Street in East Hampton Village, during the annual Victorian Christmas display on December Saturdays, starting on Dec. 7, from 11 a.m. to 5 p.m. (Parking is very limited on site, so the organizers suggest leaving your car on James Lane.) We are all so lucky that an anonymous member of the Osborne family carefully compiled this beautiful collection of Jessie Willcox Smith's visions of childhood, and that we can all delight in them today.