This is not the way we planned it.
Back in 2019, when my pal Ellen Goodman and I decided to create and co-host a podcast celebrating this summer's centennial of woman suffrage, we envisioned an exciting new venture within reasonably routine parameters. A season of travel to feminist landmarks, accompanied by a team of technical pros; chatty interviews recorded in state-of-the-art sound studios, followed by a series of narratives to tell the dramatic story.
The seven-decade-long battle for the ballot was a thrilling and complex tale. As lifelong journalists — Ellen won a Pulitzer Prize for her nationally syndicated column based at The Boston Globe; I spent more than 30 years at ABC News — we were committed to broadcasting — oops, podcasting — its significance in a new and exciting medium. To try something different after decades of experience in print and TV, and with more than a dozen books in our collective bios.
We were especially excited to put the struggle for the right to vote in contemporary context. By dropping our podcast in 2020, we would be relating our foremothers' fight to gain a voice in American democracy — culminating in ratification of the 19th Amendment to the Constitution, barring voting discrimination on the basis of sex — during an election that may hinge on the votes of American women. It was an irresistible connection.
The good news is, our podcast, "She Votes!," covers all those bases, and more. Our first episode reveals the astounding moments of Susan B. Anthony's arrest, trial, and conviction . . . for the crime of Voting While Female. She actually went to the polls in 1872 and cast her ballot for Ulysses S. Grant. Back then the Republicans were the progressives. But the federal government prosecuted her like a common criminal. Tells you something about their fear of women having their say.
In our second episode we explore a question that seems unimaginably absurd: Are Women People? That is, are we humans with full political and civil rights? The answers — from early legal decisions to the witty poetry of a 20th-century columnist for The New York Tribune to Siri (yes, Siri) — are more than surprising.
Throughout all eight episodes, we follow the through-line of suffrage from its roots in abolition to the clashes of race and gender within the campaign; from the link between body-constricting corsets to mind-stunting restrictions on female citizens; from newfound pride in the power of sisterhood to the painful realization that women are not a monolith and were never of a single mind about their rights. Bet you didn't realize that once, most women actually opposed their own right to vote.
But getting this story out has not always been quite the jolly new journey we anticipated.
Hello, Covid-19.
I do not mean to suggest that anything we've encountered en route to our podcast has been nearly as daunting as what suffragists themselves faced in persuading a nation entrenched in white male supremacy to consider the rights of all women. As one historian told us, "Men don't like to share power."
And I certainly do not mean to compare our slog through the world of remote podcasting and interviewing and researching to the real sacrifices of our front-line workers on the front line of the virus. We owe them everything. Including, no doubt, our ability to survive while doing this.
Still, ours has been an interesting curve.
Those historic sites showcasing great moments in the narrative? Well, we got to a few in upstate New York before Covid closed us down: Rochester (home and office of Susan B. Anthony), Canandaigua (site of her trial), Seneca Falls (where the first public demand for the vote was issued in 1848). These are jewels in the crown of suffrage history, and we were thrilled to be able to include our on-site reporting about them.
But sequestration stopped our visits to other important locations, including Nashville, Tenn., the final state that ratified the 19th Amendment in August 1920. We'd wanted to walk up the steps to the Capitol, as Harry T. Burn — a 24-year-old state legislator — had done, when he became the deciding vote at the 11th hour. One man, one vote, and the population of eligible U.S. voters doubled. Luckily, one of Harry's descendants proved wonderfully able to tell his great-granduncle's tale.
Which brings me to our next challenge.
At first, we interviewed important historians and commentators in the well-padded studio of our partners, Wonder Media Network. Their office, in the heart of New York's Little Italy, was fully equipped to provide the clearest audio in complete comfort. Ellen and I focused on the story; they worried about how it sounded. And then came lockdown.
Have I mentioned the transformation of my home office in East Hampton?
Unable to travel, even to the office, we found ourselves conducting interviews the same way everyone else had been coping: remotely. Which, in our case, meant that for any given session, we were spread out way more than six feet. I was in my house in East Hampton, Ellen was in hers in Boston, the producer was in hers in Brooklyn, and the subject was . . . wherever. Our creative team experimented with every version of online and smartphone-assisted technology, even getting giant, snappy microphones delivered to us for the best possible quality.
And then they told us how to "build" our own studios.
In my case, it meant bringing sofa cushions from the living room into my little home office and piling them up around me to muffle echoes and reverberations. It meant building a tent fort with a blanket over my head so I could record on my desktop computer in relative silence. And praying that no leaf blowers would suddenly appear.
Ellen took her laptop into her closet — and then disappeared under a blanket.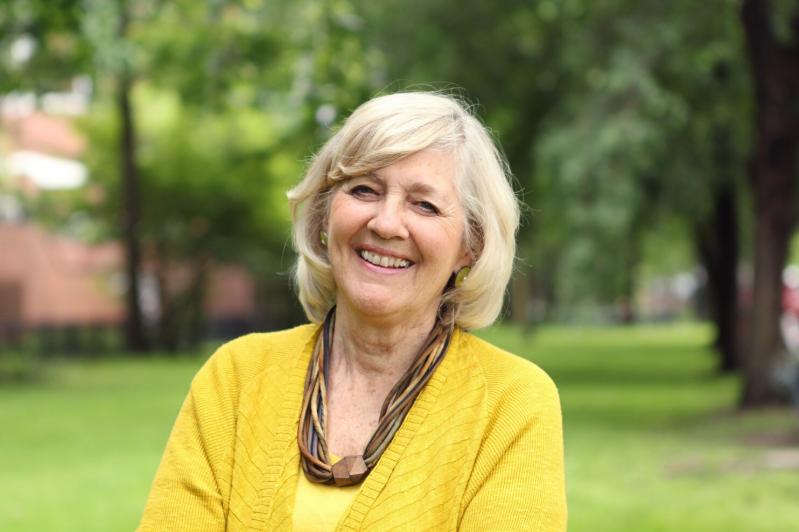 Please understand. I am not complaining. I am marveling. Despite a few glitches along the way, it's all worked just fine. You would not know from listening that we are bundled up like babies and barricaded within padded cells while narrating the most significant events in women's history.
My co-host and I have also — according to kind reactions from friends and strangers alike — managed to pull off one of our primary goals despite the distance. We wanted to create an atmosphere that sounded as if listeners were, well, listening in to the kinds of conversations we've had as friends and colleagues over half a century of covering women's issues. As if we were comparing notes across the dinner table about things that ignited our passions. Somehow, we have been able to dish comfortably and spiritedly about our days in the Second Wave of feminism despite the miles and the foam padding.
There are, of course, other disappointments. We've not been able to make public appearances to remind folks how important this centennial is. We've missed the live events where we can interact with curious citizens and answer their questions in person. But honestly? The determination of so many others willing to go the extra mile — and making change — in the time of Covid has been a grander inspiration.
Because so much of the history we're telling is, well, history, we have a few actors reciting major players' words. One of them is the great Christine Baranski, who channels Susan B. Anthony with fervor. For that recording, Christine was in Connecticut, I was in East Hampton, the producer was . . . well, you get the picture.
And listen closely for a cameo by the East End's First Feminist, Alan Alda.
One of the points we've wanted to emphasize is that the 19th Amendment was not the end of the fight for the right to vote. It began long before that, and continues to this very day. Because of the hateful Jim Crow laws in the South and elsewhere, millions of African-American women had to wait until 1965, when the Voting Rights Act finally barred states from putting obstacles in the way of Black citizens. Native Americans and Chinese citizens were among others who needed specific legislation to gain access to the polls. Today, voter suppression threatens in new and insidious ways.
So we were delighted to interview Stacey Abrams on the subject (she was in Atlanta, I was in East Hampton, Ellen was in Boston, etc.). And can't wait to finish that episode with her insights into the modern implications of woman suffrage.
All of which is by way of saying, this has been a far grander adventure than I'd expected. And one that I'd not trade for anything. Hey, anyone can make a podcast the old-fashioned way. Like three generations of women who came up with arguments and approaches and logic and parades to win over the public, the press, and the politicians, we've had to attack this very new format in an even more creative way. And what matters, after all, is the message, not the method.
The grit and persistence of the women who helped make us full citizens was — to use the real meaning of that often overused word — awesome. We look forward to the moment when it is said of every woman in America, "She votes."
---
Lynn Sherr is a Peabody Award-winning journalist, best-selling author, and now co-host of "She Votes!," a new podcast available at shevotespodcast.com, on Apple Podcasts, and on Spotify.