Blade, the helicopter and seaplane operator, was forced to cancel its seaplane service to Sag Harbor Thursday after the village complained of misrepresentations in Blade's advertising. Blade removed all online, social media, and print advertising about service to Sag Harbor on Wednesday.
The advertisement, described by Mayor James Larocca as "very exaggerated and misleading," depicts six passengers boarding a seaplane that departs from the East River as the yacht rock song "Brandy (You're a Fine Girl)" swells in the background. They're taking pictures of each other in the perfectly lit cabin before a brief drone shot of the Long Wharf cuts to a floating dock out in the bay. A crisp tender transports them to Long Wharf, where a friendly woman hands them their scant luggage before they hop in their ride, a retro Ford Bronco (parked illegally, incidentally).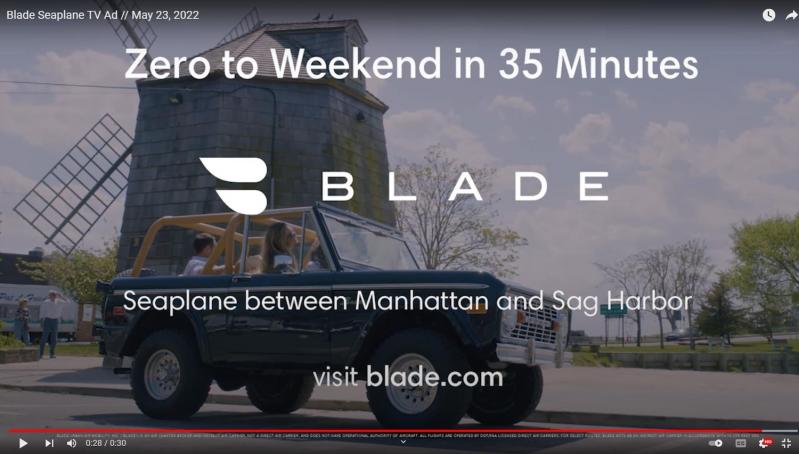 The advertisement closes with the words "Zero to Weekend in 35 minutes — Seaplane between Manhattan and Sag Harbor" with the iconic Long Wharf windmill just behind. Before getting pulled, the ad had close to 1,000 views on YouTube.
The ride costs $895 per passenger.
Ken Deeg is the owner of the Sag Harbor Village launch service. Over text he said he was "optimistic they will come to some understanding and figure out a way to safely continue operations." He said, "incoming planes have not increased" and that it was "safer and quieter than ever due to the . . . landing location." The floating dock where Blade is landing its seaplanes is in the "outer management area" a few hundred yards from Haven's Beach. The ride to the Long Wharf from the dock takes approximately eight minutes, according to Mr. Deeg.
Mayor Larocca said that upon seeing the ads, the village board asked Mr. Deeg to suspend the launch service immediately and he agreed. Blade does not own a launch. Without Mr. Deeg's service, they cannot take their customers to Long Wharf.
"In the advertising, the Long Wharf is being described . . . as the departure point for four kinds of aviation services," including helicopters, said Mayor Larocca. "First of all, it's not true. Any journey that begins on Long Wharf is going to be on a boat. The advertising does not describe it properly as a connection."
He said the portrayal could feed into the ongoing debate about the use of Long Wharf as a destination for the Peconic Jitney ferry service. "The Long Wharf is one of our most important assets," he said, and to have it misrepresented was problematic for the village.
Additionally, Mr. Larocca said Aidan Corish, a village trustee and a licensed pilot, noticed that Blade's website showed it switching from a private charter service to a scheduled airline service. "When a service is on a fixed schedule, it is subject to a different protocol in the world of aviation regulation," said Mr. Larocca. This prompted the village to lodge an additional complaint with the Federal Aviation Association. 
"We're licensing the last mile of this trip, and I have a big issue with that," Mr. Corish said by phone on Friday. "There's nothing in it for the village other than disturbance and discombobulation." He added that "Not one of these companies has any shore personnel."
Neither Blade nor Tailwind, another seaplane company, have come to the village board, he said. Meanwhile, the Peconic Jitney, which is proposing a ferry service between Long Wharf and Greenport, has made multiple presentations, most recently to the Harbor Committee on Thursday night.
Mr. Corish advocated for three things. He wants the village to ban any taxiing in village waters, he wants the pontoon off of Haven's Beach that serves Blade passengers to be removed, and he wants the Sag Harbor launch service to stop picking up seaplane passengers.
Mr. Larocca said that even if Blade were to get a substitute launch, the village would not permit it to land at Long Wharf. He said now that the advertisements have been pulled, the village will have a conversation with Blade and try to come to some agreement.
With East Hampton Town's attempt — now on hold — to privatize its airport and limit the number of trips aircraft operators can make into and out of it each day, Blade had said earlier this year that it would divert 60 percent of flights booked on its platform to other landing areas including the Montauk Airport, seaplane landing zones in Gardiner's Bay and Peconic Bay, and locations in Southampton, Mattituck, and Westhampton Beach, along with ocean landing sites.
Seaplane landings are banned in waters under East Hampton Town's jurisdiction.
--
Note: This article has been updated since it first appeared online to include comments from Aidan Corish, a village trustee who could not be reached prior to its original publication date.