Gov. Kathy Hochul and federal Secretary of the Interior Deb Haaland were among the dignitaries on hand at LTV Studios in Wainscott on Friday for the ceremonial groundbreaking on the South Fork Wind farm, New York's first offshore wind farm, to be situated approximately 35 miles off Montauk Point.
The event came in the wake of the onshore preconstruction activity that started soon after the wind farm's final federal and state permits were in place. East Hampton Town and the town trustees agreed last year to allow the onshore components of the wind farm in exchange for a host-community agreement that will pay the town and trustees around $29 million over the next 25 years. 
"Local governments are where the action is," the governor said. "It's always great to be first -- congratulations." Construction of the wind farm was an example of words turning into action, she said, and will move the town closer to its goal of meeting all of its energy needs from renewable sources. "You had concrete goals that you're going to be achieving," the governor said, "and we're really proud to work with you." 
She praised the Biden administration, which she said "has really put the focus back where it should have been all along," on "fighting climate change as we transition to a new energy future, in the meantime creating thousands of jobs."
The president, she said, was also "very smart in selecting a woman," Ms. Haaland, "who has lived a life full of passion and advocacy," and she noted that Amanda Lefton, director of the federal Bureau of Ocean Energy Management, which recently gave final approval to the wind farm, previously served as first assistant secretary for energy and environment under former Gov. Andrew M. Cuomo. "New York is in the house!" she said. 
She also stressed the economic benefits that the wind farm will bring to the region, referring to the $500 million investment in offshore wind ports, manufacturing, and supply chain infrastructure announced in her State of the State address last month. 
Ms. Haaland, who is the first Native American to serve as a cabinet secretary, was emotional as she opened her remarks by acknowledging the Shinnecock Indian Nation. "It's wonderful to be here to celebrate a historic milestone and break ground on the South Fork Wind project," she said. "Today marks another momentous step in our work to create a robust, sustainable, clean energy future."
The South Fork Wind farm "and others like it will promote development of a robust domestic supply chain," she said, "ensuring these create good paying union jobs. The best part of that is that we're just getting started." The wind farm, she said, and the Interior Department's progress on offshore wind will continue the Biden-Harris administration's goal of 30 gigawatts of offshore wind power by 2030 and New York's goal to develop 9,000 megawatts of offshore wind by 2035.  
Joe Nolan, president and chief executive officer of Eversource Energy, also praised the president. "What a breath of fresh air this new administration is," he said. "This is going to be a game-changer, not only for New York but for the region." The South Fork Wind farm, he said, "will bring significant benefits to New York."
David Hardy, chief executive officer of Orsted Offshore North America, which with Eversource Energy is developing offshore wind farms, including the 130-megawatt South Fork Wind farm, among others, said it was an emotional day for him, as "PowerPoint, Excel, Word documents, lab reports, and environmental surveys" over seven years have given way to "actually moving dirt." 
He talked about the "transition from a dream about what offshore wind could be to the reality of building projects."
Orsted itself, a Danish energy company, has transitioned from fossil fuels to a company recognized as "the most sustainable energy company," on track to be carbon neutral by 2025. 
East Hampton Town Supervisor Peter Van Scoyoc told the gathering that "we were the first municipality in the state to adopt a 100-percent renewable energy goal." The wind farm will take the town closer to its goal, he said. "East Hampton is doing its part to address climate change," he said, but cannot do it alone. It takes a commitment from "leadership willing to take bold steps to make meaningful change."  
When the wind farm is operational, which expected by the end of 2023, it will power around 70,000 average-size residences, which the governor said will eliminate up to six million tons of carbon emissions over the next 25 years, the equivalent of taking 60,000 cars off the road. "How about that for a metric?" the governor asked.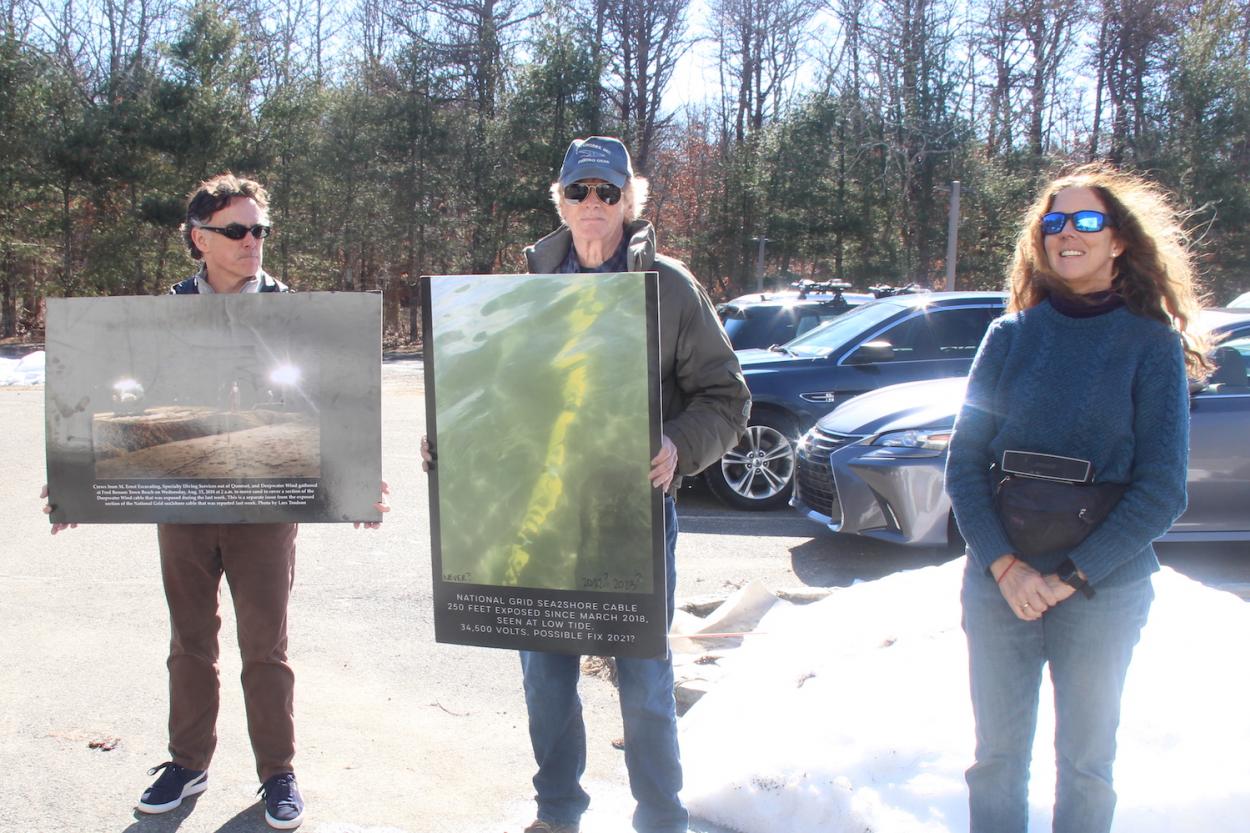 A small number of opponents of the wind farm were outside LTV Studios, holding signs protesting the project, which commercial fishermen fear will disrupt if not destroy their livelihoods. 
Another group of opponents, Citizens for the Preservation of Wainscott, issued a statement on Friday. "We continue to support the move to renewable energy and celebrate the progress toward that goal," said the group, which tried to force a vote to incorporate Wainscott as a village in order to thwart the wind farm's export cable landing at the ocean beach in the hamlet. "But we continue to have serious reservations regarding an infrastructure project that runs its cable through residential neighborhoods" and near a Superfund site (part of East Hampton Airport), "particularly when better alternative sites were available. Our focus will continue to be on protecting our community."