In an act of civil disobedience, East Hampton baymen and their supporters drove a caravan of 39 trucks onto what is popularly known as Truck Beach on Napeague on Sunday morning to assert what they said was their right to use, and drive on, the ocean beach there.
A panel of four New York State Supreme Court Appellate Division judges determined in February that the 4,000-foot stretch of beach was owned by the upland residential property owners and that the public had no inherent right to drive or park vehicles there. The caravan drove the stretch in question before turning around and leaving the beach.
Baymen had promised such action in the wake of a June 4 injunction reiterating the Appellate Division panel's Feb. 3 determination. The court, in the June 4 injunction, threatened the town board, the trustees, East Hampton Town Police Chief Michael Sarlo, and Ed Michels, the town's chief harbormaster, with civil contempt should they violate the Feb. 3 decision that the homeowners associations' chains of title to their respective properties extend to the mean high-water mark of the ocean.
The move was the latest in a long-running disagreement pitting commercial fishermen and four-wheel-dive-vehicle permit-holders, who have used the stretch of ocean beach for recreation, against the upland property owners, who portray a dangerous environment with hundreds of vehicles weaving through crowds and children at play, and people and dogs urinating and defecating in the dunes.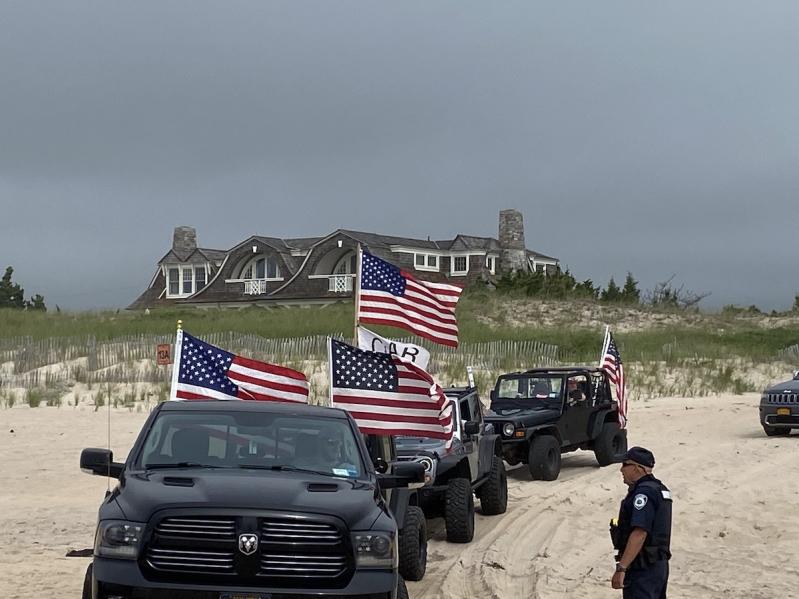 A vehicle access to the beach at the end of Marine Boulevard was blocked by a police car on Sunday morning, and stakes had been driven into the sand, perpendicular to the shoreline and extending to the high-water mark, at the Napeague Lane road end. Signs posted at both locations stated that the beach between Napeague Lane and the westerly boundary of Napeague State Park was private property and that vehicles are not allowed.
On a trailer near the front of the caravan was the red, white, and blue dory once owned by Dan King that has long been displayed in front of the East Hampton Town Marine Museum in Amagansett. Mr. King had built his "flag dory" for haulseining in 1976, 14 years before the traditional method of fishing was outlawed by the state. It became an enduring symbol of civil disobedience against the ban when Mr. King launched it in a 1992 protest at Indian Wells Beach in Amagansett, catching striped bass. State police arrested participants that included East Hampton Town and Village officials and the musician Billy Joel.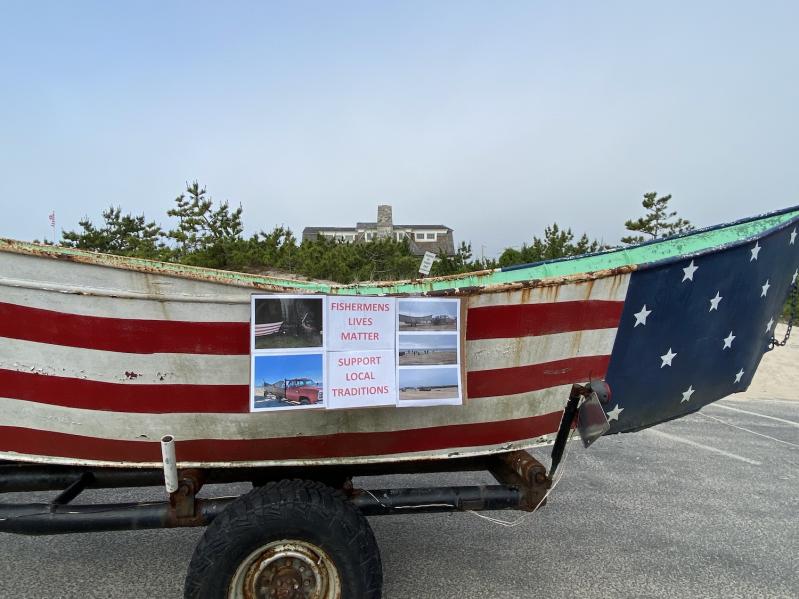 As Marine Patrol and police officers surveyed the long line of vehicles that stretched along the length of Napeague Lane, Mr. Michels and Dan Rodgers, an attorney representing several baymen, discussed the imminent action. If a property owner complained, those driving on the beach would be issued a summons, Mr. Michels explained.
"We're simply making a point," Mr. Rodgers said just prior to the action. "Nobody's going to be fishing today, but that doesn't mean that they're not scouting for fish. The point is that we want to come today to make it clear that we're going to come back. We're going to do this throughout the summer and make our point, which is we're not going to obey this law because we don't think it applies to us, period."
Marine Patrol officers recorded the trucks' license plate numbers as they proceeded around the stakes in the sand and drove east around 9 a.m. There were no complaints registered, Mr. Michels said, and by 10 a.m. the small parking lot at the end of Napeague Lane was almost empty.
No members of the town board or town trustees were on hand on Sunday morning. Francis Bock, clerk of the trustees, and Christopher Carillo, the trustees' attorney, explained its members' absence on Monday. "I know that a few of us have been taking quite a bit of heat," Mr. Bock said to the four of his eight colleagues who attended the trustees' virtual meeting. "We've been put on the defense to show why we shouldn't be charged with contempt of court — that's how deep we are in this. And to be accosted by people in the public who really don't understand where we are here is kind of sad, at the very least."
"We have made our case in court," Mr. Bock said. "We've issued our arguments, we're waiting to hear back from the judges on their decision on that. From there, we can decide where we're going to go. At this point, that's pretty much all we can do. I know some people are disappointed that trustee or town board members did not take part in the protest yesterday. If we had, we most certainly would have been charged with contempt. At that point, we lose the case. So why would we want to take that risk?"
Mr. Carillo added that, "While we have a lot of arguments in our favor and that's going to play itself out in court . . . as of right now there is a temporary restraining order restraining us and the town from allowing beach driving. And even though we might not agree with it, it is important, as Francis mentioned, that we do not find ourselves in a position where we're in contempt of court. That has its own set of circumstances; it puts us in a very disadvantageous position going forward."
"We have been advised and believe it's important not to be held in contempt," Supervisor Peter Van Scoyoc, who was out of town attending to a personal matter last weekend, said on Tuesday. "That's why we've taken the measure of notifying the public. All those participants in the protest were made aware that, should someone come forward with a claim of trespass, we would have to enforce that. . . . I think it's important to keep the focus on this access right issue, and the town has committed to moving forward to secure the public's right of access over all of our beaches."
Several property owners associations had asserted their ownership of the beach in parallel lawsuits brought against the town and the town trustees in 2009. In a five-day bench trial in Riverhead in June 2016, they carried out a broad attack aimed at activities on the adjacent ocean beach, which, they contended, represented a threat to public health and degradation of the environment. The chains of title to their respective properties, they claimed, extend to the mean high-water mark of the ocean per an 1882 deed in which the trustees conveyed some 1,000 acres on Napeague to Arthur Benson.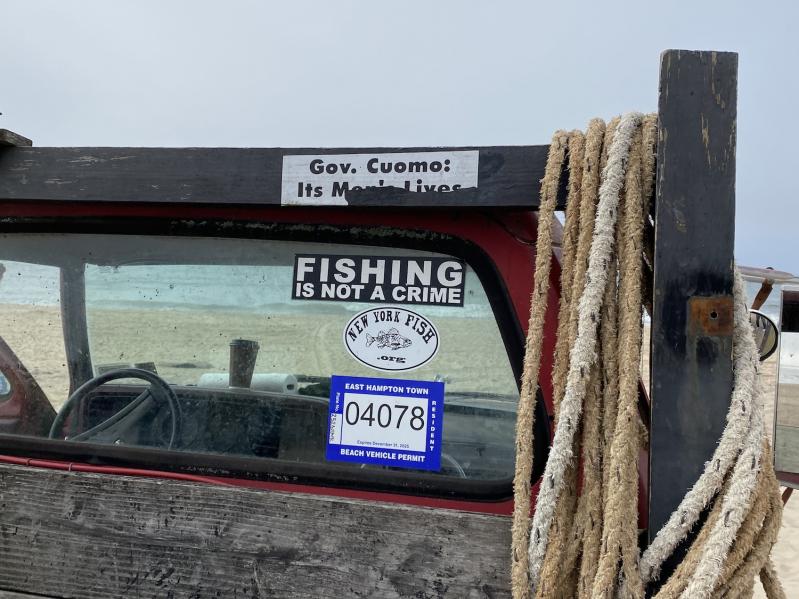 The defense contended that even if the homeowners associations established that titles to their respective properties extend to the mean high-water mark, the town nonetheless retained the right to allow the public to operate and park vehicles along the beach, including the portion owned by the homeowners associations, based on wording in the 1882 Benson deed. That contained a clause that "reserved to the inhabitants of the Town of East Hampton the right to land fish boats and netts to spread the netts on the adjacent sands and care for the fish and material as has been customary heretofore on the South Shore of the Town lying westerly of these conveyed premises."
The defense also argued that residents of East Hampton have been using the beach in question for generations, a fact that was attested to in the 2016 trial with testimony from residents including Mr. Michels, Bill Taylor, a trustee and then the town's waterways management supervisor, and then-Councilman Fred Overton. Some who testified recalled driving on the beach more than 50 years earlier, and all dismissed suggestions that conditions had ever been hazardous.
In his November 2016 ruling in the town and trustees' favor, State Supreme Court Justice Ralph Gazzillo noted that the 1882 deed "clearly reserved some rights 'to the inhabitants of East Hampton' and, arguably, the allowances for some public use." The Appellate Division panel reversed much of that ruling in February.
Ken Silverman, a spokesman for one of the property owners associations, observed Sunday's proceedings and spoke with some of those attending. Property owners have no issue with fishermen, or a beachgoer with a blanket and umbrella, he said. Rather, their concern is about dozens or even hundreds of trucks congregating on the beach. Residents seeking to "reassert their traditional rights" have been misled to believe "that the trustees own that beach," he said. "I don't know how you do that with something you never owned or you sold without buying it back. That's sort of the rub for a lot of this. The town's going to have to figure out how they're going to deal with reality."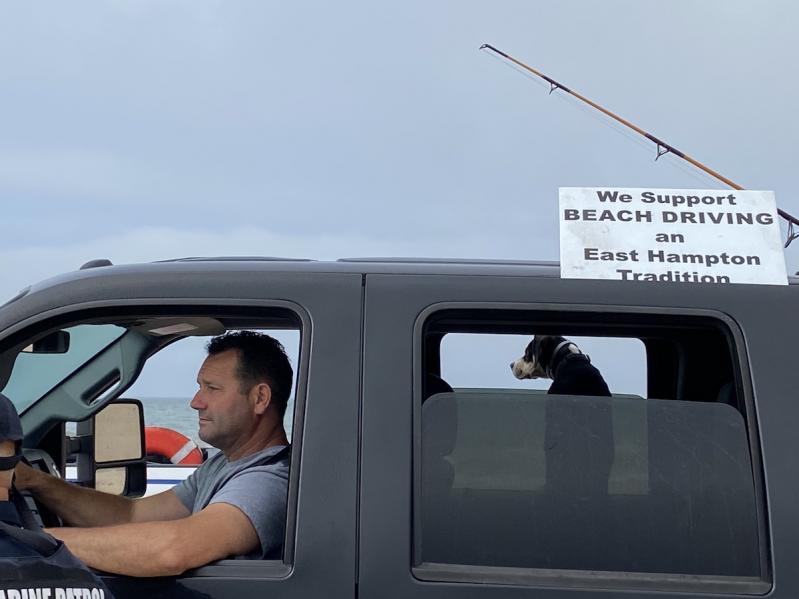 This story has been updated since it was first published.