A long-hoped-for project to remove the utility lines crisscrossing what may be one of the best views on Route 27 is finally within reach. State and local officials last week announced plans to remove poles and bury the lines at the western end of downtown Montauk, giving eastbound drivers an unobstructed ocean vista as they approach the heart of the hamlet.
"It's been a long time coming," said John Keeshan, a civic activist who has been lobbying for burial of the lines for over two decades and was on hand Friday when East Hampton Town Supervisor Peter Van Scoyoc and State Assemblyman Fred W. Thiele Jr. outlined the project at the site. "There are very few places you can drive into town and be greeted by the ocean," Mr. Keeshan said by phone on Monday. 
Years ago, at civic and government meetings, Mr. Keeshan began presenting renderings of what the drive into Montauk would look like without the utility lines. In 2008, when he was named the Montauk Chamber of Commerce's Man of the Year for his many other contributions to his hamlet, he was already working with government officials and representatives from the Long Island Power Authority, Verizon, and Cablevision to research the project.
Convincing people that this world-class view shouldn't be marred by unsightly utility lines was easy; finding a path to actually accomplish such a project was not.
"Most everything I championed, it was like Mother's Day and apple pie," Mr. Keeshan said, recalling his role in efforts to build a new Montauk Library, install streetlights downtown, and start the annual Thanksgiving Day Run for Fun in 1976. "The gateway project was a bigger project. When I first started, I had a few people who said, 'You'll never do it.' " 
And there were times, he said, when "I wasn't sure that I was going to pull this off." He had bipartisan local support for the effort, and at one point it almost got federal money. 
The effort gained greater momentum about three years ago, when a group of private property owners along Old Montauk Highway, led by Dan Cahill, organized and funded the burial of utility cables between Davis Drive and Cleveland Drive and began exploring the possibility of burying still more of the lines.
The project announced last week will supplement that private effort, with the State and Municipal Facilities Program providing an initial $250,000 toward the $750,000 estimated cost and a second state grant promised in the 2022 state budget. East Hampton Town will cover the remaining costs. 
"This is a partnership on every level," Mr. Thiele said Monday. "All the tumblers kind of fell together," he added, referring to the private efforts already underway. "So it became a phase of an overall project. . . .  Without all of those pieces fitting together it would have been really hard to get this project done."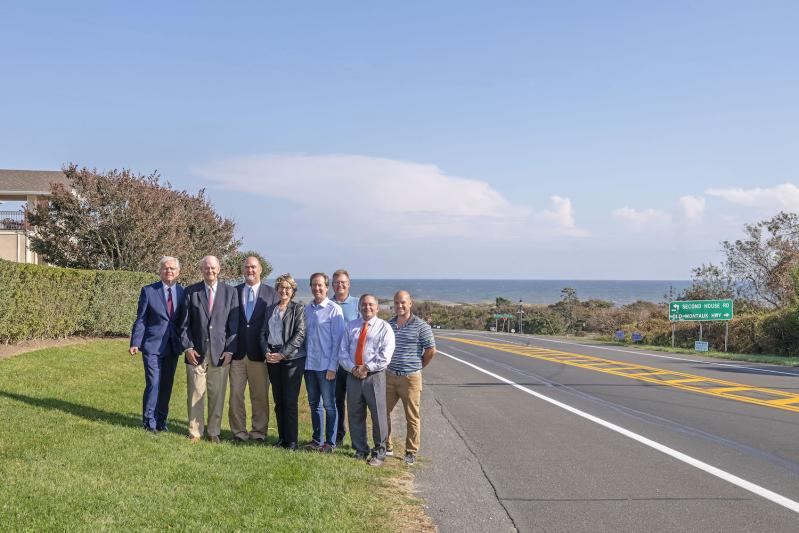 If not for the pandemic and the attendant freeze on state spending, it might have come together a year and a half or two years ago, Mr. Thiele said. 
"I wish it could have happened sooner, but after 25 years I'll take what I can get," said Mr. Keeshan.
While an improved view is first and foremost, there are other benefits to burying the lines, as both Mr. Keeshan and Mr. Van Scoyoc pointed out. "Increasing energy resiliency by safeguarding our electrical supply lines underground is a critical step, in line with the townÕs overall coastal resiliency goals as we work to mitigate the increasing effects of climate change," the supervisor said in a joint release from his and the assemblyman's offices. He credited Mr. Keeshan's "vision and persistence," Mr. Thiele's work to secure funding, and Mr. Cahill's work in "marshaling private community support and resources to bury the lines along an extended stretch of Old Montauk Highway."
"It's such an iconic view," Mr. Thiele said Tuesday. "It takes your breath away, and without the telephone poles, it's really going to be something special." 
In the future, when people arrive in the hamlet from points west, "you'll get the essence of Montauk," Mr. Keeshan said.
Mr. Thiele said on Tuesday that while he hoped the work could be done by the end of 2022, it is more likely a spring 2023 project.