Around 70 people rallied to draw attention to the United States postmaster general and the Trump administration on Saturday morning in East Hampton Village, demanding Louis DeJoy's dismissal, the return of mailboxes and mail sorting equipment that were removed, and the universal right to cast ballots by mail.  
The activist group Resist and Replace hosted the protest, one of many taking place nationwide on Saturday. Protesters gathered at Hook Mill, where organizers and Laura Ahearn, the Democratic Party's candidate to represent District 1 in the New York State Senate, spoke before the group marched down and across Main Street and up Gay Lane, where they passed the Post Office before returning to the Hook Mill green. 
The protest was in response to sudden and dramatic changes to Postal Service since Mr. DeJoy took over in June. A donor to Republican candidates who hosted a 2017 fund-raiser for Mr. Trump's re-election, Mr. DeJoy has made cuts to overtime and mail delivery, and curtailed post office hours. Hundreds of mail-sorting machines have been removed from postal facilities and mailboxes taken from streets.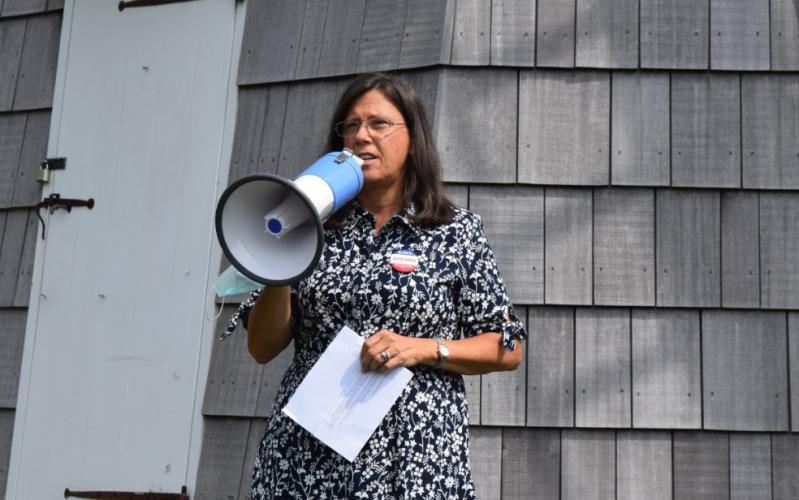 ---
"We're here today because the federal administration has launched an all-out attack against the right to vote and against the U.S. Post Office," Ms. Ahearn told the gathering. "Covid presents obstacles for our most vulnerable to vote. We count on the mail-in ballots for every vote to be counted."
"But Trump, right now, what he should be doing is reducing the barriers for us to vote," Ms. Ahearn said. "He's supposed to protect our Constitution, am I right? And what is he doing? He's putting obstacles in the way, major obstacles. Why? Because he knows we will vote him out, we'll vote [Senate Majority Leader Mitch] McConnell out, and we'll vote [Representative Lee] Zeldin out. So we have to stand in solidarity to fight against this tyranny to suppress our vote."
June Zeitlin, an organizer of the event, urged those attending to contact Mr. Zeldin "and let him know how angry and upset we are," as well as Senators Charles Schumer and Kirsten Gillibrand, "who are helping to lead this fight, to let them know that we're behind them."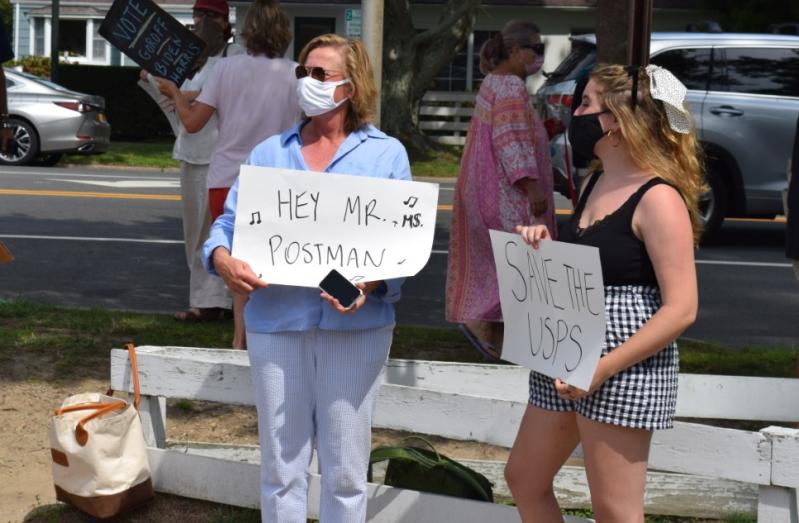 In an internal memo last month, the Postal Service warned that "we may see mail left behind or mail on the workroom floor or docks" temporarily due to the changes. This as the president regularly asserts, without evidence, that mail-in voting will result in election fraud, raising fears that Mr. Trump is deliberately sabotaging the Postal Service to suppress the counting of votes cast by mail. 
Mr. DeJoy faced questions from the Senate Homeland Security and Governmental Affairs Committee on Friday, during which he expressed confidence that the Postal Service could accommodate an election in which more votes will be cast by mail than ever before. The New York Times reported on Saturday that the House of Representatives interrupted its recess to consider legislation blocking the changes implemented by Mr. DeJoy and "require the Postal Service to prioritize the delivery of all election-related mail" and allocate $25 billion to ensure it can handle a crush of votes cast by mail.