"Around last April, sourdough was kind of a buzzword during the pandemic, and people were seeking to do sourdough in their homes," said Stephen Robinson, a self-described "hobbyist baker" whose day job was in media and advertising sales. While growing up, Mr. Robinson baked sourdough breads with his mother, who was an avid baker.
Last spring, with the help of his mother's 10-year-old sourdough starter, itself sourced from Tom Douglas, a noted Seattle chef, and cooking in his in-laws' Water Mill kitchen, he decided to ride the sourdough wave. The first stop for Hampton Sourdough was Babinski's Farm Stand in Water Mill, which started carrying Mr. Robinson's loaves. At the time he was able to turn out eight in a day. "People were effusive about them," he said.
The big break came when the executive chef at Topping Rose House in Bridgehampton was looking for a local vendor to provide bread for its table service. Mr. Robinson brought some samples to the restaurant, where "they seemed to love it. That relationship kind of launched us."
He was producing as much as he could using his in-laws' two convection ovens and their grill, but by the summer it was clear the business had outgrown the space. In July he moved the company to the East End Food Institute in Southampton, a nonprofit initiative that builds partnerships among farmers, food producers, and food consumers in the region.
In December, the company relocated to Stony Brook University's Food Business Incubator in Calverton. "It's really fantastic," Mr. Robinson said. "It's a whole community of small businesses like ours. We have our own room, we were able to install an oven there that's really good for bread, and it has all sorts of equipment we can use."
Mr. Robinson was able to yield the position of head baker to Carlos Barbosa, who "lives and breathes bread." Mr. Barbosa worked at the Dominique Ansel bakery in SoHo, where he made the cronuts, "so he's a big croissant guy and wants us to do that eventually." He also worked for many years at Meyers Bageri, a Danish-style shop in Grand Central Terminal, and most recently was the head baker at Manhatta restaurant, part of Danny Meyer's Union Square Hospitality Group.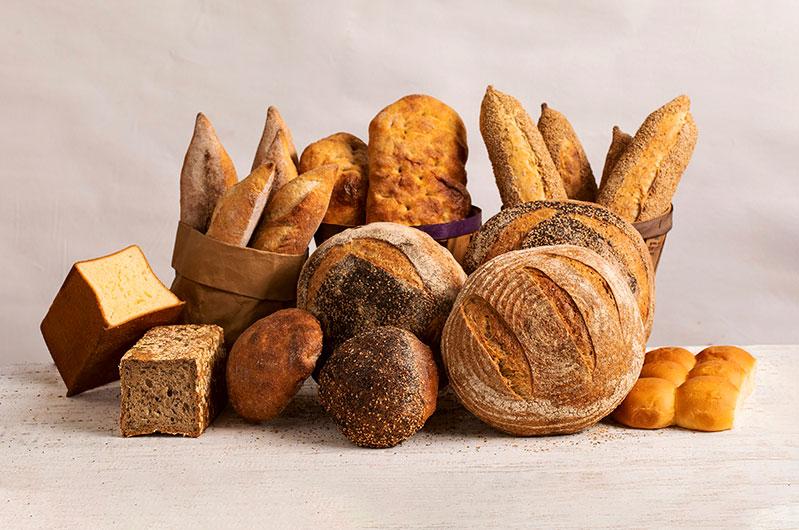 When the pandemic forced the restaurant to scale back, a mutual friend connected Mr. Barbosa and Mr. Robinson. "He came on board full time and has really helped us scale." The company has four part-time bakers and a distribution team of several drivers. While in Southampton, Hampton Sourdough was able to produce 200 loaves a day. Now, depending on the day of the week, the output ranges from 500 to 1,000 per day.
Mr. Robinson said that launching during early days of the pandemic was surprisingly serendipitous because there were so many more people than usual in the Hamptons, and they stayed for a longer period of time. "There was a pretty sustained demand across the farm stands and farmers markets," he said.
Now that farmers markets are closed, most of the firm's restaurant clients are open, though demand from them is much slower than during the summer. Those venues include Almond and Jean-Georges at Topping Rose House in Bridgehampton, and Cove Hollow Tavern, Nick and Toni's, and Rowdy Hall in East Hampton. During the summer, Hampton Sourdough was served at the wine stand of the Wolffer Vineyard Estate in Sagaponack.
Before this next summer, "We're taking a step back, refining our processes, and also starting to do more outreach and build our client list." While it was based in Southampton, the company was focused on the South Fork, but now that it's in Calverton it has its sights on the North Fork and, eventually, the rest of Long Island and perhaps the city. "As the farmers markets reopen and restaurants are able to increase capacity, ideally we'll be able to continue to grow," Mr. Robinson said. "I'm expecting a big summer."
In the meantime, six of Hampton Sourdough's products are available online from the East End Food Institute's Virtual Farmers Market. Other local vendors include the I.G.A. in Amagansett, L&W Market in Bridgehampton, Provisions and Schiavoni's Market in Sag Harbor, and Schmidt's Market in Southampton. A complete list of the company's breads and where to buy them can be found at hamptonsourdough.com.