V Cafe at Hampton Racquet
172 Buckskill Road
East Hampton
347-217-0944
Thursday through Saturday, 9 a.m.-7 p.m.
Sunday, 9 a.m.-2 p.m.
What a strange and inappropriate time to do a restaurant review. Is it even fair? I will say this: Whoever it was at Hampton Racquet who thought to bring Viet Cafe of New York City out to do a pop-up V Cafe at their Center Court snack bar is a genius. The food is fresh, light, and inexpensive.
Some friends and I got some takeout from V Cafe on Saturday, but unfortunately it is a very limited menu to begin with and many items, such as banh mi sandwiches and all of the crispy spring rolls, were sold out. I am hoping that this is because they are popular and are selling out of everything.
I spoke to a nice woman when I placed the order who very likely could have been the chef/owner Lan Tran Cao because she had answers to all of my questions. V Cafe may be adding desserts and pho down the line, but for now it is sticking to a short simple menu. Lan Tran Cao was born in Hanoi and raised in Saigon. She received her master's degree in commerce in Sydney, Australia, and spent years on Wall Street, where she became chief technical officer at Deutsche Bank. In 2000 she opened an art gallery (one of the first to feature
Vietnamese art and furniture, according to the restaurant's website) and on weekends Lan would teach cooking. This led to opening Viet Cafe next to the gallery, and now she has opened, or popped up, at the Center Court of Hampton Racquet in East Hampton.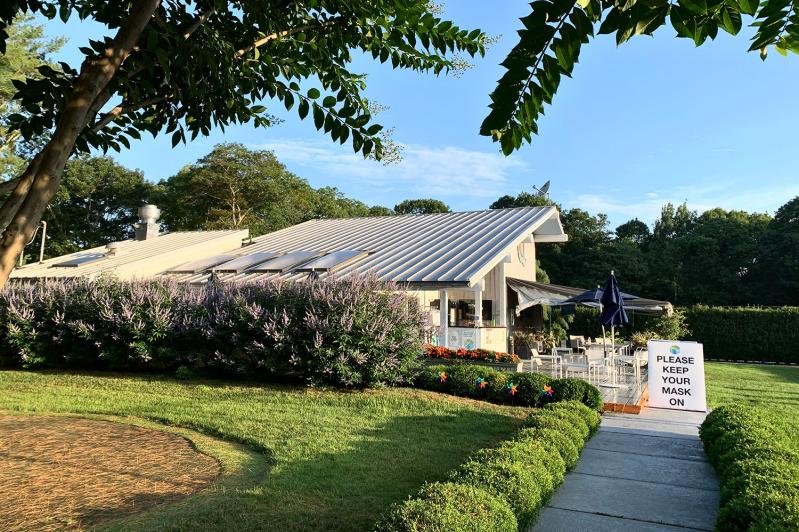 We ordered lemongrass beef on skewers, chicken satay, a noodle bowl with tofu and taro and one with charred marinated beef, a salad with lemongrass chicken, and a variety of summer rolls, shrimp, vegetarian, and chicken. All of the dishes came with dipping sauces. There was tuong cham goi cuon, a creamy sweet peanut butter hoisin sauce for the satay, nuoc mam cham, a fish sauce-vinegar condiment, and lots of little containers of  Tuong Ot, a smooth red hot chile sauce very much like sriracha or sambal oelek.
It was fun to mix and match the sauces with the satays and rolls. Both of the satays were excellent. The chicken was tender and nicely marinated and four per serving for only $10. The beef, dotted with sesame seeds, was also tender and flavorful. Both meats were served with some tangy pickled carrot salad. I have always thought (without really thinking) that satays were Thai but in fact they were taken by Muslim traders to Java, Indonesia. Also, versions of spring and summer rolls originated in China.
All of the summer rolls were very good, with a balanced combination of lettuce, vermicelli rice noodles, shredded carrots, mint leaves, and for the shrimp version, very artistically arranged shrimp halves visible through the transparent rice paper wrappers. They came two per serving.
The noodle bowls were also very good, filled with lettuce, carrots, cilantro, pickled taro root, cherry tomatoes, cucumbers, bean sprouts, and mint. My only criticism of the noodle bowls would be that the noodles were overcooked and very soft, lacking the usual chewiness of vermicelli rice noodles.
The salad bowl was also good, filled with all the same crisp and light vegetables and a few strips of tofu in the vegetarian option, all for a mere $8.
Prices at V Cafe are so reasonable. Appetizers and sandwiches are $10, noodle bowls are $12, salads are $8, summer rolls are $10, drinks are $4. If you've never had a Vietnamese coffee, try one here, they are delicious and creamy.
My friends and I agreed that the food from V Cafe was refreshingly inexpensive, and very fresh and light. It was somewhat toned down, perhaps for the Hamptons tennis crowd? No assertive fish sauce, sliced chile surprises, or puckery lime juice.
I am looking forward to going back and trying more rolls and a banh mi sandwich. It is such a nice change to have some light Southeast Asian food options out here.
Cam on nhieu lam, Lan!