Armin and Judy
1970 Montauk Highway
Bridgehampton
631-296-8484
Dinner nightly, 5-10;
Closed Wednesdays
For years the building at 1970 Montauk Highway just west of the Bridgehampton Commons has had a series of so-so restaurants. Once upon a time it was the Woodshed, then a very successful Almond before it moved farther east, then just a bunch of forgettable establishments. For several months there was a big white sign with a big question mark on it outside the building. It piqued my curiosity, that's for sure. Well, the wait is over, and best of all, the new restaurant, Armin and Judy, is wonderful.
The interior has been brightened up with white walls and a white marble bar. The floors and chairs are dark wood. There are two dining rooms, one to the left of the entrance and one in the thick of the action. The lighting is perfect, no overhead brightness, just a few fixtures and some white fluorescent tubes on one side, reminiscent of Dan Flavin's "The Nominal Three (to William of Ockham)." On the bar, prominently displayed as you enter, is a copy of "Tiffany's Table Manners for Teenagers." I sincerely hope that every guest of every age takes this hint to heart. Besides the book, there are platters of freshly baked baguettes, sourdough loaves, and buttery croissants, all made in the bakery, Le Quignon, downstairs.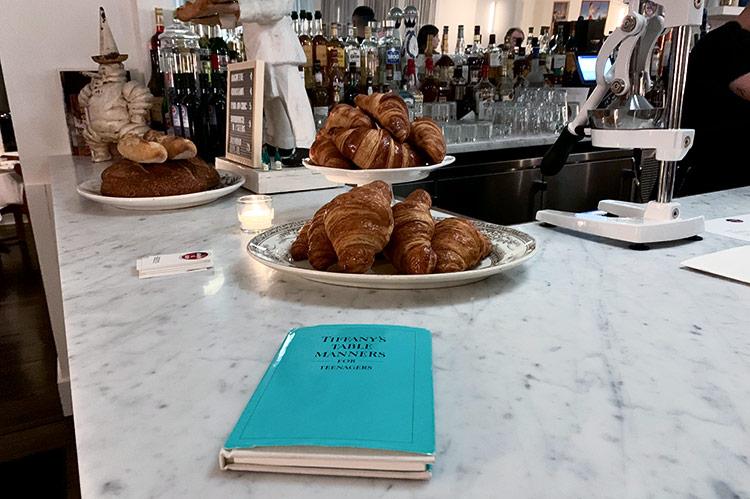 As soon as you sit, you are given a basket with slices of baguette and a disc of very good unsalted butter. Without knowing yet that the bread was made on site, we immediately noticed how good it was.
We began our meal with fall vegetable salad, fennel salad, and the soup of the day, which was French onion. The fall vegetable salad was delicious and beautiful. It was full of tiny diced carrots, celery, and onions with lentils packed into a circular mound. It was topped with quartered rainbow carrots, golden beets, and pea shoots along with other microgreens. The fennel salad was also great, very light and well balanced between the anise flavor of shaved fennel, sweet-tart pink grapefruit segments, and pops of salt from Kalamata olives and crumbled feta cheese. My only quibble with it was that some of the tougher core of the fennel had not been removed before slicing. Minor.
The onion soup was rich and full of slowly caramelized onions in a meaty beefy broth. It was served in a wide shallow bowl which can sometimes cause the soup to cool too fast, but this one kept its heat for as long as necessary. Instead of the traditional toasted bread topping with scalding hot Gruyere dripping over the sides, this version had bread in the bowl soaking up the soup and a big lacy Parmesan crisp balanced on top, adding a bit of crunch.
For entrees we ordered the roast chicken, Mrs. Lucio's roast cauliflower burger, and cacio e pepe.
The menu says that the chicken is a Browder's bird from the North Fork, which is my absolute favorite chicken. I cook them often at home, and I'm not 100 percent positive that the chicken I ate at Armin and Judy that day was a Browder's bird, but it was absolutely delicious and perfectly cooked. The skin was crisp, the meat moist, and there was a layer underneath of excellent mashed potatoes and rich demi-glace. Everyone who tasted it agreed it was divine.
The Mrs. Lucio's burger is a vegetable burger with roasted cauliflower, avocado, pickled red cabbage, spicy harissa, and a fried egg on top. My guest got it topped with Gruyere cheese. It was served on a poppy seed brioche bun and it was one of the better veggie burger iterations we have tried. The burger was served with hand-cut fries and a tiny dish of mayo on the plate. Who does that? An excellent chef, that's who!
Cacio e pepe is a seemingly simple dish with just a few ingredients, but it can actually be quite difficult to prepare. It is usually thick spaghetti quickly coated in Parmesan and pecorino cheese, gobs of black pepper, and pasta water, tossed to blend and create almost a sauce. This version was perfect, and the guest who ordered it was having it for the second time here.
Like many restaurants and bistros in Paris, we were not handed a dessert menu. Rather, our delightful waiter, Jermaine, presented us with a platter of exquisite pastries and described each one to us.
We ordered a slice of cheesecake, a lemon tart, and a pastry that was kind of like an entremet. Seriously, when we saw the perfect chocolate glacage on a tiny Black Forest cake and tasted the passion fruit droplets on the layered caramel mille-feuille, I was pretty sure Francois Payard was the top secret basement pastry chef. The cheesecake had a light and creamy vanilla filling with a chocolate cookie crust. It was super fresh. Perfect. The lemon tart was also amazing. It was a crisp sable crust shell filled with very tart lemon curd, possibly even tasting of yuzu, and it had what seemed to be a separately baked round of meringue on top, crisp on the outside, soft inside, and just sweet enough to balance the tartness of the lemon curd. The dessert I forgot the name of, the kind of entremets-mille-feuille layered with caramel/praline mousse, had a wonderful tart surprise as well, little dabs of potent passion fruit puree on top of the whipped cream, which also had a whisper of passion fruit essence.
The service on the night of our visit was excellent. Jermaine was sweet and smiling and professional, what can I say, he was "totes adorbs." We also met Judy Bellova of Armin and Judy, who was introducing herself to every guest and checking in on each table. She was warm and welcoming.
The menu is short and rather expensive, but worth it. Appetizers and raw bar items are $18 to $24, entrees are $22 to $56, sides are $9, and we failed to find out price of desserts because ours were comped, which means maybe they knew we were reviewing.
As we were leaving Ms. Bellova offered us samples of the leftover breads and croissants. The restaurant donates all leftover baked goods to the local food pantry each day. I felt like a piglet but took two croissants, a baguette, and loaf of sourdough, to enhance my review. All three were excellent, especially the croissants, which were as good as can possibly be. The bakery attached to Armin and Judy is called Le Quignon, and because it is fairly new, you have to call or stop by the restaurant to pick up bread and pastries. A quignon is the irresistible little pointed nub at the end of a baguette.
I never order dessert when I go out to restaurants on my own, except at the North Fork Table in Southold for Claudia Fleming's splendid creations. Now I will save room for sweets at Armin and Judy as well.
If you like small restaurants with simple but sophisticated fare you will enjoy Armin and Judy, too.