Let's discuss some baking basics this week and share some simple recipes. Next week we will delve into more complex baking, sweet and savory.
If you like to cook AND bake, then you are no doubt aware that these two skills are very different. I have met many brilliantly talented chefs over the years and most of them declare "I hate to bake; I can't do pastry." That is because while both are life skills and arts, pastry and baking are also science and chemistry, requiring precision without variation.
A witless monkey can make a marinara sauce. Soups, sauces, stews, vinaigrettes, gratins, these things can be fiddled with, adjusted, fixed. But a separated buttercream, seized chocolate, fallen cake, or scorched caramel? It's back to the drawing board and hours more work.
When I try a new recipe, I follow it to the letter. Sure, if it's just a vegetable soup, I can go wild and add extra celery and it won't impact the final product. But if you think you can substitute whole wheat for white flour in a cookie or cake recipe, you are mistaken. It is always entertaining to read reviews of recipes online in which the reviewer didn't follow the directions or use the listed ingredients. "If I could give this recipe zero stars I would! I substituted apple sauce for the eggs, aquafaba for the butter, and spelt embryos for the flour, it came out terrible!" Well, of course it did, you didn't follow the precise science and chemistry, and ingredients of the recipe.
To start with basic baking, you don't need a lot of equipment, but you do need the correct equipment. You should have both dry and wet measuring cups, measuring spoons, a set of mixing bowls (I like the nesting metal bowls used in restaurants, not glass), and good sturdy baking sheets and cake pans. Have you ever used a flimsy grocery store cookie sheet and heard it buckle and warp in your hot oven? And then all your beautifully spaced apart cookies have run together into one big Cookie Monster cookie? Silpat silicone mats are a marvelous invention to prevent sticking on cookie sheets. A few good sharp knives, paring, chef, and serrated, are a given for all cooking. A microplane for grating citrus zests, ginger, chocolate, and nutmeg is good to have, as is a nonstick cooking spray (PAM). Yeah, I know aerosol cans are bad, but these make short work of greasing numerous muffin tins or cake pans. A few springform, bundt, cake, pie, muffin, and tart pans are great if you plan to make angel food cakes, cheesecakes, fruit tarts with pastry cream, etc. You probably have a good idea of what you are most likely to use. A weight scale is useful for extreme precision, plus you can shift from grams to ounces to pounds as needed.
As far as ingredients go, you should always have on hand several kinds of flour, all purpose, bread, self-rising, cake, whole wheat, rice, and perhaps some nut flours like almond. Make sure you have a fresh supply of yeast, baking powder, and baking soda, kosher salt, granulated sugar, confectioner's sugar (also referred to as 10X), both light and dark brown sugars, and maybe turbinado for topping certain cookies and muffins. A high-quality vanilla extract is essential, as is the quality of your chocolate and cocoa powder. It's good to have several other extracts such as almond and lemon. Any nuts you use in baking should be kept airtight in the fridge so they don't go rancid. Use good butter and oils, whole milk, and large eggs for most recipes.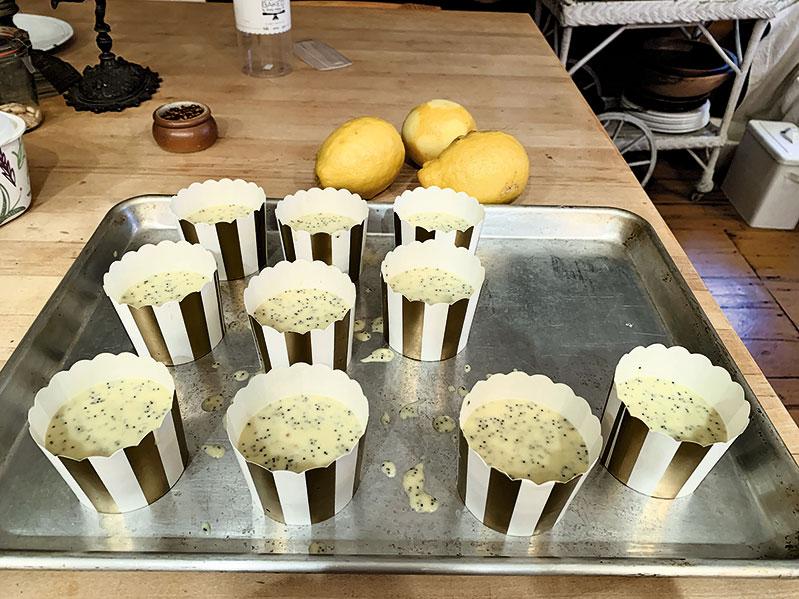 For good equipment, you can visit the Loaves and Fishes Cookshop, Williams Sonoma, or go where the pros go, BarBoy in Hampton Bays. I have often had great luck at HomeGoods for paper baking cups, vanilla extract, maple syrup, and a few other items, but this is hit or miss. Yard sales and thrift stores can also be great resources for cast iron ware, wooden bowls, Apilco porcelain baking dishes, ice cream scoops, whisks, and more.
I was looking through my cookbook shelves recently and found that I do not have very many dessert/baking books. I have way more French, Italian, Asian, and single-subject books. Lard, anyone? Of the baking books I have, I would highly recommend a primer like "The Joy of Cooking," "The Fannie Farmer Baking Book," and Richard Sax's "Classic Home Desserts," especially if you like research and history. I have said many times before that Claudia Fleming's "The Last Course" is my favorite dessert book and I'm happy to report that it is back in print.
There are plenty more complicated dessert books, Thomas Keller's "Bouchon," "Charlie Trotter's Desserts," "Francois Payard's Desserts," "Tartine," and Maury Rubin's "Book of Tarts," but I always find myself returning to the simpler, more reliable, tried and true cookbooks.
Always have your ingredients measured and at the ready before you begin a recipe. And remember, you can't cream an ice-cold stick of butter. You can't use fine sea salt in place of kosher, don't separate eggs over the other ingredients of a recipe, if a whisper of egg yolk (fat) slips into your sweetened whites, they will not whip up properly. A drop of water in your melted chocolate can ruin the texture. Have an oven thermometer to tell you the accuracy of your oven temperature. Make sure your equipment is scrupulously clean before beginning, measure or weigh carefully, and follow the recipe exactly as written.
Baking cakes, cookies, and muffins is one of the most fun ways to initiate small children in the kitchen. Let them help and let them feel like part of the process. This will be messy, but the end product and your child's joy and sense of accomplishment are worth it. Soon enough, at the right age, they will master knife skills, be able to use the oven safely, use math to increase or decrease a recipe, and develop their taste buds to know when a kiwi is a better choice than a mango for a cold fruit tart recipe. So let us begin at the beginning with some simple sweet and savory recipes.
Oatmeal Chewies
I love bar cookies, and I have no idea where this recipe came from, I have had it for about 40 years. It is so simple.
Makes one eight-inch square or round pan.
1/3 cup butter, softened (5 Tbsp.)
1/3 cup plus 3/4 cup light brown sugar
1/2 cup plus 3 Tbsp. flour
2/3 cup quick oats
2 eggs
1 tsp. vanilla extract
1/2 tsp. salt
1/2 tsp. baking powder
Heat oven to 375.
Cream butter and a third-cup brown sugar. Add half a cup of flour and oats.ÊMix well. Press into bottom of eight-inch-square pan. Bake 10 minutes.
Beat eggs until thick, then add three-quarters cup brown sugar and vanilla.
Combine three tablespoons flour, salt, and baking powder. Add this to egg mixture and mix well. Spread on the baked layer and bake approximately 15 to 20 minutes more. Let cool, then slice into small squares. Store in an airtight container.
Craft's Grissini
Sometimes a recipe may be time-consuming but still easy. ÊYou could play with the seasonings of these breadsticks and share them as gifts. This recipe from Craft was published in Gotham Magazine many years ago.
Makes 60.
2 Tbsp. and 1/2 tsp. fresh yeast
2 Tbsp. barley malt syrup (available at health food stores)
3 cups plus 2 Tbsp. warm water
5 Tbsp. olive oil plus additional for brushing grissini
4 1/2 tsp. salt
1 cup rosemary, finely chopped (this seems like a lot to me, I'd say 1/2 - 3/4 cup will do)
Kosher salt
Mix yeast, barley malt syrup, and warm water together with a whisk. Let mixture sit for 10 minutes, then add olive oil and dry ingredients. Combine in a mixer with a dough hook for about five minutes. Remove dough from bowl, then proof dough in a covered, oiled bowl until it doubles in size. Punch dough down and divide into 60 pieces.
Roll out each portion into lengths as if you were making clay coils for a coil pot. Lay them on a sheet pan and pull to desired size.
Bake in batches, leaving space between each stick.
Brush each stick with olive oil and sprinkle with chopped rosemary and kosher salt. Bake at 325 for 20 to 25 minutes until golden brown and crispy. Cool on a wire rack. When cool, store in an airtight container.
Connie's Crisps
Do you remember years ago I wrote about Constance Hoagland's crisp cookies that were served every holiday season at her daughter Valerie Smith's Monogram Shop in East Hampton? She insisted that they were just Nestle's Toll House cookies without the chocolate chips but we knew better didn't we? And we got the recipe, for which we are very grateful!
Here are, once again, Constance Hoagland's crisp and buttery holiday cookies. Let's call them Connie's Crisps. You can chill the dough and drop it by spoonfuls, or chill slightly then roll into logs, chill, and then slice and bake.
Yield depends on size of cookies.
3 cups light brown sugar
1 cup white sugar
4 sticks (one pound) salted butter, softened
2 tsp. vanilla
3 1/2 cups flour
2 tsp. baking soda
1 tsp. salt
4 eggs
Cream butter with both sugars, then add vanilla. One at a time add eggs and beat well. Add dry ingredients and mix until incorporated. From here, chill the dough a bit and drop by spoonfuls onto cookie sheet, about two inches apart to allow for spreading. Alternatively, chill the dough slightly, then roll into logs, wrap in plastic and chill completely. From here you can slice and bake cookies.
Bake at 350 until very golden and crisp, about 10 to 15 minutes. Store airtight.