They have been around for a very long time. Well before even dinosaurs roamed and roared about the planet.
Known as "living fossils," horseshoe crabs have changed very little in the last 450 million years. Although they are called crabs, they are actually more closely related to spiders and other arachnids. They get their name from the hard-shell exoskeleton that looks similar to a horseshoe, and there are four species of horseshoes around today. The one that resides in our local waters can be found from Maine to Mexico. The other three are crawling around the sea floors of Southeast Asia.
The full moon last week, known as the Strawberry Moon, not only heralds the long-awaited crop of the ruby red berries, but also a phenomenon of nature when horseshoe crabs by the thousands storm our sandy bay beaches and coves, where females lay their eggs under the moonlit sky. It's a National Geographic-like spectacle to witness if you time it right.
When I paid a visit on Saturday to see Ken Morse, the proprietor of Tight Lines Tackle in Sag Harbor, he was eager to show me a video that his daughter Lacey had taken the night before, while walking along a back-bay cove in Southampton. The images were staggering. Hundreds of crabs could be seen frolicking on the muddy flat. It looked more like a traffic jam, with each horseshoe couple vying to find a spot on the crowded beach.
Spontaneous, amorous adventure was in the night air.
"I've never seen anything like it before in my life," said Morse, who received a degree in ecology with an emphasis in marine biology, while looking at the video one more time. "It was great to see so many as their stocks have fallen the past few years."
While not edible, horseshoe crabs are an important part of the ecology of coastal communities. Their eggs are a major food source for shorebirds migrating north. They are also extremely important to the biomedical industry, as their copper-based blue blood contains a substance called limulus amebocyte lysate. This compound ?coagulates? in the presence of bacterial toxins, and is used to test for sterility of medical equipment and injectable drugs. In short, that ancient living fossil deserves kudos for any injection or vaccination you've received.
When medical science comes up with a vaccine for the novel coronavirus, the horseshoe crab will have played a claw in the cure. Dr. Fauci would be proud.
The June moon also stirred up the hunger of striped bass, as larger fish entered the fray in many western locations. While anglers can retain one bass between 28 and 35 inches, reports of larger fish inhaling lures and baits were a common occurrence.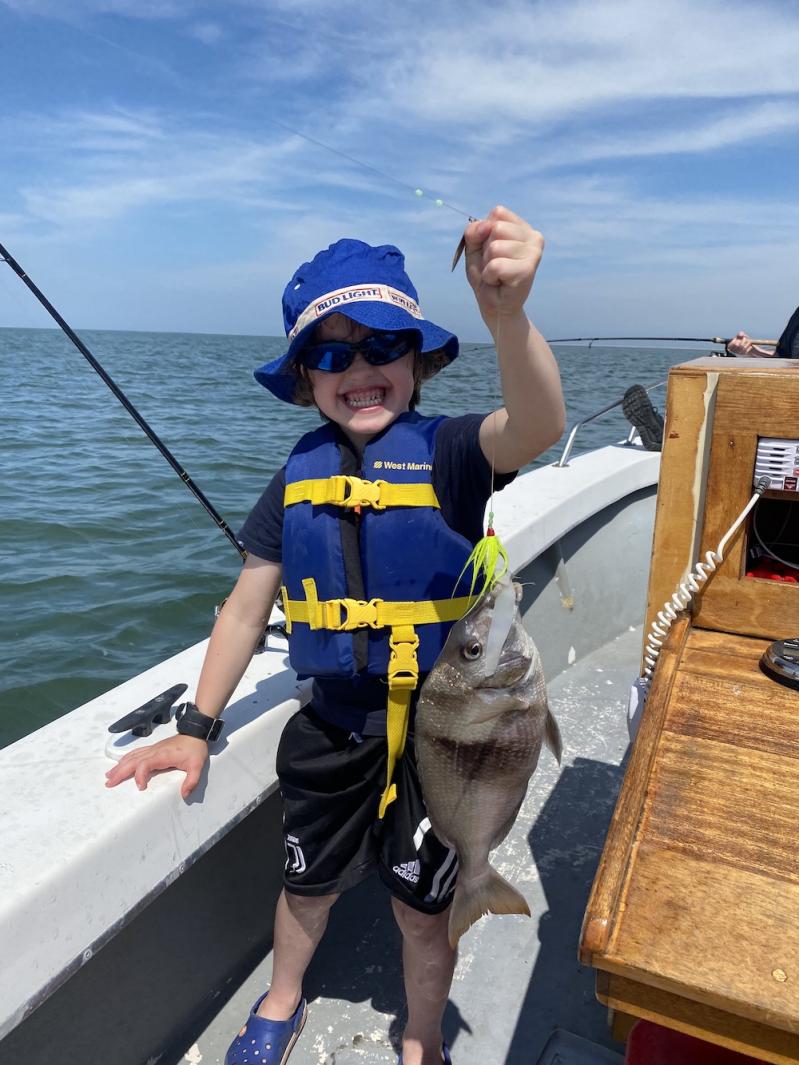 "There have been some up to 35 pounds," said Morse from behind his counter on Monday morning. "But there are plenty of short bass around, along with a smattering that make the new slot size rule." The veteran shopowner said that Jessup's Neck and the South Ferry area have been hot of late, but that bass are also thick at Plum Gut and the Race to the east on diamond jigs and bucktail rigs. Morse added that some nice weakfish up to 10 pounds have been landed, and that the action on porgies remains strong.
"Not many keepers, but there are bass at just about every beach on the bay or ocean," remarked Harvey Bennett at the Tackle Shop in Amagansett. "Porgies are being taken off the beaches and the action is also good at Cherry Harbor for boaters. And blowfish are thick in Three Mile Harbor and various locations eastward to Montauk."
Bennett said that fluke fishing is a bit of a pick, but those big bluefish are back on the prowl at night at Gerard Drive again. He also heralded the current run of squid. "Nobody is talking about it, but there is a tremendous run of squid going on at night. Just find a dock with some lights and you should do well."
We have a leader in the hotly contested Montauk Youth Fluke Tournament. Trevor Meehan, who came in second last year, is in front with his 3.8-pound fluke, while his brother, Cooper, is in fourth with a 2.8-pound flattie. Finn O'Rourke is in both second and third place with 3.4 and 3.1-pound fish. Anglers 16 years of age or younger can sign up in hopes of being crowned the Duke of Fluke, as well as earning some great prizes. The $25 entry fee in cash or check can be mailed to Capt. Tim O'Rourke, who is once again coordinating the popular contest, at P.O. Box 2120, Montauk 11954. The Montauk Marine Basin is the official weigh-in station.
The deadline to sign up is July 15.
Proceeds raised will once again go to the Tyler Project, which was established several years ago in Montauk after the passing of Tyler Valcich, to increase awareness and improve the coordination and delivery of mental health services for students, young adults, and families on the East End.
As per other species in Montauk, bluefish and small striped bass are thick in the rips off the Lighthouse. On Saturday, Capt. Hugh Chancey of Chancey Charters, put a group of four fares on a true fish blitz, by landing and releasing over 100 bluefish and small striped bass. Diamond jigs were the weapon of choice. The captain also iced down nine fluke up to nine pounds for his fares.
—
We welcome your fishing tips,
observations, and photographs at 
[email protected].