When it comes to fishing, I've always been a believer in beginner's luck. But only up to a certain point.
I still vividly remember my first trip on a party boat. It was 1972 and it was a cloudy, damp late-June morning when my mother took me for a half-day fluke trip on the old Viking Starlight out of Montauk. It was the first time I had ever fished for fluke, and I recall being so excited that I hardly slept the night before.
Getting settled on the boat with about 15 other anglers, we decided to fish on the port side near the bow of the aged 65-foot wooden craft. Fishless for the first two hours and getting a bit restless, I finally felt a tap on my line and a minute later landed my very first fluke, a nice five-pounder. I still can see in my mind's eye the oval-shape brown outline of the fish lying placidly just under the waterline as the mate dipped the net downward to bring it aboard. I was beyond thrilled.
I touched the fish as the mate took it off the hook, before he placed it into our wet burlap sack. I kept peeking into it the rest of the trip. I was fascinated by it. To top it off, I also took the pool that morning and pocketed $10, a very significant raise on my weekly allowance. I was on top of the world and hooked on fishing for life.
Was luck involved that morning? For sure it was. I had no clue about how to fish for fluke. I was lucky just to have my baited hook in the right place at the right time. 
I thought about this last week when Emily Bruno of Montauk went fishing for blackfish for the very first time with her father, Paul, who owns the 45-foot charter boat Elizabeth II. As just about any seasoned angler will tell you, catching the toothy bottom fish is one of the greatest challenges in our local waters. I have seen several friends who are excellent fishermen brought to their knees in frustration trying to catch them. It's rather comical at times.
"Emily has been asking me to go blackfishing for a while now, and with a nice forecast, I took her for her first time," said Captain Bruno of the trip with his 12-year-old daughter. The seasoned skipper rigged her up with the new rod and reel she won in the Montauk Youth Fluke Tournament this summer. It was time to fish.
"I showed her what to do one time, and said, 'You are now on your own,' " he recalled. "It didn't take long for her to figure it out and by the end of the day, she caught nine blackfish and a cod. She actually out-fished my mate that day. I'm not sure if I can be any more proud of her."
But was this just a lucky, first time outing for Emily? I don't think so. This girl can really fish, and she takes instruction well. She listens. Emily also has fishing in her blood. She is a natural.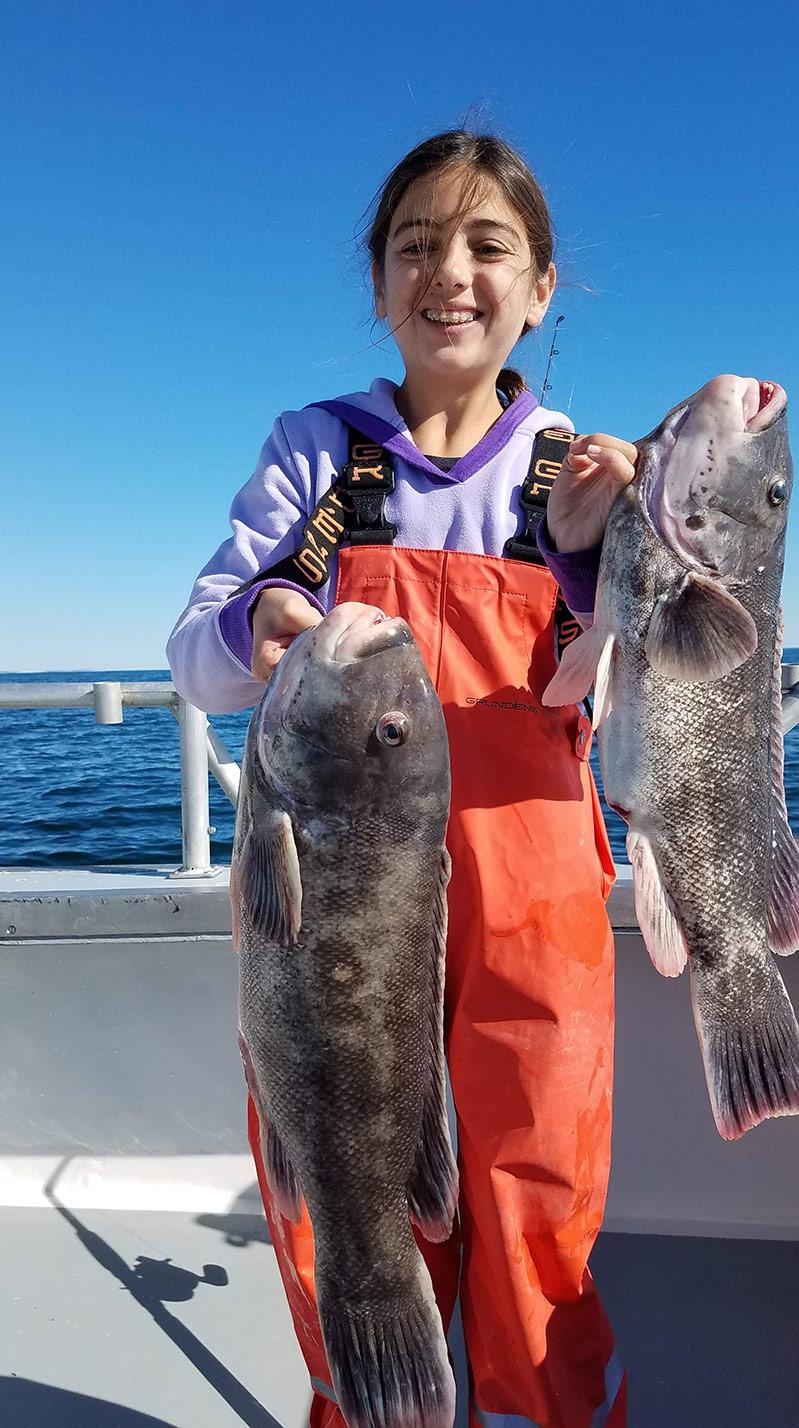 On the morning of Nov. 4, I took a neophyte out on my boat to hunt down some blackfish. Robert Cugini flies in every year all the way from Seattle to help me during the first week of bay scallop season. But given that there were so few scallops around in state waters, blackfish was the backup game plan. I had taken him for his very first fishing trip two years ago and he caught a short fluke. But this outing was going to be different and a much greater challenge.
"These fish are very tough to catch," I lectured him on the ride out to the blackfish grounds at Fishers Island to the east. "You need to be patient as they begin to chew down on your crab bait. Wait for the big bite. Don't swing at the first nibble."
"I know, I read up on them on Wikipedia last night," he replied. I wish I'd had the internet when I was growing up.
Anchored up on a rocky piece in 50 feet of water, I showed my newbie how to bait a green crab, and after a quick instruction on how to hold and use the rod and reel, his baited rig was now on the bottom. I prepared a few more crab baits for use and started to fish.
Five minutes went by with nary a bite, but as I turned around to put on a fresh crab, I noticed Cugini silently doing battle on the opposite side of the deck. The rod he held was bouncing wildly in the stiff current.
"Are you snagged into the bottom?" I asked.
"No, I think it's a fish," he answered calmly. I could tell it was a big fish, as it ripped off line and swam up tide in an effort to escape. A minute or so later, a 10-pound blackfish lay upon the cockpit deck.
"You know, that's the fish of a lifetime," I smiled to him while shaking his hand. "It's all downhill for you." He laughed and proceeded to catch fish after fish that morning. It was as if I had a blackfish specialist on board.
I'm sure the fish gods smiled on him that morning, but it was clear that some inherent skill played a part as well. And a bit of beginner's luck certainly didn't hurt.
As for other fish, "Stripers can still be caught in the surf," said Harvey Bennett from behind his counter of the Tackle Shop in Amagansett on Monday. "Lots of small fish around, but there has been a keeper or two taken as well." Bennett added that blackfish action slowed a bit at Fishers Island, while it has been on the upswing near Block Island.
Bennett is running a big sale on all hunting equipment and ammunition. "Everything must go," he said. "It's time to clear it all out." Going into the colder months, the store will be open on weekends and by appointment, as well as the weeks during Thanksgiving and Christmas, with additional holiday savings.
It's also not too late to enter Bennett's fishing raffle to benefit underprivileged children in the Dominican Republic. For a mere $20, you can enter to win a top-notch Shakespeare Ugly Stick rod and matching reel. Each person will also be automatically entered into his end-of-season fish contest on Dec. 15, in which any fish landed and weighed, from salt or freshwater, can be submitted. The angler with the largest fish will receive a Shakespeare surf reel.
"There are so many schoolie bass and blues at the point, you could walk on them," Kathy Vegessi of the Lazy Bones out of Montauk observed concerning the action last weekend. The Bones will continue to sail on a day-by-day basis, depending on whether enough people show up. Best to call her in advance at 631-668-5671 to be sure.
There is a new leader in the Montauk Locals Surfcaster Striped Bass Tournament. On Friday, Dennis Gaviola gained an edge in bragging rights when he weighed in a 13-pound specimen at Paulie's Tackle in Montauk.
---
We welcome your fishing tips,
observations, and photographs at 
[email protected]. You can find the
"On the Water" column on Twitter at
@ehstarfishing.