What became apparent during East Hampton High School's graduation ceremony on Friday was that the 210 members of class of 2022 are well prepared to not only take on the world, but also to take care of themselves.
The students faced down the isolation of a global pandemic, they lived through turmoil and tragedy told in national news stories, they witnessed peers struggle with their mental health, and many coped with those challenges themselves.
At school, they packed the stands for unified basketball games played by their peers in a special education program, they marked P.S. I Love You Day for the first time to destigmatize the need for mental health support, they cared for one another during Sources of Strength activities and marched together in East Hampton Village's first Pride parade, and they did it all together.
"You created a culture of inclusivity, diversity, compassion, and joy," said Sara Smith, the school principal.
"You are walking into a world where there is no shortage of complexities and chaos," she continued. "A war in Ukraine, political division at an all-time high, and gun violence still finding its way into our schools. Amidst all of this, know that you wield the agency and power to choose how you treat people and how you approach the world."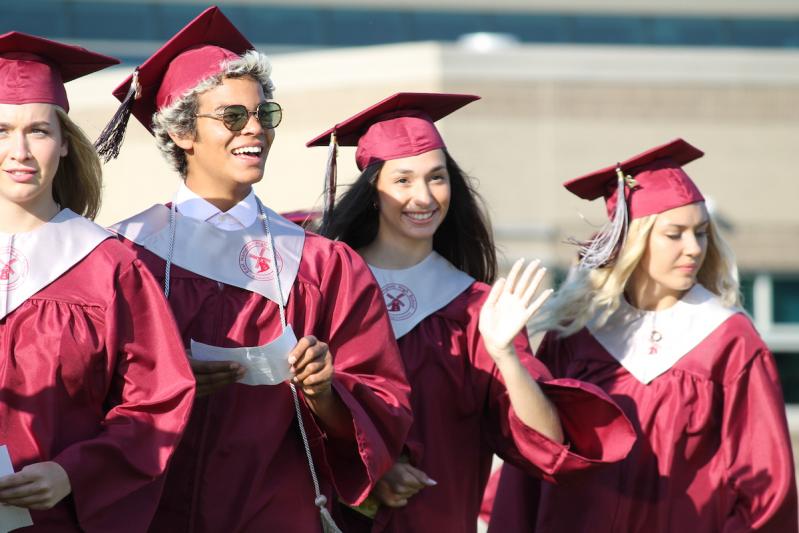 Perhaps no one said it better than Anika Petruccelli, the class salutatorian, who opened up about her emotional struggles in a speech that received a standing ovation. She said the "sky-high, unrealistic academic expectations" that she and her peers faced "are not good for us."
"School and my mental health have not exactly cooperated for a while. For a really long time, I had to put just as much effort into eating and brushing my teeth and getting up in the morning as I did for all of my classes combined. And let me tell you, after four years, it gets kind of exhausting. . . . People think that when you're doing well in school that you must be doing fine mentally," Anika said.
She later continued, "Please make sure to put yourself first. Do it for your stressed-out high school self; do it for the friends that you've made and lost over the years; do it to spite your terrible exes; do it for your future self because that's really the person you're saving by learning to love yourself now."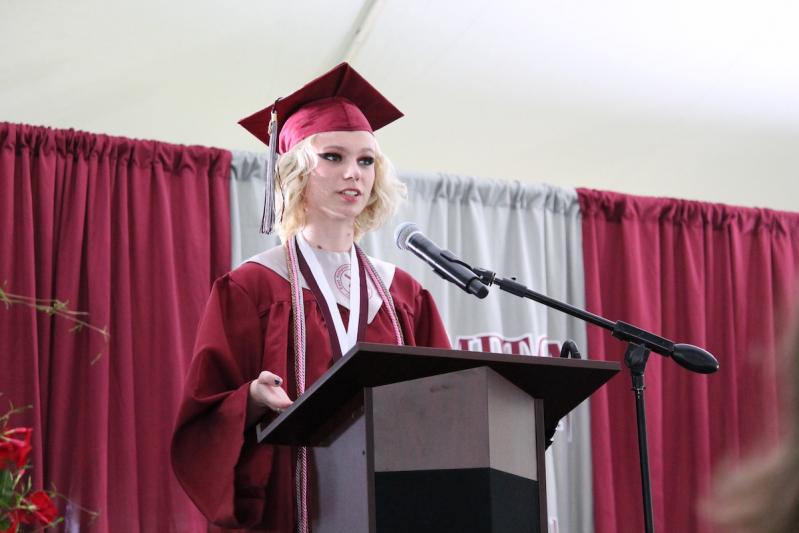 Ms. Smith also said the Class of 2022 will go down in East Hampton High School history for breathing life back into the building after Covid-19 disrupted every aspect of life, bringing back old traditions and even starting new ones.
As they received their diplomas, the graduates each gave a gift of a children's book to Ms. Smith. "It is tradition for the graduates to give the principal a small gift," she said, adding that the books were meaningful "because I'm a former English teacher and I love to read to my 4-and-a-half year old daughter."
In their collective remarks, Hanna Medler and Dante Sasso, the co-presidents of the senior class, said that "we made the best of these troubled times and learned a lot."
"People say your journey is just starting, but when you leave high school, in reality the journey we just went on was one of the most important we will go on in our lifetime," they said. "It's important to take the knowledge we have gained here at East Hampton High School and apply it to the real world as much as we can."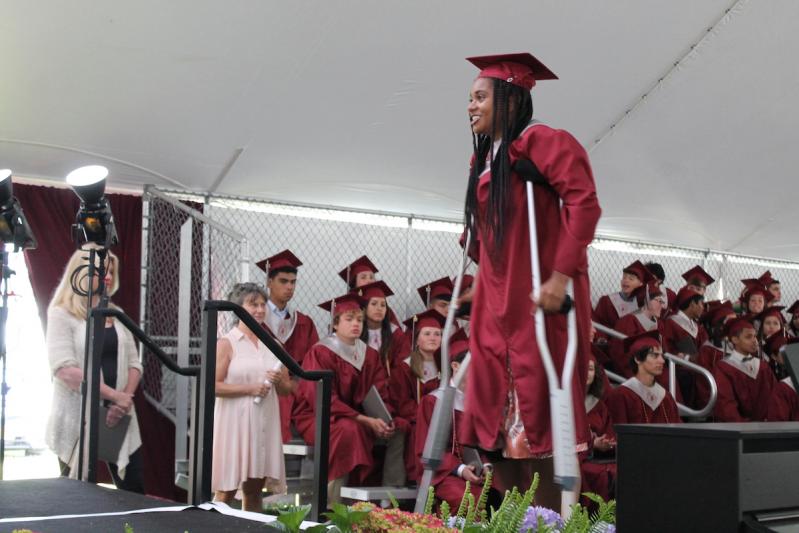 Evan Masi, the class valedictorian, proclaimed, "We made it, guys! And let me tell you, does it feel good."
"There is no doubt we certainly had a lot to learn, but we knew we would support each other and give a . . . hand when needed," he said. "We lifted each other up" and created "an environment that allowed for us to arrive here at this pinnacle moment in our lives."
He urged his peers to step out of their comfort zones, try new things, and take advantage of opportunities. He also acknowledged the good fortune they have had to grow up in a supportive community like East Hampton.
"We formed a tight-knit community that has provided us a comfort zone," Evan said. "But as we move forward into this next chapter of our lives, we will be forced out of this East Hampton bubble. This feeling of leaving our little town behind feels daunting, and I'm not claiming that the road will be smooth ahead, but our class has persevered through the thick of it, and there seems to be no stopping us."