For the players, their coaches, their families, and their fans, Monday's basketball game between East Hampton High School and Patchogue-Medford High School had all the thrill of a varsity playoff game and all the heart a community could muster.
The crowd went wild from the moment Austin Miller scored the first Bonac basket, to each time Sean Lester blocked an opponent's shot, to every time Dominic Coronel hit nothing-but-net, to Liam Baum's buzzer-beater right as the game ended.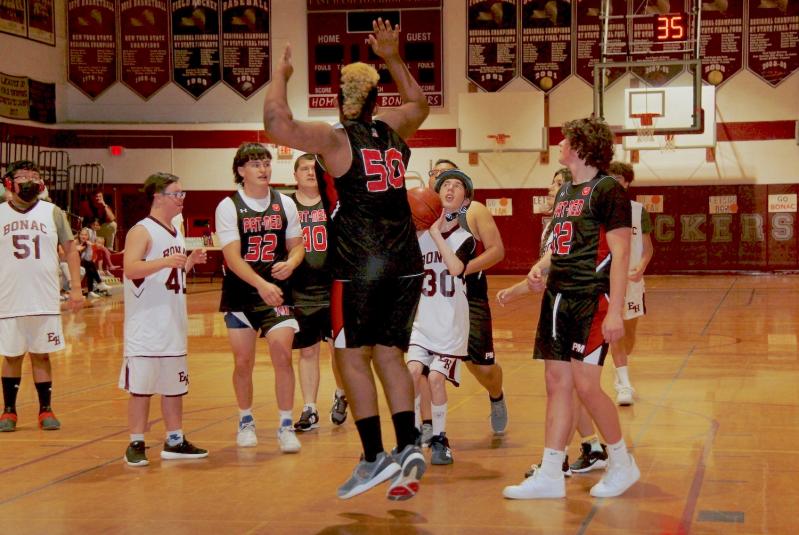 Solely for the record, the score was 40 to 27, but no one cared about the numbers on the board. What mattered was that the game, the first home contest for East Hampton's unified basketball program, showcased the meaningful moments that can happen when players with developmental disabilities are given the same opportunity to do what many of their non-disabled peers do -- represent their school playing an interscholastic team sport.
"It does so much for both special education and general education students," said Cindy Allentuck, who oversees programs for kids with special needs for the East Hampton School District. "They get to interact, to participate in something they wouldn't be able to do otherwise. It's modified, but still demanding, and they have something that they're so proud of."
In Suffolk County's unified basketball league, teams take the floor with three special-education players together with two general-education students as helpers. Teams are coed. They play four eight-minute quarters and rotate players in and out of the action -- the same as varsity and junior varsity teams -- with frequent breaks for water. Only the players take the shots, catching passes from their partners. Everyone can rebound, pass, and dribble.
The Foundation for Global Sports Development, a nonprofit that promotes education, sportsmanship, and opportunities for all students, says playing sports is a childhood rite of passage. "But the fact is, children with physical or mental disabilities face challenges joining a sports team, and communities with programs open to this population may be hard to come by," the organization says on its website. "Yet the same camaraderie, self-esteem, [and] sense of belonging and accomplishment that kids receive from being involved in sports benefit all kids."
This time last year, Liam's medical prognosis was serious. He has Dravet syndrome, a rare form of intractable epilepsy that was diagnosed in infancy and is often fatal. Liam's seizures were relentless, coming nearly every day.
"We were losing him," said his mother, Julie Sigler-Baum.
But the game-buzzer wasn't the only thing Liam, 16, has beaten lately -- he's also beating the odds that Dravet syndrome generally presents. He hasn't had a seizure since last August, allowing him to take part in the unified basketball program to the fullest. "This program has given him a chance to do the things he loves -- play sports and connect with people," Ms. Sigler-Baum said. "Liam is so good at both. This program is so brilliant. We're so grateful."
After the game, Liam said he felt good, and said that the best part was "getting the baskets in!"
East Hampton's team also includes Nicole Verdugo, who scored the first basket on Friday against Comsewogue. Sean was the fastest runner and most enthusiastic cheerleader on the court. Austin wore his lucky hat for the duration of the game, and everyone in the bleachers cheered for every basket -- regardless of which team was shooting.
Patchogue-Medford's team features a trio of brothers, Danny, Joseph, and Thomas Kelly. Danny is a player and his brothers are the team's main helpers. Also for the Raiders, Will Stern and Jonathan Quiles demonstrated fast moves, versatile skills, and indomitable energy.
East Hampton's athletes are all enrolled in the school's life-skills program, which gives kids the lessons and tools they'll need to be active members of their community after they graduate. Ms. Allentuck said this year is the first in about a decade that the district has been able to offer a full-time life-skills class, and that it even attracts students from other schools. There's also an after-school Inclusion Recreation Club, where students from both general and special education programs take part in activities together, building and strengthening bonds.
"The future looks good for the program," Ms. Allentuck said.
Joe Vas, East Hampton's athletic director, said the unified basketball program was established through a $20,000 Reimagine High School Sports grant that the district received from the Aspen Institute last October. "We're really excited. It's a great thing," he said.
The East Hampton team's next home game is Monday at 4 p.m. against Mattituck, followed by a game at Riverhead on Wednesday and a June 1 game at home against Southampton, also at 4.
"We worked really hard getting the word out," said Ethan Mitchell, who coaches the team along with Krista Brooks. "The Bonac community never fails."