When you think of vodka's origins, it's likely what comes to mind is some hardscrabble Polish steppe or an inhospitable Siberian plain. After all, the word vodka comes from the Russian translation of water: voda. Certainly, an unlikely association of this distilled spirit's provenance would be the verdant and eye-wateringly expensive village of Sagaponack. But here, just north of the highway, on Sagg Road, on a stretch coddled by vineyards, is the South Fork's first and only potato-fueled, seed-to-glass, vodka and grain distillery.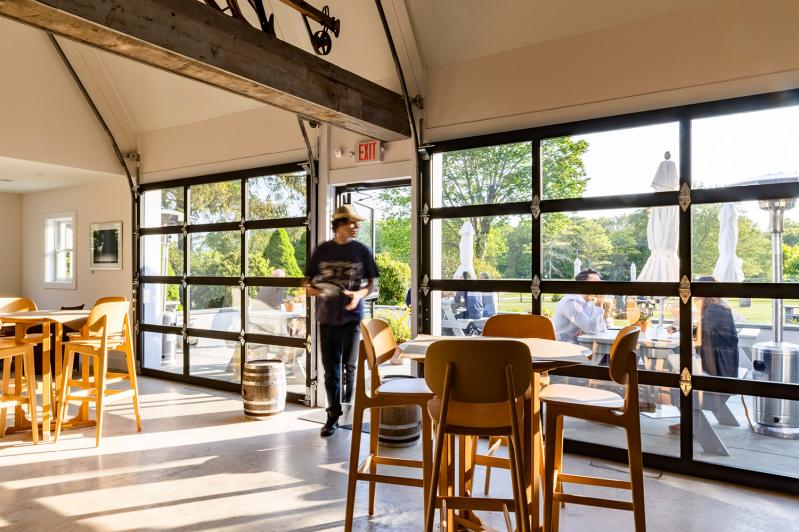 The Sagaponack Farm Distillery, owned and operated by the Foster family, a potato farming clan with six generations of roots in the area, officially opened its tasting room right before the pandemic. The 100-year-old retired dairy barn turned tasting room is lovely and transportive, and that's even before one learns of the local lore in which it is steeped. Unfinished slices of a mammoth tree felled in 1984 were used for the massive bar's countertop. Supposedly, the tree was known as the favorite spot for a local farmer to crawl under and sober up. In addition, the footrest of the bar is sourced from the historic Bridgehampton-to-Sag Harbor railroad.
Having weathered nearly two years of pandemic — "It allowed us to really get our feet on the ground," said Marilee Foster of the early months of Covid-19 — the tasting room is now open Thursday through Sunday. High top tables and stools dot the interior of the barn while outdoors, seating is set up to soak up the views and the tipple. There's plenty of that to choose from, either by the glass or by the bottle to take home. On offer are potato, wheat, or cucumber vodkas, a more dainty-tasting rhubarb liqueur, and aquavit (a Swedish cousin of vodka). There's also a barrel-aged Single Spuds line — spirits made from red, white, or blue potatoes that very much taste like a whiskey, and a good one at that, but that cannot legally be classified as such since they're not made from grains. The latest addition is Single Sweet, another whiskey-like drink made from sweet potatoes. There are also gins distilled from grains grown on the farm, and a long list of cocktails that utilize the spirits and many herbs and garnishes from the farm. It's all 100 percent Sagaponack.
The only import is a giant Willy Wonka-like contraption that sits at the far end of the barn. A German-made still, it's a beautiful and massive labyrinth of interlocking pipes, water tanks, and canals of gleaming metal, where all the action happens.
Well, not all the action. For Marilee Foster, who runs the operation with her brother, Dean, the real magic happens underground. The loamy Sagaponack soil is legendary, the perfect alchemy of sand, silt, and clay. Just about any seed will flourish there. And now this terroir is captured in every glass of premium alcohol sold at the distillery.
"It's almost an emotional thing," Marilee said, about how she feels when sipping a glass of her craft spirit. "With every sip I feel so connected to the farm."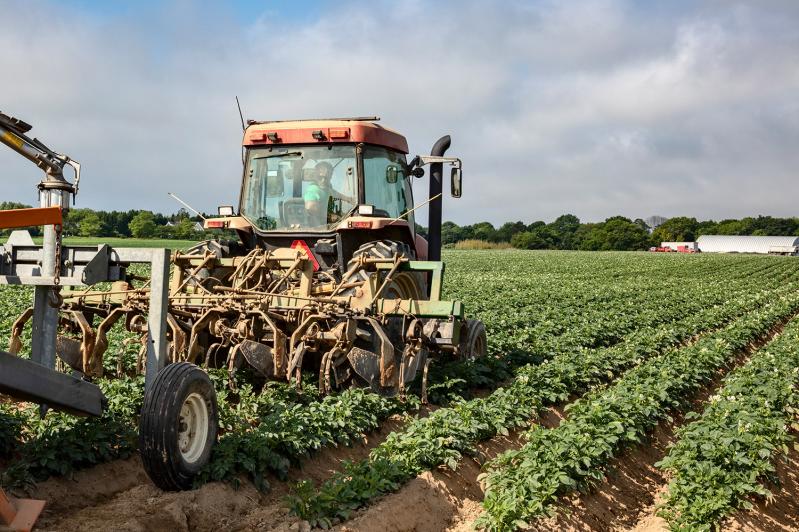 But Sagaponack's precious soil, which once turned the potato into a regional identity, began to attract billionaires over the last two decades, not farmers. In 2015, the village was listed by Forbes as the second most expensive ZIP code in the country.
"The writing was on the wall," she said of her family's 800-plus-acres of potato fields in the mid-1990s that dwindled to the current 40 acres. She said that it was about 10 years ago when she and her brother began to think about other uses for their spuds beyond chips, mash, and roast potatoes. "Potato farming was getting to be less and less sustainable," she said. A micro distillery utilizing all ingredients from the farm seemed like a smart move.
The siblings brought in Matt Beamer as the head distiller. Married to a Foster cousin, and therefore keeping the operation within the family, Beamer began experimenting with different potato varieties to distill, before landing on the Katahdin potato, a specialty round, white spud that's grown on the nearby Foster Farm. About 20 pounds of potatoes go into one bottle of vodka. Unlike a shot of grain vodka, which produces a burn, a good potato vodka is more complex. It has more depth and is perhaps enjoyed best when sipped slowly, perhaps over ice, like a good malt whisky.
"I used to sell potatoes by the tractor load," said Foster, with a laugh. "Now I sell them by the bottle."
And they must be doing something right: In 2018 their potato vodka battled with major brands at the American Distilling Institute and won a silver.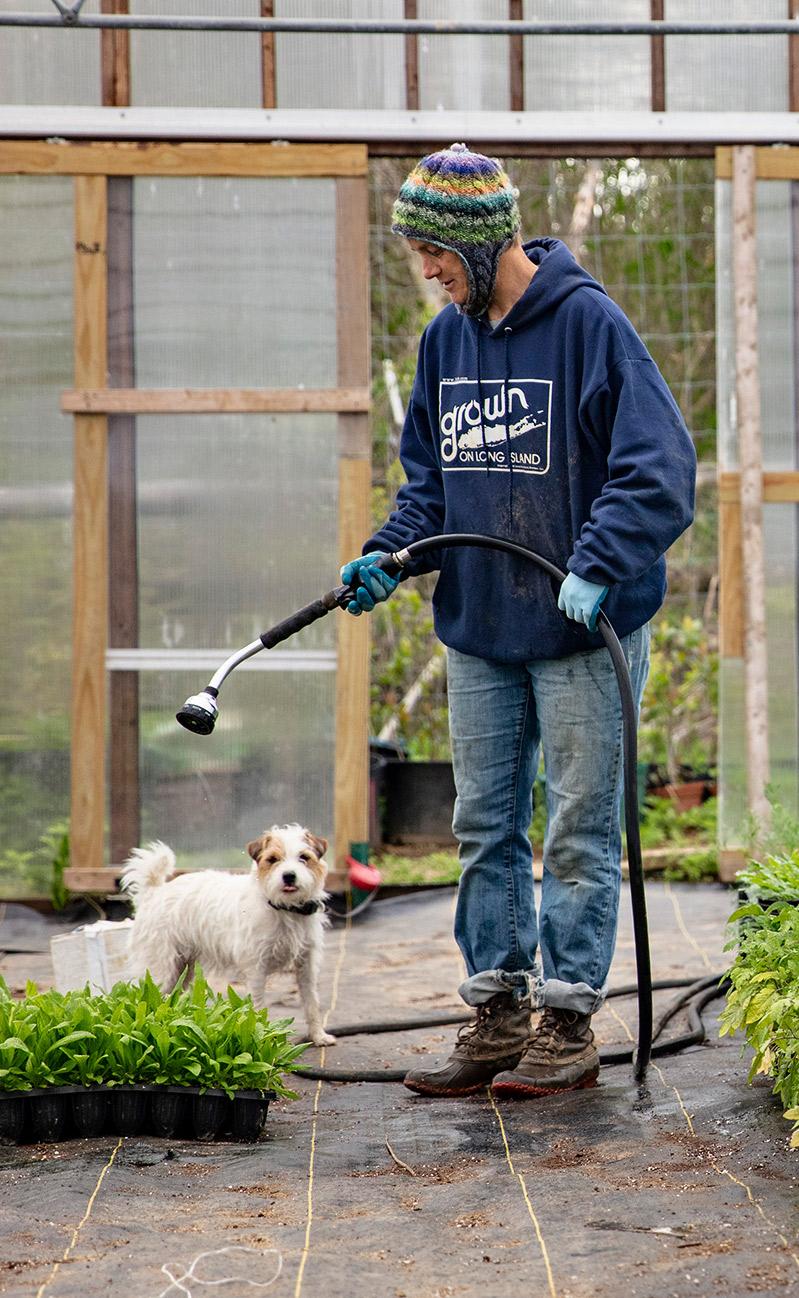 During these last hellish 20 months or so, resilience has become quite the buzzword for successfully steering through adversity. In many ways, the Sagaponack Farm Distillery underscores that ethos. Sitting outdoors, sipping a glass of the Fosters' craft Single Spud, I was certainly reminded of the precarious and painstaking process that the siblings, together with Mr. Beamer, have gone through, using local produce and traditional methods to create the smooth drink I held in my hand.
But then, just like a glass of good wine, a small-batch craft spirit should also take us on a journey to its origins and tell us something about the people who made it.