"Sin City Gangsters" 
Jeffrey Sussman
Rowman & Littlefield, $37
Murder, mayhem, torture. Guns. Knives. Poison. Did I forget the cement boots? Acid treatments? Oh, pummeling. Broken noses. Smashed windpipes. Bullet-strewn kneecaps and shoulders. The intricacies of deft cons. 
Unlike most books on "the City of Lost Wages," Jeffrey Sussman's "Sin City Gangsters: The Rise and Decline of the Mob in Las Vegas" really does take us on an impressive journey from the tawdry beginnings of Vegas through to its current almost Disney World iteration. Mr. Sussman's narration is energetic, captivating. As someone who has written about (and studied) boxing, including a book on Rocky Graziano, as well as "Boxing and the Mob" and "Big Apple Gangsters," the subject is a natural for the author. His storytelling has the pacing and punch of a boxing match. On the page he relishes the energy of Vegas. He's fascinated by the immorality, as well as the code among — dare we say it? — thieves.
He's also intrigued by eccentrics lured to Vegas. At a party Mr. Sussman was chatting with an elderly gentleman, Morris Kleinman, who, it turned out, was once half-owner of the Desert Inn. The billionaire Howard Hughes took over the two top stories of the hotel, served by a cadre of employees who were Mormon. He chose them because they didn't drink and didn't gamble. The casino began losing money because those floors were usually reserved for high rollers. Hughes refused to leave. Finally, the hotel owners told Hughes to buy the place and quoted an exorbitant sum. Hughes paid it. 
As the "benign" Kleinman, who had been a Cleveland mobster, told Mr. Sussman the story, the author realized that his interest in writing about Vegas became "jet fuel propelled."
He gives us fresh takes on Meyer Lansky, Bugsy Siegel, Lucky Luciano. Then mix in the glamour of old-time Hollywood royalty, many of whom flocked to Vegas — Cary Grant, Clark Gable, Ava Gardner — and many other film stars who still do. Mr. Sussman is particularly astute writing about the Vegas of the '60s and the '70s. Marilyn Monroe had an affair with the mobster Sam Giancana, and he treated her abominably. Then of course there was Frank Sinatra's Rat Pack — Peter Lawford, Sammy Davis Jr., Joey Bishop, and Dean Martin. Sinatra was drawing enormous crowds — and had a huge contract — nearly four times what Elvis was earning to perform in Vegas.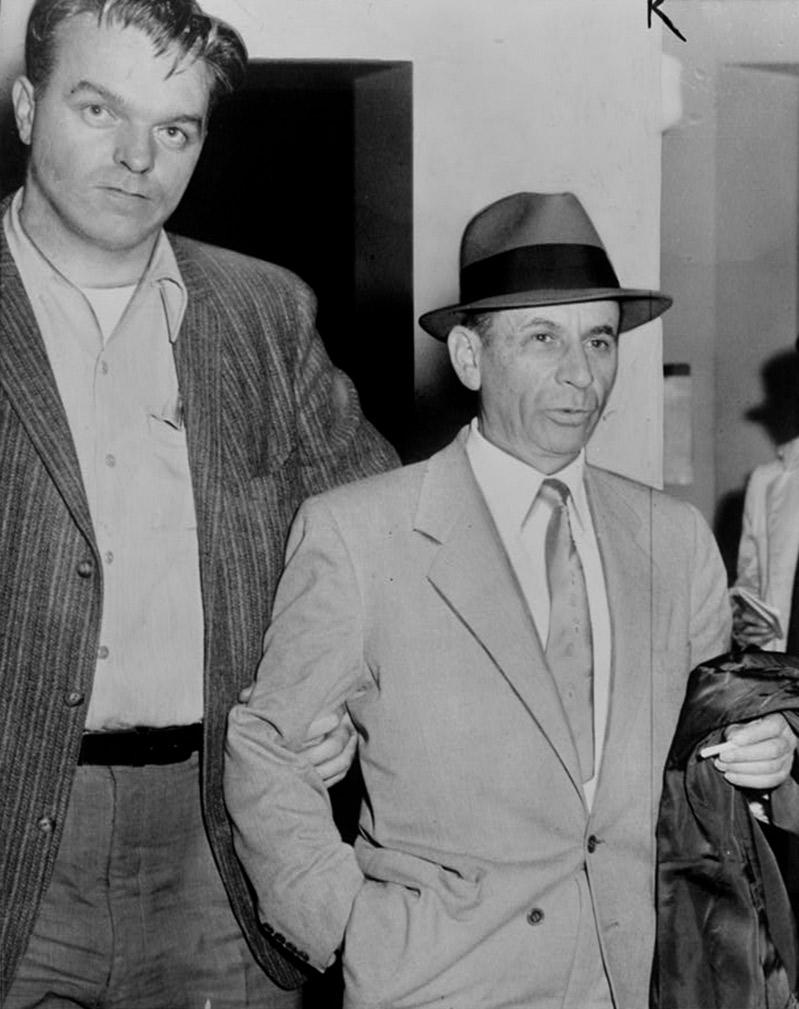 Mr. Sussman digs deep into the intersections among the mob, Sinatra, and President Kennedy. Sinatra swings between enormous generosity and deep-seated viciousness. When his former girlfriend's husband, a deputy sheriff, threatened Sinatra, demanding that the singer leave his wife alone, the law enforcement officer was soon run off the road and killed in a horrific car crash. 
Nonetheless, the mob could change viewpoints as quickly as Sinatra, as when Giancana wanted revenge on the crooner. "Sinatra's relationship with Giancana had many ups and downs. And when Robert Kennedy began prosecuting the mob with the zeal of a Thomas Dewey, Giancana blamed Sinatra for not getting Attorney General Robert Kennedy to back off his prosecution of Mafia members," Mr. Sussman writes. "After all, it was Sinatra who had bragged to Giancana that his connections with the Kennedys would result in happy days for the mob. When that didn't happen, Giancana — who was being surveilled around the clock by the FBI — said to Johnny Rosselli that Sinatra had to be hit."
Mr. Sussman takes note of another author who was fascinated by Vegas and the Mafia. Mario Puzo fused the names of the early Vegas titans Moe Sedway and Gus Greenbaum into the important Moe Greene of "The Godfather." Indeed, after the enormous success of his novel and the "Godfather" movies, Puzo would write "Inside Las Vegas," a photo and text paean to the gambling pastime and location he adored. 
In the '70s Puzo was dining at Chasen's, a celebrity favorite near Beverly Hills, when Sinatra entered the restaurant and angrily marched over to Puzo's table. Sinatra's fury? The character of Johnny Fontane, a singer "made" by the mob in "The Godfather." Sinatra began shouting, calling Puzo "a pimp," raising his fist only to be restrained by restaurant staff. Puzo had grown up in Manhattan's Hell's Kitchen, only 2.3 miles as the crow flies across the Hudson from Francis Albert Sinatra's Hoboken home. Puzo, not a mafioso, had watched his mother hide "hot" guns in rolled-up carpets. His laid-back temperament prevailed as he later described the Chasen's incident: Sinatra doesn't realize that a Northern Italian should never threaten a Southern Italian.
Mr. Sussman is diligent, appending endnotes for every chapter citing his sources — particularly important in a work based on those who revel in deception. 
Certainly we see the "rise of the mob" — the first half of the subtitle and the preponderance of the book. And what's intriguing is that the "decline of the mob" the author describes in the last chapters is really business people such as the art collector Steve Wynn and the "businessman and philanthropist" Kirk Kerkorian relishing their high-profile images. As did Sheldon Adelson, who tried to have online gambling legislatively banned. The practice wasn't outlawed, but it didn't matter to Adelson's bottom line. When he died in 2021 he was one of the world's wealthiest entrepreneurs, worth $35 billion. 
"Several businesses that deal with the casinos are whispered to be run by mobsters or secretly owned by mobsters or associated with mobsters," Mr. Sussman writes late in the book. "Are such whispers facts or mere rumors? Neither federal law enforcement officials, nor local ones, comment one way or the other. Though the mob is certainly gone from the count rooms, its shadowy hands may still be benefiting from collateral businesses, some of which were set up decades ago by Vegas mobsters now long dead."
And then Mr. Sussman turns to the current glitzy reality. "Indeed, everything in Vegas is now aimed at hordes of middle-class tourists. They want everything big and splashy and loud. And that's what they get." He recognizes that the small casinos have been demolished, replaced by hotels, each of which has the "population of a small town." He wryly notes that Vegas has now "outpaced Orlando, Florida, as a tourist destination." Not only does Vegas have thousands more hotel rooms than Orlando, but Orlando's occupancy rate is 70 percent compared to Vegas's 90.
The house never loses. How could such a creative set of enterprises not figure out how to win? And win. "Slot machines are the most profitable games of chance in town," Mr. Sussman writes. But how is it that the one-armed (as well as the two-armed) bandits make us think we might possibly beat them at their own game? 
---
Lou Ann Walker, a professor in Stony Brook University's creative writing and film program, now the Lichtenstein Center, is executive editor of the literary and arts journal TSR: The Southampton Review. She lives in Sag Harbor.
Jeffrey Sussman lives part time in East Hampton. He will discuss "Sin City Gangsters" on Sunday at 1 p.m. at the John Jermain Memorial Library in Sag Harbor.