"Wild: The Life of Peter Beard"
Graham Boynton
St. Martin's Press, $35
The wildlife photographer, artist, naturalist, author, and notorious bon vivant Peter Beard (1938-2020) blazed through a life so unconventional it could have been made for Hollywood. 
Raised on Manhattan's Upper East Side, he was the middle son in a family descended from some of America's earliest and most prestigious business tycoons. But Beard seemed hell-bent to vanquish his patrician lineage. Handsome and naturally athletic, he was rebellious, hedonistic, and possessed of a mercurial temperament. 
At boarding school in Connecticut, the restless 16-year-old read "Out of Africa," the celebrated novel by Karen Blixen (pen name, Isak Dinesen), and it ignited in him a lifelong passion. At 17, he embarked on his first trip to Kenya and southern Africa with Quentin Keynes, a great-grandson of Charles Darwin, and there began his love affair with the continent that would last over six decades. 
In a captivating new biography, "Wild: The Life of Peter Beard: Photographer, Adventurer, Lover," Graham Boynton weaves together the triumphs, entanglements, and tragedies in the life of this enigmatic man. Mr. Boynton, whose friendship with Beard lasted some 30 years, writes, "Beard was, of course, an Ivy League rebel who, for all his ranting and protestations against his lineage, was in his genes pure blue blood East Coast aristocracy." 
This is the nucleus of the story, from which Beard's seductive good looks, social ease, and compelling aura led directly to the world's haut monde. Maintaining assorted homes in Manhattan, Kenya, and Montauk, he cavorted with the likes of Andy Warhol, Mick Jagger, Truman Capote, Jacqueline Onassis, and Francis Bacon, as well as an endless stream of beautiful women. His life was one of brilliance and debauchery, artistry and womanizing. But he was more than a playboy. The emergence of Beard's art dates to his 11th birthday, when his maternal grandmother gave him a 35-millimeter Voigtlander camera, an essential ingredient in his evolution as an artist.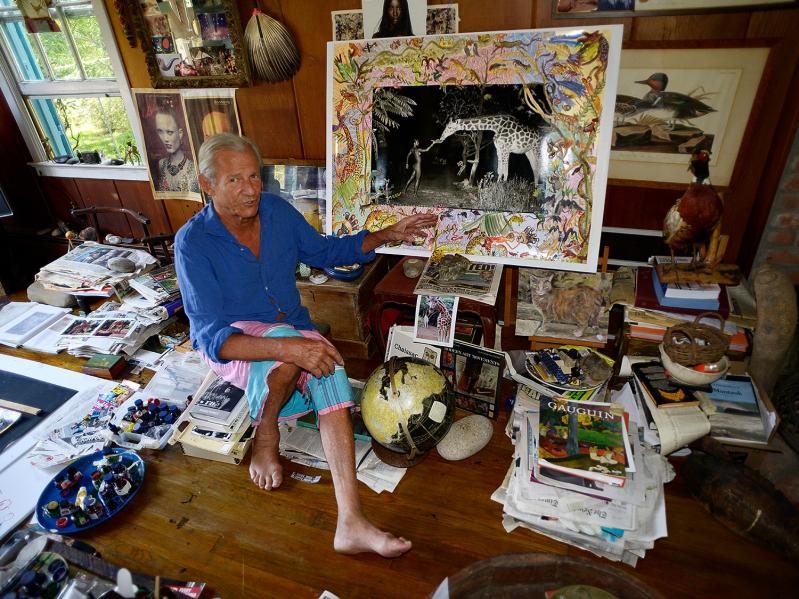 In 1960, a year before graduating from Yale, Beard returned to the African bush armed with a used Land Rover, a .375 rifle, and his camera and cut his chops there hunting through Kenya while photographing the vanishing Africa so immortalized in "Out of Africa." He was fearless — many would say reckless — on safari, often putting his own life in peril as well as those of his guides and companions, but at age 22 this would mark the dawn of his true calling. 
The images he brought home would eventually find their way to the cover of Life magazine and photographic spreads in Vogue, The New York Times, Interview, and other publications, serving as the grist for his first book, "The End of the Game," published in 1965. He became a staunch advocate for the conservation of Africa's wildlife and habitats, which were diminishing in plain sight. His books and photographs paid homage to the vanishing herds of elephants, and endangered lions, zebras, impalas, and giraffes.
After graduation he returned to Kenya, embarking on a life in the African wilderness. With some effort he managed to buy 40 acres of riverine forest near Blixen's former coffee plantation and the Ngong Hills. The wildlife, wilderness, and perpetual danger there proved an elixir for Beard, who established Hog Ranch, a sprawling compound of safari tents named for the ubiquitous warthogs that roamed the property. Save a refrigerator run by gas and a few electric lights, there were no modern conveniences. 
Mr. Boynton describes the accommodations with eye-popping detail. "The mess tent was lit by an array of antique Dutch lamps, storm lanterns, and candles, giving it a dramatic, romantic feel, while there were animal skulls affixed to various posts, most notably that of a male buffalo with enormous horns in pride of place." While he ping-ponged back and forth to New York, Hog Ranch became a favorite haunt of the elite. Frequented by a bevy of artists, supermodels, writers, and celebrities, for Beard, Kenya was the perfect home.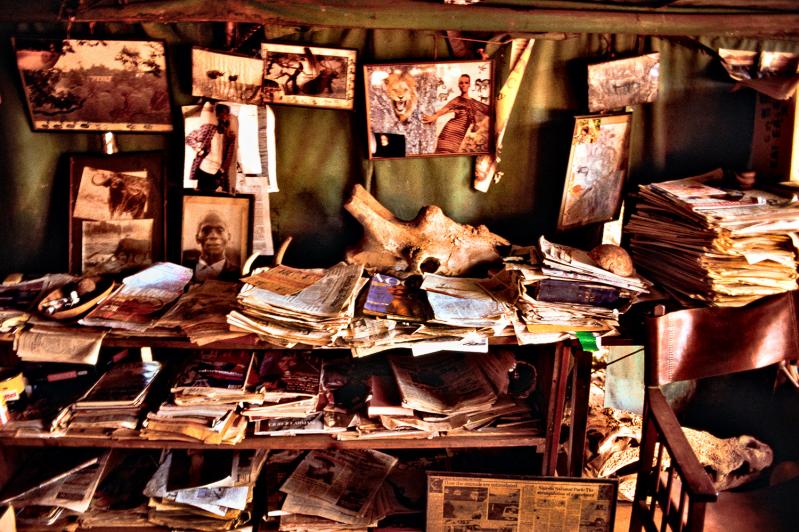 Acclaimed for his heroic photographs of the African wild, Beard augmented his practice with fashion spreads featuring exotic beauties among the bushveld, often cozied up to elephants, giraffes, and an occasional cheetah. His art, however, was something else. A diarist and collagist, Beard's countless journals may be the most archetypal of his works, and among the earliest. Montaged with musings, daydreams, detritus, and images, the thick diaries informed much of his mature work in which photographs, often monumental, were smeared with ink and animal blood (indeed, sometimes his own) and embellished with snapshots, phone messages, insects, news clippings, feathers, drawings, and all manner of found objects. 
In 1973, he bought a stone cottage in Montauk, naming the six-acre parcel Thunderbolt Ranch. As with Hog Ranch, members of the jet set were drawn to Beard and the glimmering, edge-of-the-world shoreline. Mick Jagger enjoyed it so much that he and his then-wife, Bianca, rented a home there, and later the Rolling Stones stayed at the Church Estate, owned by Andy Warhol, in advance of their 1975 American tour. Beard and Jagger were regulars at the storied Shagwong Tavern downtown. 
Later, Beard and his second wife, the American model Cheryl Tiegs, were married at the Montauk Community Church, becoming the "it" couple in a new celebrity-obsessed world. They divided their time among Ms. Tiegs's suite at the Carlyle Hotel, Thunderbolt Ranch, and Kenya, where the couple spent weeks and months. But while Beard's breathtaking photography continued to illuminate issues surrounding Africa's wildlife, and Ms. Tiegs was the world's top model, the marriage was dissolving. In 1983, it ended in divorce.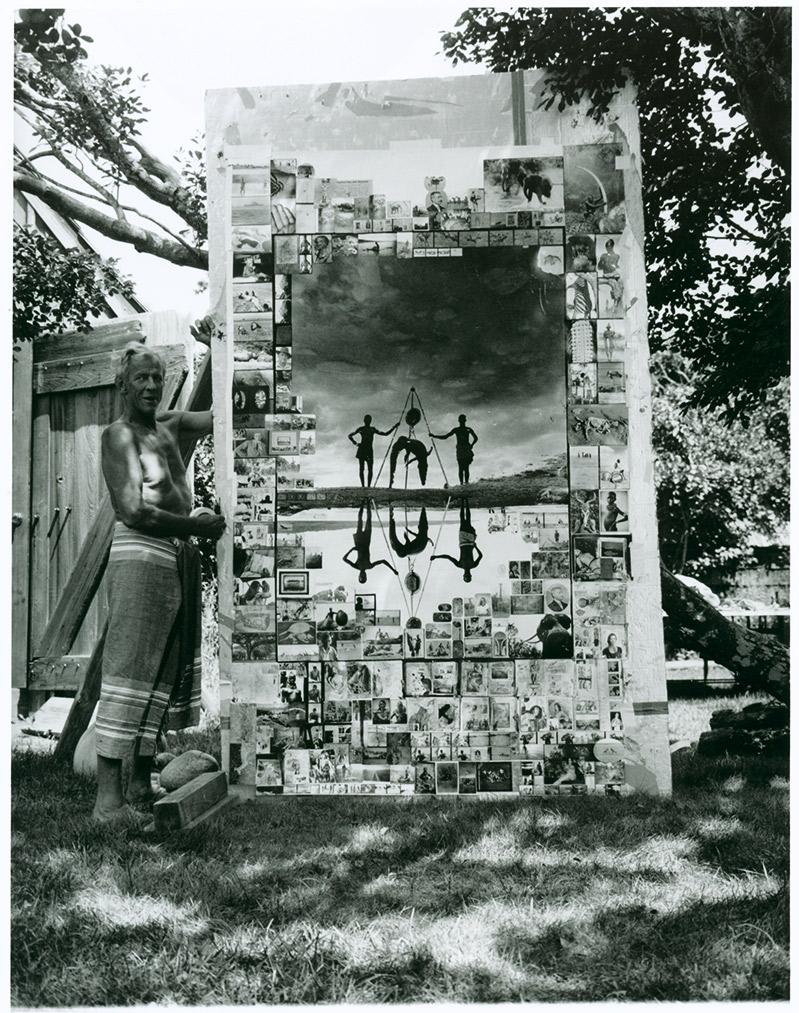 A 1996 retrospective at the Centre National de la Photographie in Paris opened just seven weeks after Beard suffered a near fatal attack by an elephant matriarch. Then close to 60 years old, he lay in a coma for four days, his spleen was ruptured, his midriff crushed, his pelvis fractured. He was medevacked from Nairobi Hospital to St. Vincent's in New York, septic and near death. Remarkably, when he was discharged, he managed to complete several works while lying prone on a mattress in The Time Is Always Now, his gallery. He flew to Paris and, still unable to walk, attended the opening reception in a wheelchair.
Indefatigable, Peter Beard seemed bestowed of far more than nine lives, also surviving an early suicide attempt, incarceration, excessive drug use, and three marriages.
Though charismatic, he could also be unscrupulous, callous, even cruel, driving away many of the friends, lovers, and acolytes who gathered around him. His sexual appetite undiminished by age, his conquests continued well into his 70s, to the eternal chagrin of his third wife, Nejma. Often leading separate lives, she and their daughter took to living in New York while Beard continued to pursue his eccentric lifestyle. But, still married, they reunited following the elephant assault. 
Here Mr. Boynton judiciously relates the complex tale of their reconciliation, recounting the dissonant life they shared, Beard's gradual decline after three strokes, and the dementia that eventually seized him. It was in Montauk, in 2020, that an elderly Beard, age 82, wandered off from Thunderbolt Ranch, disappearing for 19 days. His body would finally be discovered in the woods at Camp Hero State Park, just a mile from home. 
The indomitable Peter Beard had once again escaped the reins of propriety, his wanderlust extinguished but still extant in the massive body of work he left for us. 
---
Janet Goleas is an artist, curator, and writer. Formerly of East Hampton, she now lives in Florida.