"Bugsy Siegel"
Michael Shnayerson
Yale University Press, $26
The subtitle, "The Dark Side of the American Dream," really says it all; Bugsy Siegel's life, at least for most of us, would have been more like the American Nightmare. Benjamin Siegel, a poor Jewish boy with no hopes, prospects, or education, who grew up in a tenement on New York's Lower East Side, did indeed make good — handsome and charismatic, he made tons of money, was a dominant figure among his social set, hobnobbed with celebrities, and almost single-handedly brought a great American city into being.
    
On the other hand, almost all the money came from illegal activities like bootlegging, the world he lived in was that of organized crime, and people started calling him Bugsy because his violent rages, even in that violent world, bordered on insanity. He hated the nickname: "A good way to get killed was to greet Ben Siegel as 'Bugsy,' " Michael Shnayerson notes.
    
Siegel did have many celebrated acquaintances in the motion picture business, who were excited by his dangerous, self-dramatizing persona and his stories about shaking down legitimate businesses, running imported Scotch from Britain during Prohibition, and eliminating rivals with bursts of machine gun fire. Mr. Shnayerson credits him with killing at least 12 men himself and contracting out many more murders. He loved to use his fists, as well, leaving his victims bloody and broken, and he wasn't shy about talking about his exploits.
 
George Raft was a particular crony, and Bugsy's Hollywood friends included Clark Gable, Fred Astaire, Marlene Dietrich, and Jean Harlow, with whom he had a brief affair. (Jimmy Stewart, though, despised him, and risked his life by letting him know it.)
But his true social milieu was that of mobsters like Lucky Luciano, Meyer Lansky (Bugsy's lifelong friend and partner in crime), Arnold Rothstein, Albert Anastasia, Frank Costello, and other members of the "Syndicate," the Jewish equivalent to Cosa Nostra.
The city he was instrumental in founding was Las Vegas, and his life-defining achievement was to open the first American gambling resort, called the Flamingo, 300 miles from Los Angeles in the barren desert of Nevada, where gambling was legal — an act born of a brilliant insight into the future proclivities of a nation that loved to gamble, but which also got him murdered by his gangland partners at the age of 41.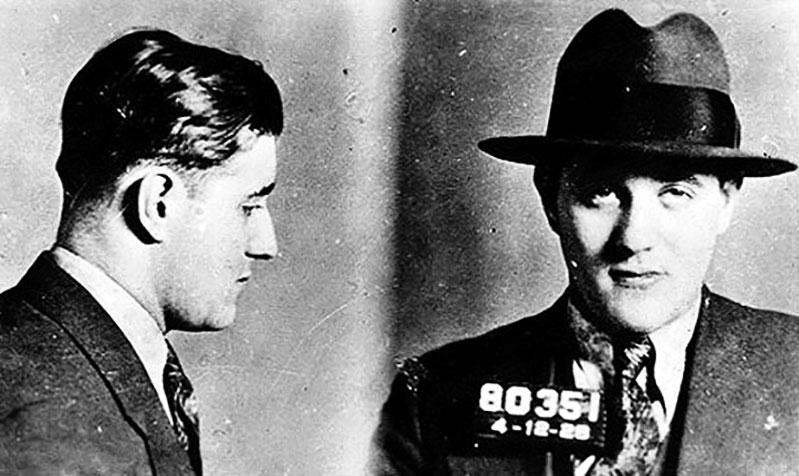 Mr. Shnayerson quotes Rich Cohen's "Tough Jews" to describe teenage Ben and his friends who didn't fit the stereotypical mold of "nice Jewish boys," who were supposed to be "studious, obedient, and incapable of raising their fists." Ben and his cohort "engaged in petty crime and pushed away their parents' Jewish customs, language, and religion."
Outwardly, as an adult, he conformed: He married a nice Jewish girl and fathered two children, moved his family to Scarsdale (an odd choice back then for non-WASPs) and finally to Los Angeles, and though he could hardly have been called religious, both he and Lansky were married in temples with rabbis present. There was something schizophrenic about the way he and others walled off their Jewish identities from their business dealings; a murderer named Red Levine was an Orthodox Jew who tried to avoid killing anyone on the Sabbath. Mr. Shnayerson proposes, as a motto for Siegel, "Next year in Jerusalem. But this is how I live in the Diaspora."
By the age of 21, Prohibition had made him rich, and he dressed the part: By day, "he wore checked sports coats and custom-made alligator shoes," and at night, "a velvet-collared, full-length cashmere coat." Mr. Shnayerson compares him to Fitzgerald's Gatsby, who was also a dandy and a bootlegger (and an associate of Rothstein, who was probably the model for Meyer Wolfshiem in "The Great Gatsby"). Gatsby made his way from the Northern Plains to his mansion on Long Island; Bugsy moved from the Lower East Side to the Upper West Side to a suite at the Waldorf-Astoria to Westchester to a mansion of his own, in Beverly Hills, that he may have strong-armed the opera singer Lawrence Tibbett into selling to him cheap.
Mr. Shnayerson describes the short life of this compelling figure chronologically, beginning with the protection rackets he ran as a boy, followed by his success as a bootlegger when Prohibition opened up opportunities for so many ambitious entrepreneurs, and then on to the wire racket (a technological advancement on bookmaking that made race results instantly available through the telegraph), to new adventures that he and Lansky added to their repertoires, usually by muscling in on the gangsters who were already running them, either intimidating or killing anyone who dared to oppose them.
"This was the American Dream, all right, and Siegel was proof that anyone with guts, good taste, and a gun could grab it," Mr. Shnayerson writes, "assuming he kept striking fear into those who might otherwise make his dream their own."
But this is certainly not the American Dream popularized by Horatio Alger or exemplified by Abraham Lincoln and Thomas Edison; it's not based on the Protestant Ethic of industrious service dedicated to God and the Greater Good, which in turn brings earthly rewards. Siegel was lavishly rewarded for his crimes, but money didn't really interest him; he wanted fame and respect more, but his impulsive nature gave him a dark reputation he never escaped.
Toward the end, he met the woman of his dreams, a beauty named Virginia Hill who was even crazier than he was. She was the Bonnie to his Clyde, except that they fought all the time — not only with words but with high-heeled shoes or ashtrays or anything else they could throw. They loved each other with a passion that consumed them both, though that didn't stop Virginia from skimming from the Flamingo's investors, and that may have been the reason that one night, as Bugsy sat in his Hollywood living room with his back to the window, a sniper fired a bullet through the back of his head that killed him instantly. Virginia was heartbroken, and attempted suicide several times, at last succeeding a few years later.
This is a biography of a man whose life in fact reads like fiction, even like myth. Perhaps only Joan Didion could have succeeded completely in placing Bugsy in the context of a growing and changing country from its immigrant roots in the 1910s to its sudden affluence after World War II, but that's a big ask. Mr. Shnayerson has produced a readable, even riveting account of a recognizable and in its way an important American life.
---
Richard Horwich taught English at Brooklyn College and New York University. He lives in East Hampton.
Michael Shnayerson, a contributing editor for Vanity Fair, lives in Sag Harbor. He will discuss "Bugsy Siegel" in an online program for BookHampton on Tuesday at 7 p.m.