"Mad at the World"
William Souder
W.W. Norton, $32
When John Ernst Steinbeck Jr. was 9 years old, his Aunt Molly gave him "The Boy's King Arthur." A gift he regarded "grimly," according to William Souder's deft biography of Steinbeck, "Mad at the World." Up until then, the young Steinbeck "struggled to read and hated books. Words on a page went blank inside John's brain. Learning to read, he later wrote, had been torture. He regarded books as 'printed demons — the tongs and thumbscrews of outrageous persecution.' " William Caxton's 1485 version of Sir Thomas Malory's "Le Morte d'Arthur," often considered the first English-language novel, gave us, and that boy, Camelot. 
Once books opened themselves up to him, Steinbeck began uncovering even more of their secrets. He came from a family of readers and immersed himself in works such as Walt Whitman's "Song of Myself," Robert Louis Stevenson's "Treasure Island," Dostoyevsky's "Crime and Punishment," and Flaubert's "Madame Bovary." Mr. Souder quotes Steinbeck as saying he didn't remember the tomes as books, "but as something that happened to me." Indeed, Steinbeck was inhaling the underpinnings of social realism.
Is there something ironic in the fact that Mr. Souder's cantankerous, prolific biography subject took to heart the tales of knights doing battle? Perhaps for a millisecond. But then not at all. Steinbeck couldn't stop writing. Couldn't stop rushing out to right injustices. He was a loner who never seemed to be lonely. His bleak moods echoed those of his father. The secret language that he invented with his sister, Mary, was perhaps based on the 15th-century words derived from "The Boy's King Arthur." A teenage friend of his, Dorothy Donohue, "was convinced John's reticence hid something going on inside that his friends would have found incomprehensible.  .  .  . 'People thought he was antisocial. But he was really just thinking.' "
He entered Stanford University, but clearly on his own terms. He took classes when there was a subject he wanted to study. Then disappeared. He found writing mentors. And again dropped out of sight. Mr. Souder reports that Steinbeck sent his short stories out to magazines without return addresses, using a pen name. How baffling when he himself didn't know whether or not his work was being published.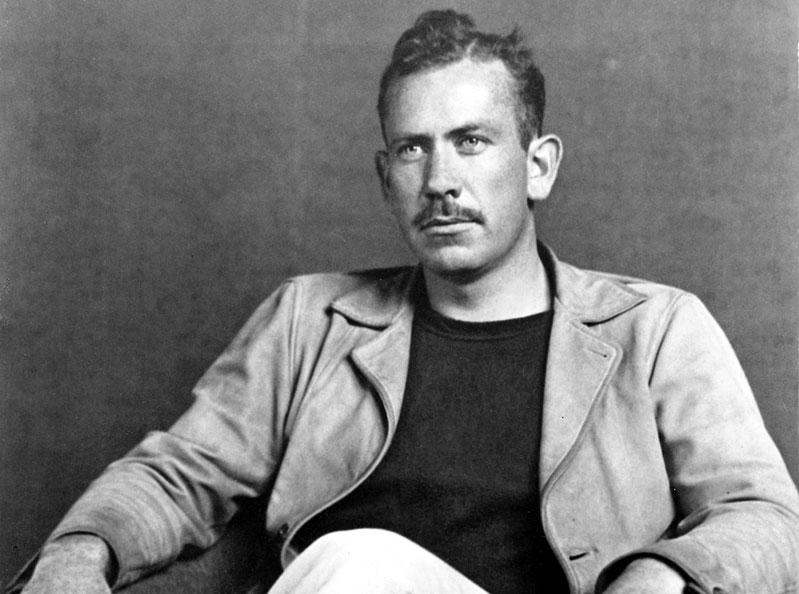 Frequently penniless, Steinbeck persisted. Somehow he translated his complicated experiences into those of his characters. In rather quick succession, works such as "The Red Pony," "Tortilla Flat," "The Grapes of Wrath," "Of Mice and Men," and "East of Eden" hurled themselves into American consciousness. Steinbeck won the National Book Award, the Pulitzer. But seemingly he didn't care. He just needed to keep working.
Mr. Souder's ability to condense the vast number of Steinbeck titles — 33 books, never mind the number of short stories — is extraordinary. And then there are the "experiences." Mr. Souder is documenting the life of a man who, during a drinking binge, hung a woman out of a second-story window by her ankles. She married him. Mr. Souder writes that first wife, Carol, "had made him a writer." The second, Gwyn, "had made him crazy." The third wife, Elaine, "made him happy."
From the age of 56 on, Steinbeck wrote and spoke of his impending death, both underplaying the ravages of cigarettes and hard living while vaunting his bravado. Having grown up 25 miles from the Pacific, spending so much of his youth on the West Coast, he'd studied inequality there. Then moved across the country as he documented what happened to Okies, to so many people in need or those who had been treated unjustly throughout this country. 
He ended up out east, here in Sag Harbor, writing "The Winter of Our Discontent." Critics were not enthusiastic about this tale of a moral dilemma. A man whose family once owned his store and was now a clerk struggling with his son's plagiarism in winning a prize. Steinbeck had been nominated eight times for the Nobel Prize in Literature over his lifetime. "The Winter of Our Discontent" was the book that the Nobel Committee said was the one that convinced its members he was deserving.
The book that even more allies Steinbeck with Sag Harbor is "Travels With Charley." The premise was that he and Charley, his family's poodle, were heading out in a camper to learn what was going on across the country — prime Steinbeck material. The book was widely hailed. Then a few years ago, writers revealed that Steinbeck had not actually completed the trip in the camper, having spent time in luxury hotels or traveling back east with his wife and dog. Mr. Souder makes the point that "Travels" was actually Steinbeck's last novel, a true assessment of what people were thinking, but not in essay form. After all, he'd named his camper "Rocinante." Don Quixote and his horse were both awkward and past their prime, and that's how Steinbeck was feeling about himself.
Years ago on a splendid June afternoon, Elaine Steinbeck invited my husband and me to her Sag Harbor home for tea. Gracious, full of good humor, she took us on a tour of the simple one-story wood-frame house, filled with memorabilia. Her husband had been gone for two decades. "I haven't changed a thing," she grinned. 
Afterward we sat around the patio's wrought-iron table. Holding out a plate of biscotti, she tilted her head outward. "You probably want to see his working space." I walked toward the gazebo perched at the end of the point, surrounded by water. As I opened the door, what I saw was, to me, jaw-dropping. Everything was set up for him to step back in and pick up midsentence: His typewriter, piles of paper, cups full of pencils and pens. Leather-bound journals. A plump thesaurus. And a fatter dictionary. Binoculars dangling from a peg. To scan for boats, birds, the movement of the water? To look at the stars and the moon in the evening? Or just to watch and muse?
How I knew he had truly worked there? The space heater on the floor next to the swivel chair.
My husband and I were invited back to the house a few times. Everything was in exactly the same place, inside and out. After Elaine's death, I will admit that I returned to the point. The six-sided gazebo had been emptied. I sneaked back a few more times, my heart pounding, hoping that magically Steinbeck's writing tools would reappear. 
Reading Mr. Souder's biography, I learned that Steinbeck had named the structure "Joyous Gard" after Sir Lancelot's castle. Lancelot's "formidable fortress" after his battles vanquishing evil. The powerful force of Sir Thomas Malory's work remained strong within Steinbeck. Lancelot had rescued Guinevere, whisking her away to Joyous Gard. Sir Thomas Malory himself had defended Joyous Gard, a.k.a. Bamburgh Castle, during the War of the Roses. In "Le Morte d'Arthur," Lancelot is buried at Joyous Gard. 
---
Lou Ann Walker is the director of the Stony Brook Southampton and Manhattan M.F.A. program in creative writing and literature. She lives in Sag Harbor.