At 37 years old, Patrick J. Peters III of East Hampton says he feels like his life is just beginning. 
Three years ago, after contracting Covid-19 at the height of the pandemic, he was just trying to survive. He was suffering from long Covid, the phenomenon in which the usually short-term virus morphs into a semipermanent autoimmune disease. Doctors across the world are studying the condition now, but back then it wasn't a recognized affliction.
Mr. Peters, who was living and working in New York City at the time as the chief marketing officer of Jump 360, a high-powered advertising agency, calls what happened next an act of "divine intervention."
"I was living with two roommates, and I ordered us canvases to have, like, a paint-and-sip night," he recalled, "but I got really sick from Covid. It was this really weird, spiritual experience when I looked at the canvas. I was very sick in my room, and I mean VERY sick -- it was hard to breathe, and I had brain swelling that I didn't know about at the time -- and I started hallucinating. I looked at this canvas and I said, 'Holy crap, I understand art! It's like I can leave a message to humanity on this canvas if I die.' "
The experience transformed him. "Art became something I could get lost in, and use to get away from severe amounts of mental anguish. I was scared. I didn't know what was happening to me, so I used art as an escape to all that, and that was the precursor to my becoming a full-time artist."
Mr. Peters's post-Covid journey -- if it can be called "post," because he still feels its effects -- saw him undergo a major lifestyle makeover. "After getting sick, I didn't have the ability in the first year to even think about going back to a high-paced work environment."
"My partners and I were working 12, 14, 16 hours a day for seven years together . . . I did not want to leave that world behind, but I just didn't have that choice, which was really emotionally hard because that was something I put my heart and soul into for a decade of my life."
He put the agency behind him, art and East Hampton ahead. He has been a full-time resident for about a year now. A friend introduced him to the artist and curator Paton Miller, who "came and toured my studio-garage. He looked me in the eye and said, 'I want to let you know you're the real deal. You're an artist.' Before that, I did not identify as an artist . . . Before that, I was kind of looking at going back to my old life."
Mr. Miller was looking that day at an eight-foot-square depiction of a pink rabbit, which, he said on Sunday, he immediately wanted in his East End Collected 6 show. "It was apparent Patrick was a breath of fresh air, and all the fresher when considered he went into a Covid coma as a businessman, and months later emerged from that coma an artist."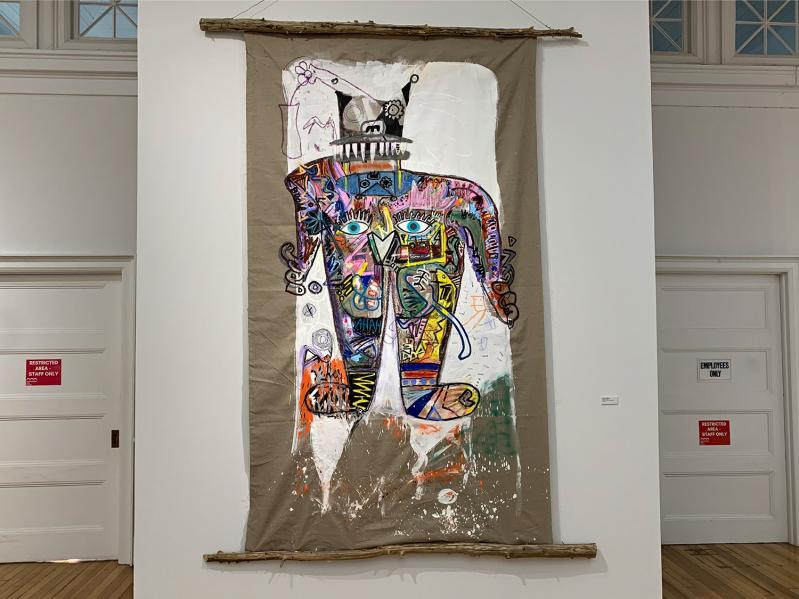 Mr. Peters is currently surfing a wave of interest in his big, wild, and whimsical work, from the recent East End Collected show at the Southampton Arts Center, organized by Mr. Miller, to galleries and private collections here, in the city, and as far away as Texas and South Korea. His pieces range from small commissions to 14-foot-tall monsters, and he is also a presence in the nonfungible token (NFT) market. This summer, his solo show, "Marvel in the Magic of Your Existence," will be shown at the Lucore Gallery in Montauk. 
Marvel, indeed, at this completely self-taught artist whose continued existence was not a certainty in 2020.
"Painting was a miracle," Mr. Peters said. "It was all I could do besides take a really slow walk. It's important for people who suffer from chronic illness or mental illness to just make the best of what you can do, and don't focus on what you can't."
Visual representations of his struggle with Covid-19 show up often, particularly in his early work. "Now that I'm coming to a more stable existence, my mission is to use art to inspire people to live out their dreams," he said. "Regurgitating my pain is part of my story, but it's something I don't want to continue to do. I look back at the art and, holy crap, you can feel the pain vibrating through. Over the past year, I've tried to really hone my craft and create more aesthetically pleasing art. You can see the transition."
To pay his thanks forward, the artist donates 20 percent of his profits to "charities and missions that make the world a better place," according to his website, rememberthisart.com.
Outside of art, Mr. Peters, the grandson of World War II veterans on both sides of his family, loves history, nature, cooking, and literature. Among his favorite books is "The Miracle Equation" by Hal Elrod. It's about "living from possibility," he said. "I'm very interested in living the best version of myself. That was not always the case in my old life . . . . I don't want to go back to serving other people's dreams. I'm building something much bigger."
Lately, he has been experimenting with mixed media -- he'll incorporate spray paint and pastels, for instance -- and sketching on found objects and wood. He describes this new interest as "feverish," no pun intended.
"Everywhere I go, I'm sketching. I truly believe that there are forces that are way beyond my control pushing me toward my next piece. I just listen," Mr. Peters said. "I want to start to use art as a mechanism of change . . . After being sick, almost dying, and having art save me, I truly believe that is my mission."
He strongly encourages others who suffer from long Covid, mental illness, or traumatic brain injury to explore art. "There's a lot of people who are struggling and don't have any way out," he said. "It's really important to look at art and creative expression as a way out."