Drive past the Big Duck in Flanders, on the Route 24 corridor that connects Hampton Bays to Riverhead, then down Whitebrook Drive, a dead-end street with neat, suburban houses on either side, keep going past the portable basketball hoop until you arrive at an almost-hidden driveway, where a handwritten sign announces, "Campo Cuttica." 
It may look distinctly unremarkable from the outside, but something momentous is taking place within. So, keep rattling down the unpaved, tree-lined driveway, flanked by giant plastic planters filled with a shock of fake flowers, past the very real and magical lily pond, until, suddenly, you're out of the woods, staring at a vast, flat clearing under an unobstructed sky. The land is dotted with a few container-type buildings, an old duck barn, metal sculptures, a defunct piano with a tree growing out of it, a swimming pool surrounded by chicken wire, a pair of romping Boston terriers, an Airstream trailer, a handful of tiny houses, a couple of lakes, and lots more fake flowers. It's not beautiful, simply resolutely eccentric.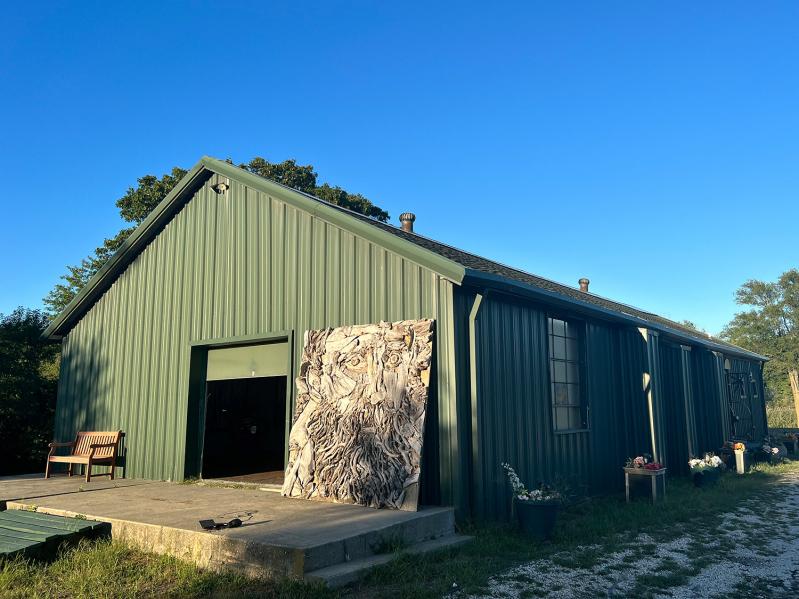 Welcome to Campo Cuttica, an artistic takeover of a 40-acre property once owned by the late Gloria Kisch, a sculptor. Transformed about three years ago by Eugenio and Ruth Cuttica, it's now part home, part art studio, part family compound, part destination for a global community of artists, where all visitors are offered the time, space, and freedom to create and inspire.
If Mr. Cuttica's home defies scale, then so too does his art. The celebrated Argentine artist once described himself as "a painter of excess," which makes sense the moment one walks into his cavernous metal-container studio on the campo. One might also understand why East Hampton, where the family lived until moving to Flanders, was simply too small to contain his work and his vision. 
Monumental portraits are propped up against the sides of the studio. All depicting men, the 15-by-10 feet acrylic paintings wear the ultimate "What you looking at?" stare. Other grand-scale canvases are also scattered about -- a few from his series of a 9-year-old translucent girl named Luna, whom he has painted over the last 20 years. There are also some landscapes of thick wheat fields and flowering bushes, as well as one or two, from a series now on display in the duck barn turned studio, of blankets hanging from rope, which he said serves as a metaphor for life, as we're born on a blanket, reproduce between blankets, and ultimately we are covered by a blanket when we die.
"I'm trying to make visible the invisible," he said, standing next to a painting, dwarfed by it, despite being a tall, bulky man. It was impossible not to notice his self-portrait in the collection, in which he glares intently, looking every bit like Poseidon, the Greek god as unruly as the seas he commanded. 
In a small loft space above the studio, a monastic-looking sleeping area had been fashioned from a low wooden platform, a mattress, a pillow, and a thin folded blanket. In fact, a variety of sleeping quarters exist throughout the property. The couple's adult sons, Lautaro and Franco, both artists and graduates of the Ross School in East Hampton, live on the campo. Each has his own studio; Lautaro lives and works in his along with his wife, Isadora Capraro, another Argentine artist, who was introduced to the family when she was hired as Mr. Cuttica's assistant. Franco, who was once known around the East End for his driftwood horse sculptures, has built himself a tiny house on the property, made from resourced materials. 
About once a month during the summer, the Cutticas host a potluck lunch for about 20 creative types from around the East End and New York City as a sort of celebration of art, creativity, cultural exchange, and community. The old duck barn has been transformed into a welcoming and sumptuous studio space in which "we make meals with critics, creators, and artists," Mr. Cuttica said. "And we will like you to come too."
The barn is a gorgeous space, light flooding in from skylights in the rafters, and with the building's guts exposed it feels rustic, warm, and unfussy. In addition to hosting lunches, it's used to house revolving exhibitions -- the blanket series is on the walls, and on 12 pedestals are sculptures of painted heads made by a Russian artist with "a very complicated name, no vowels, so I cannot pronounce it," Mr. Cuttica said. 
Above the kitchen area is another loft space with a bed for anyone who needs to stay the night. At the time, the resident guest was Axel Quincke, a prodigiously talented 20-something concert pianist from Argentina and a Cuttica family friend who has played in venues worldwide and this summer at LTV Studios in Wainscott. To the delight of the gathering this day, Mr. Quincke sat at the grand piano in the studio and offered exquisite renditions of Rachmaninov, Beethoven, and Chopin.
The duck barn is also used, as Mr. Cuttica put it, to "make events here." Last year, they held their first Campo Cuttica Open Studio, attended by hundreds from the larger artistic community, he said.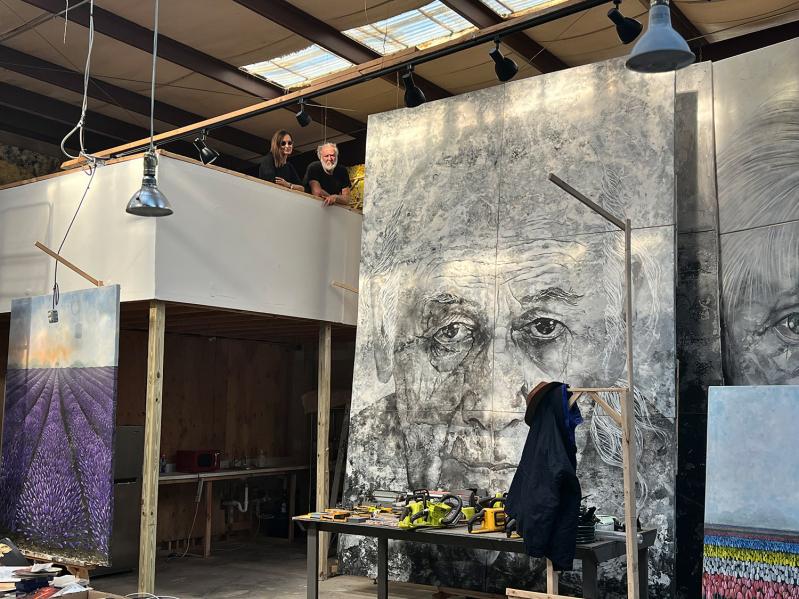 The Cutticas left Argentina 26 years ago. The country "is one of the worst places of the world right now," he said. "The corruption is unbelievable, the inflation is 200 percent. Everybody is suffering, 70 percent of the people -- maybe 35 million people -- they are starving. Argentina produces food for 400 million people annually, all over the world, and the Argentinians are starving. So, it's an unbearable situation. I cannot be there and see that."
His wife of 40 years clearly operates as the Cuttica anchor and the business head in this family of dreamers. Currently she is working on developing a paid creative residency program for visiting artists, which has begun on a small scale. Meanwhile, her husband has many visions for the campo. "I am full of projects," he said. "And for every hundred projects, you can make one."
Vision number one he seems to have accomplished: "I want to have my studio here. The main purpose of my life is being an artist. I have been doing this for 50 years, and in this last period of my life I want to be surrounded by artists. I feel artists are my family."
Beyond that, he hopes to turn the place into a sculpture park and also establish an art school on the property. "I have been always interested in education. I don't want to teach people or to be an art teacher because that is too academic. I don't think art is an academic thing. Art is something else. And I want to teach people how to be an artist," he said, explaining that what he envisions is an institution like the Bauhaus, an art school in Germany in the early 20th century.
Many might say that vision -- to teach young people to be artists -- has already been realized. Several young people wandered around Campo Cuttica, emerging from the Airstream or from inside a container apartment, all of which seemed to serve as creative incubators. 
Mr. Cuttica conceded that young artists are coming and going all the time around his property. "The gate is always open. Sometimes I wake up in the morning and I see a young architect or a writer walking in the park and I feel happy, like a young man of 65, into some kind of flow of abundance," he said.