Frederic Tuten was not a typical 15-year-old. Growing up poor, in a Sicilian-speaking household, in a neighborhood he described as "gray, horrible, sad" during a conversation at his home in Southampton, he dropped out of high school. Not to join a gang, but to be a painter and move to Paris.
He was already writing "dreadful poems, pretentious poems" and submitting them to New Directions publishers. What flipped the switch, he said, was reading Irving Stone's "Lust for Life," a novel based on the life of Vincent van Gogh, and seeing "An American in Paris," the film about an ex-G.I. who stays on in postwar Paris to become a painter.
Mr. Tuten got a job in a mailroom and started taking Saturday drawing classes at the Art Students League. "I thought that to be a serious artist . . . to be the kind of artist that Picasso and Matisse were," one had to learn how to draw the figure.
But instead of receiving instruction, as he had expected, he was left to his own devices, and after a few weeks, a tactless instructor issued a critique so blistering that he abandoned his dream. "Not only that, I never got any better. I didn't know what I was doing."
"Of course, Paris never happened," at least not until years later. But, while going on to write five novels, a book of short stories, and a memoir of his early life, Mr. Tuten never lost his passion for the visual arts. It wasn't until he was 60, though, and long established as an acclaimed and innovative writer, that he picked up some colored pencils and began once more to draw.
The switch flipped again when his close friend Roy Lichtenstein looked carefully at the drawings, picked one up, and said, "Fred, this is really beautiful." Mr. Tuten has been drawing and painting ever since; many of the early works are now among his collected papers at Ohio State University.
In 2020, he had a show of 12 drawings at the Planthouse Gallery in Manhattan. After the show sold out, Katie Michel, the gallery owner, told him, "It may never happen again. Don't expect it, it's not normal." Not long after, the artist David Salle suggested to Harper Levine, the owner of Harper's in East Hampton, that he look at Mr. Tuten's work. A show there took place last month.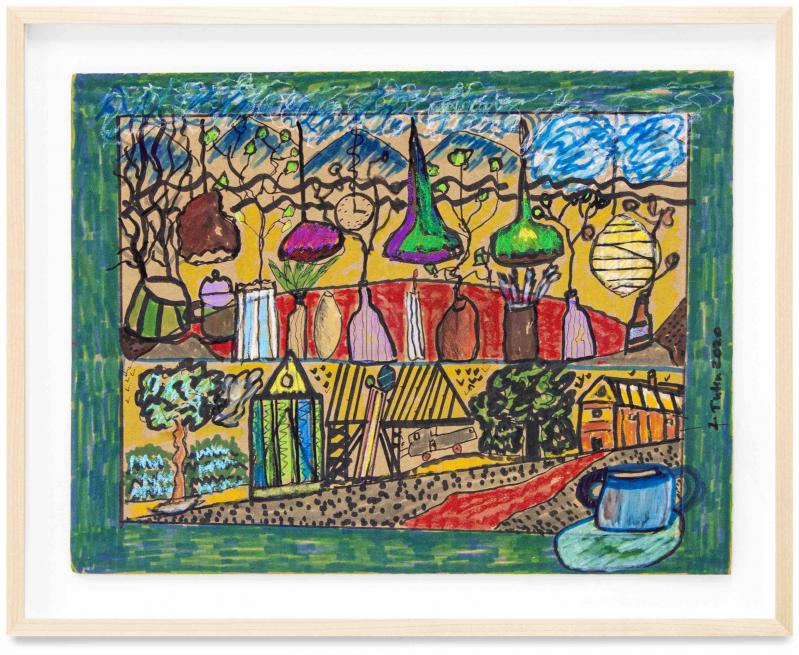 In her review of that exhibition for Artforum magazine, Ida Panicelli said, "Tuten forges wondrous paths that lead his unusual protagonists into fanciful realms populated by commedia dell'arte-style figures with elongated noses, puffy clouds, and azure mountains and seas . . . ."
In the early '60, he began writing reviews for Arts magazine. "That's how I met Roy Lichtenstein, that's how I met Rauschenberg, that's how I met every artist of that period." In addition to reviews, he has written essays for many artists' catalogs, and he covered biennial exhibitions in Sao Paulo and Venice for The New York Times.
Art references pervade Mr. Tuten's fiction as well. Of "Van Gogh's Bad Café: A Love Story" (1997), Publishers Weekly wrote, "A magical painter in words, Tuten gets inside the Dutch artist's wounded soul as few writers have." "The Green Hour" (2002) is about an art historian whose specialty is Poussin and Goya.
"Painting is very important to me in thinking about writing," Mr. Tuten said. "When The Paris Review interviewed Georges Simenon and asked who his influences were, he said the Impressionists. He said he loved their paintings for their mood. And that Cezanne could draw an apple with flesh and heft in three strokes."
"He was talking about, in his writing, coloration, being economical, giving flesh and body to something without blabbering. I think that's very important to me. The way I think scenically -- I see writing as composition in some way. How would it fit onto a canvas, how it would fit on a page?"
Perhaps his best known novel is "Tintin in the New World: A Romance" (1993), which re-imagined Herge's cartoon hero in a real-world adventure in Peru, where, on Machu Picchu, he encounters characters from Thomas Mann's novel "The Magic Mountain."
Before Mr. Tuten even thought of writing a book about Tintin, he met Herge. How that came about illustrates the circles through which his career has taken him.
He was introduced to the French film director Alain Resnais by Susan Sontag when the filmmaker was in New York for a retrospective at the Museum of Modern Art. Resnais, it turned out, was a comics enthusiast, and he arranged for Mr. Tuten and Herge to meet at a cocktail party. "The first thing he said to me was, 'Alain tells me you like my work. What do you like about it?' The first thing that came out of my head was the color blue. The nighttime blue. And he said, 'That's interesting, my wife is the one who puts that color in my comic books.' So we became friends, and we remained friends until his death."
Speaking of Herge and other close friends who have passed, he said, "My sadness is that the people I loved very much, who were older than myself, are gone. I feel not just my friends are gone, but a part of that world is gone, and is unreclaimable. They were really great artists, and I was privileged to have known them."
The high school dropout did return to school, graduating from City College and earning a Ph.D. in 19th-century American literature from New York University. He co-founded the graduate program in creative writing at City College and directed it for 15 years. Its alumni include Walter Mosley, Oscar Hijuelos, and Ernesto Quinonez; Joseph Heller, Donald Barthelme, John Hawkes, and Sontag were among its faculty.
"At the time we initiated the program, there was no Columbia, no N.Y.U., no Brooklyn College, there were no other programs in the city. There was Stanford and there was Iowa, that was it."
What was most important to him was that tuition rates were minimal. "I always believed, one of the missions of these kind of programs, if they have any mission whatsoever, is to aid and encourage and bring into life young writers who otherwise would have no opportunity."
By contrast, he said, tuition for M.F.A. programs at private colleges leaves students with huge debts, plus the pressure to get an agent and be published. "How can you get variety from that? You're going to get standard middle-class, white middlebrow, writing."
Ever since "An American in Paris," film has been perhaps as central to Mr. Tuten's life as art and literature. He has written film reviews for Vogue magazine and other publications, and taught courses in film noir, gangster films, and American westerns at the University of Paris. He co-wrote the screenplay for the 1981 film "Possession."
As he approaches his 85th birthday, Mr. Tuten is, if anything, busier than when he was teaching. He is finishing a play, "The Bar at Twilight," that he has adapted from one of his own short stories. It was commissioned by the Manchester Festival in England, a biennial event with a specific focus on original new work.
It is his first play since the one-act show "Tea Party," whose content --"a night of talk and sex" -- resulted in his suspension from City College after it was published in the school's literary magazine. After the incident was reported in The New York Times, the Soviet newspaper Pravda lamented the lack of freedom in the United States, he recalls in his memoir, "My Young Life" (2019).
A collection of Mr. Tuten's short stories will be published by Bellevue Press in May 2022, and next spring Koenig will publish a small edition of 40 of his drawings and paintings, each accompanied by a story or text.
Mr. Tuten first came to Southampton in 1971 to visit Lichtenstein, who had just bought his own house there. In 1980, the Lichtensteins found him a cabin in Bridgehampton. He has been spending summers on the East End ever since, and "hiding out from the city" since Covid.
"My day is reading, writing, painting. For now -- tomorrow a truck will hit me, or a safe will come down from the sky -- but I feel I'm in a state of grace. I'm so grateful I can do the work I want to do, and there are rewards for it. That's extraordinary."