"Alexis Rockman: Shipwrecks," an exhibition at East Hampton's Guild Hall, is a meditation on the power and peril of the sea, with paintings crossing the boundaries of realism and hellscape.
    
The show's themes of ecology, migration, and globalization come off as a climatologist's fever dream. They tap into the latent fear and dread many have about the type of world being left to future generations.
    
In his recreated real wrecks and depictions of the seas, lost art and other precious objects are often seen at sea bottom just as ghosts of humans populate the skies. Baskets of food floating on the surface are reminders of food scarcity, destruction by drought, and other challenges to survival.
    
The warning is not only about the state of the oceans, but a potential threat of loss of life, property, and culture posed by sea level rise. The animal castaways in these works -- human forms seem to appear only as ghosts or skeletons -- are mostly singular; no ark to save humanity or their species here. Only the sea creatures regularly appear in multiples.
    
An exception is a trio of polar bears, one in the water and two mounting a lifeboat. It may sound kind of trite and silly in the description, but the painting's effect is profound. As one carefully rendered bear stares out at the viewer, his eyes are both accusatory and pleading. "See what we have to do," appears to be their message as they try to save themselves from drowning.
    
In these depictions, Mr. Rockman draws on a long but distant tradition in choosing ship disasters as subject matter to explore broader themes.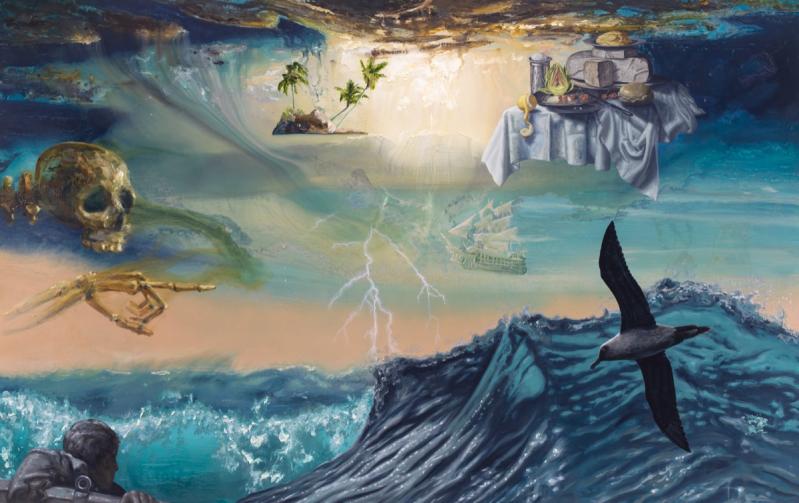 According to an exhibition essay by Daniel Finamore and Trevor Smith, 17th-century European paintings of shipwrecks functioned as allegories based on religion, politics, or human endeavor. They could serve as a kind of "Last Judgment" depicting souls to be saved or damned as they held fast to something floating, or an illustration of hubris by the world's colonizers at that time. 
    
Later paintings were more focused on historical documentation of events not likely to have been seen firsthand by many, if any. By the early 19th century, Theodore Gericault took the record from survivors of the Medusa, a ship doomed by an incompetent captain, and turned it into a searing indictment of French corruption and cronyism that still reverberates today.
    
Even in an era well versed in the photograph, the Titanic's sinking had to be reproduced by artists and illustrators based on the survivors' descriptions of its sinking. 
    
In this series, Mr. Rockman takes on the Titanic, the Lusitania, and the Medusa as well as other lesser-known disasters. In some works, his titles allude to larger, more anonymous themes and wreckage; still others are focused on depicting a specific location, like the Sargasso Sea.
    
According to Guild Hall, the show came out of a 2018 conversation between Mr. Rockman and Andrea Grover, the museum's executive director and the curator of the show, related to her work on the exhibition "Radical Seafaring" at the Parrish a few years ago and the series of shipwreck paintings he had begun at that time.
    
In her essay for the catalog, she speaks of waterways "as a network by which all of history has traveled." The 50 works, which take over all of Guild Hall's main galleries, relate how language, food, religion, disease, and culture all traveled the globe in these voyages, asserting Western dominance through war and other means.  
    
At the same time, the artist's depictions of treasure and other cargo lost at sea show the explorer's plunder. Yet they are also demonstrations of their appreciation for what they found in these strange new worlds and the efforts they made to share it with their rulers and countrymen.
    
Ms. Grover writes of Mr. Rockman's childhood as one shaped by his city upbringing in the 1960s and '70s. With a mother who worked in Margaret Mead's office at the American Museum of Natural History and a predilection for National Geographic and early nature television series like "Wild Kingdom" and "The Undersea World of Jacques Cousteau," his imagination became seared with these images, which he also blended with science fiction. 
    
One way these formative influences emerge in his work is as a contributor of illustrations that helped inspire the look of films such as "Life of Pi" and "Noah."
    
In the "Shipwrecks," the imprint on the artist is revealed in the naturalistic treatment of animals in an often moody, abstracted setting with a pulpy, oversaturated palette.
    
His own witnessing of the wreck of a cruise ship in Antarctica, as the vessel he was on helped rescue its passengers, was another prompt in the development of the series. An earlier watercolor, "The MV Explorer 1," painted soon after that incident, is included in the exhibition.
    
Some of the works, which vary in size from small watercolors to grand canvases, are so intensely rendered that they need much eyewash to keep them from overwhelming the galleries. The museum has mounted an intelligent and spare installation that suits the paintings and the viewers as well.     
    
The compositions offer enough information and obvious symbolism to stand on their own, even with casual viewing, but the labels and essays do make it come alive in ways that aren't always immediately apparent. 
    
For those seeking further enlightenment, a gallery tour with the artist and Ms. Grover will take place on Saturday at 3, free with a suggested donation and reservations through the Guild Hall website. The exhibition will remain on view through July 26.