We hear a lot about the struggles younger artists have finding their place here, more so in terms of living and working space. Finding a place to exhibit their work is sometimes easier than staying where they grew up and developed their formative ideas and viewpoints.
In the case of Chris Kelly, he spent years in Manhattan and Williamsburg and only came back decades later after he had rehabbed and sold a building in Brooklyn. Then he still had to build his own house and studio in East Hampton.
A group of his "Interiors" painted over the last 18 months and some of his sculptures, all based on the golden ratio, but deconstructed, are on view at Colm Rowan Fine Art in East Hampton.
The sculptures he makes evince a stricter interpretation of the ratio, one that could even be measured with a ruler or calipers. The paintings are more relaxed. They are reminiscent of the West Coast minimalism of Richard Diebenkorn's "Ocean Park" series, but these appear more like windows and are wholly different in their compositional organization.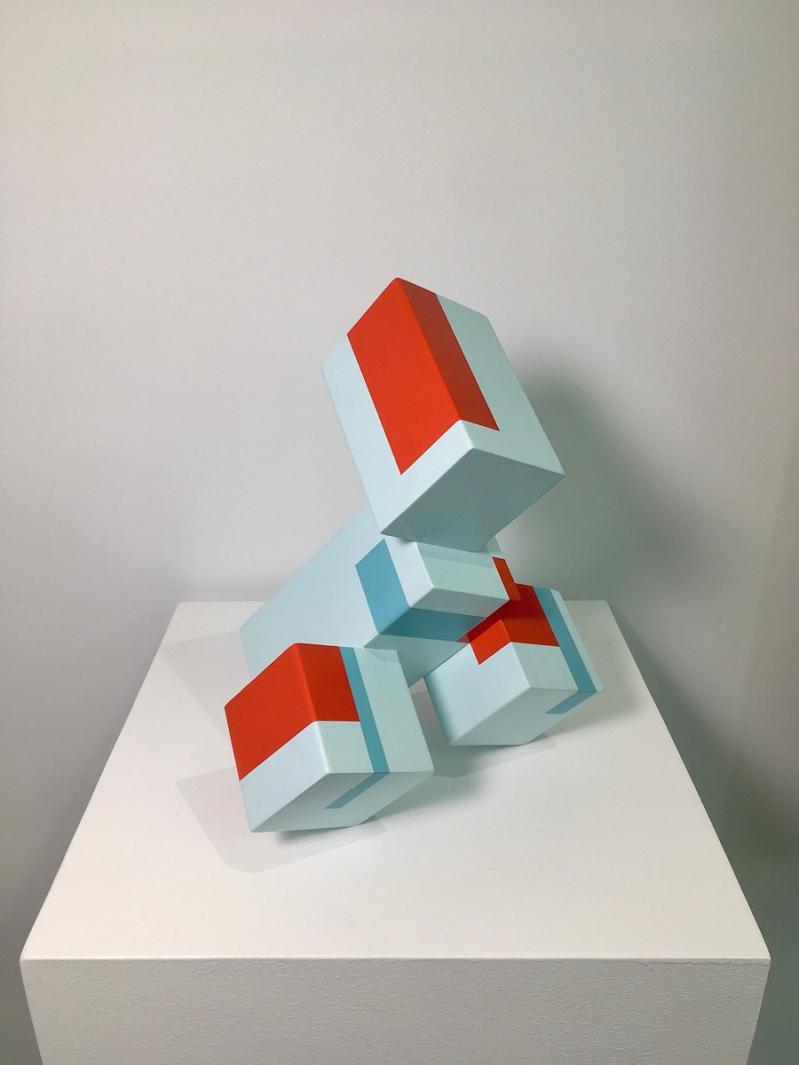 Mr. Kelly's application of paint achieves a subtle tonality, particularly in the central or main rectangles. He often mixes his paint on the canvas, and while it is not a thick application, the gradations of color are evidence of the brushwork's vibrations. He said in the gallery recently that musical vibrations corresponding to certain frequencies, and their relationship to specific colors, are also tackled in this work. In one piece, the colors of a C-chord are articulated. His compositional framework can also relate to fractals and the Fibonacci sequence, a version of the golden ratio that occurs in nature.
Yet he is inspired by less esoteric phenomena as well. One particularly pleasant piece was painted in response to the hydrangea and day lilies that run rampant throughout the South Fork in the summer. In that light, some of the paintings could correspond to seasons or weather conditions as well.
When he began painting, Mr. Kelly said, he was captivated by circular movement. His earlier work took that inspiration more literally in his use of curvilinear forms. In this series, he continues to imply such movement but in angular shapes with hard edges. The aim is to imbue the paintings with energy and the depth of three-dimensional objects, something he underlines by painting the sides of the canvas stretchers.
The series got its start in Williamsburg, but it has deepened and gained a brighter color palette from the move east. Mr. Kelly said he has seen an increase in his use of pink since he started painting here. He begins each canvas with an application of dark gray gesso over several coats of white. This seems to ground the colors painted on top of it in a certain restraint or even moodiness. The discrete areas are then marked as a grid with pencil. The lines, sometimes apparent and sometimes not, help keep the paint sharp within their borders.
Given that many of these paintings were created during the uncertain time of a pandemic, it's tempting to read something into that somberness. Mr. Kelly admitted to being depressed at the beginning, too much so to make art. Yet as the days turned into weeks, he realized he had to do something to occupy the time. 
As someone who has studied Buddhism and martial arts, it's not surprising that he found his way out of it through a higher purpose. He said what he told himself was, "Well, you have to do something. So you might as well create something beautiful in the midst of all this." That became his motivation. "In the face of all the things we can transform, remember there is beauty and that we are the creators of beauty." It is fair to say one will walk away from this show with a similar understanding.
The exhibtion continues through June 27.
This article has been changed from its print version to reflect the change in the exhibition's closing date from June 20 to June 27.