Just as it did in the mid-20th century, the work of Jackson Pollock and Lee Krasner continues to dominate examinations of Abstract Expressionism and to fascinate viewers. Their evergreen popularity is on evidence this spring as an important show of Pollock's "Mural" continues at the Solomon R. Guggenheim Museum and Krasner's collages are on view at Kasmin Gallery.
The Kasmin show, open through April 24, features one of Krasner's strongest mediums and contains several significant works. Some had their Stable Gallery premiere in 1955 and others are back from the recent retrospective of her work that traveled throughout Europe from 2019 through January.
Pollock's show, "Away from the Easel: Jackson Pollock's Mural," is centered on "Mural," his largest work and an early example of his colossal, all-over style of painting. It measures 8 by 20 feet and is part of the collection of the University of Iowa Stanley University of Art. It has not been seen in New York for more than two decades.
The painting was the commission of Peggy Guggenheim, a patron of Pollock in the old school European style of patronage where artists were hired by the wealthy, royalty, nobility, or important clergy as contractual employees. A submission by Pollock of a painting now called "Stenographic Figure" had left a committee of art advisors, assembled by Guggenheim for an exhibition the previous year, "starry-eyed," according to the exhibition curator, Megan Fontanella.
Guggenheim's monthly stipend, which began in 1943 with the commission of this painting, allowed Pollock to be a full-time artist. She also held his first solo exhibition at her gallery, Art of This Century, that year. Not yet committed to floor painting in the way he was in just a few years, this giant canvas was stretched and worked on upright after he tore down a wall in his apartment. He was still working in a style influenced by Mexican muralists and Surrealism, but moving away from it.
Part of the Pollock legend was that the composition came to him and was completed in a single night. Recent restoration efforts revealed that to be apocryphal. It was actually painted over a period of weeks from the summer to early fall, according to the Guggenheim. Once completed, it was installed in a long narrow entryway in a townhouse she occupied.
The exhibition includes a work from the period, "The She-Wolf," and one from his drip painting years, "Untitled (Green Silver)" from around 1949. An additional painting from the Guggenheim's collection, "Ocean Grayness" from 1953, demonstrates Pollock's post-drip style. The show remains on view through Sept. 19.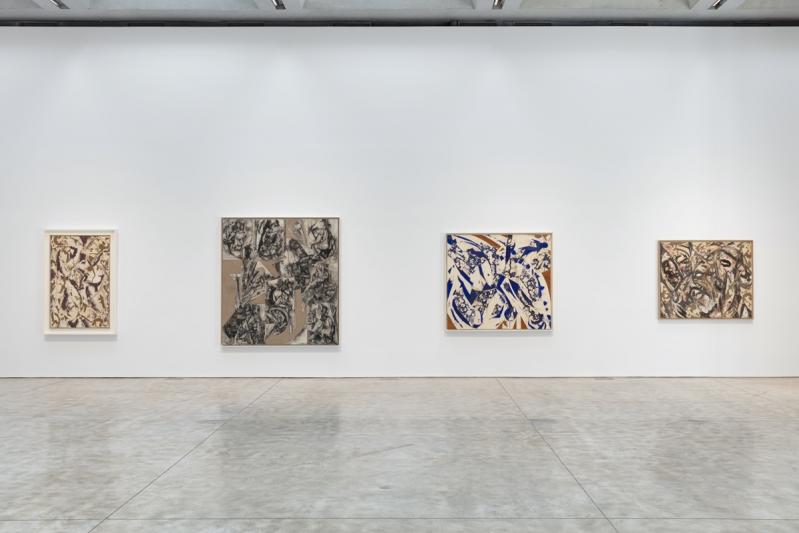 At Kasmin, the dates of the Krasner work range from 1938 to 1981. These works were the result of the artist's practice of tearing up works of her own and Pollock's and incorporating them into new collaged compositions where painting and drawing were also in evidence.
In a Fairfield Porter review of the Stable show in 1955, quoted in the show's press release, he said "Krasner's art, which seems to be about nature, instead of making the spectator aware of a grand design, makes [them] aware of a subtle disorder greater than [they] might otherwise have thought possible."
An untitled work from 1954 shows her mastery of the all-over composition that marks much art of the period. "Stretched Yellow" from the following year finds its inspiration in the late work of Henri Matisse. In later works from the 1970s, she culls old drawings made while a student of Hans Hofmann.
The exhibition also boasts her earliest known collage, "Seated Figure" from around 1938 to 1939. It evinces the European Cubism that dominated American abstraction prior to the second World War as well as the artist's early interest in this medium. The latest examples, from 1980 and '81, demonstrate both her continued preoccupation with collage as well as her late mature style. She died in 1984.
The Kasmin exhibition is presented in collaboration with the Pollock-Krasner Foundation and is on view at the 509 West 27th Street location.