The Georgica Association, a private community located on the west side of Georgia Pond in Wainscott, is an affluent but relatively under-the-radar enclave consisting of approximately 35 houses set on 137 acres. 
It is not a neighborhood where one would expect to see, in mid-December, some 15 vehicles lined up at the south end of an open field, or for that matter, several men wearing masks and headsets, looking very official while patrolling in front of a driveway. (Unless, perhaps, the Clintons were back in town?)
The answer was behind the tall hedgerows that hide an expansive shingled house from the road. The property had in fact been taken over by the cast and crew of "Charlie in the Pandemic," an indie film written and produced by Nick Schutt, a 43-year-old writer and actor whose father lives full time on nearby Sayre's Path in Wainscott.
In a nutshell, the film takes a comedic look at what happens when a well-to-do New York City family decides to quarantine in the Hamptons during the pandemic, only to see its bubble burst with the arrival of the dissolute old friend and former college roommate of a family member. 
"I grew up in New York City," said Mr. Schutt during a recent conversation on the property, whose rear lawn slopes down to the pond. "I spent my summers in Wainscott and, specifically, in the Association. I played tennis here as a kid."
He's not the only one. Maggy Schultz, a co-producer, also summered there growing up. In fact, her mother's house in the Association is the primary setting for the film. 
One of its stars, Jordana Brewster, who is perhaps best known for her recurring role as Mia Toretto in the "Fast & Furious" franchise, spent summers there as well.
"Jordana and I knew each other growing up," said Mr. Schutt. "I don't know if we got along as kids. I was sort of the Association bully in some ways, by virtue of my size, I guess."
"I've been coming to Georgica since I was 12," said Ms. Brewster. "It has been such a treat to shoot here. My character, Rosie, is really tough. She's in a relatively unhappy marriage, and they sort through it during the pandemic. She's also fiercely protective of her son, so that's really fun to play, having two boys myself."
"It's like an 'Uncle Buck' or 'Down and Out in Beverley Hills' kind of movie," said Mr. Schutt. "This country has gone through so much pain and suffering that I wanted to do something that was sort of funny. We have everything in this movie, lack of toilet paper, lack of hand sanitizer, leaving the boxes out, wiping them down, do you wear a mask, don't you wear a mask."
Speaking of masks, there are very strict protocols on the set. Temperatures are taken daily, testing is frequent, and the entire crew is masked. "Because of Omicron, I'm bribing my crew not to go into the city this weekend," Mr. Schutt said. "I'm having the Seafood Shop cater a party at their hotel. I know a lot of people who are getting sick again. That's the one thing that might stop this movie."
Last year, while Mr. Schutt and his wife were visiting friends at a farm in Middleburg, Va., infection numbers rose, and they all went into quarantine there. "Our hosts were wonderful," he said, "but you are living with another family." While the idea for "Charlie" had been percolating beforehand, during lockdown "I just sat down and it started to come out." He wrote the first draft in six weeks.
Mr. Schutt attended Carnegie Mellon University's School of Drama, where he trained as an actor. His acting credits include "In Good Company" (2004) and "The Wackness" (2008). During the pandemic he did voice-over work for "Snow Valley," a Brandon Murphy horror movie now in postproduction.
He was also an assistant to the casting director David Rubin, and, along with Deanna Brigidi, he cast the 2006 film "All the Boys Love Mandy Lane." 
Mr. Schutt described his Hollywood path as circuitous. "I always wanted to be a screenwriter, but it didn't pay the bills for a long time." He wrote his first original screenplay, "Chronically Metropolitan," in 2005. While that effort landed him an agent, the film was not produced until 10 years later, when the director Xavier Manrique read the script and brought it to the screen.
After Mr. Schutt's current agents expressed some reservations about a film set during the pandemic, "I figured, Xavier managed to make 'Chronically Metropolitan,' maybe I'll slide him 'Charlie.' I did, and he has pulled this one off as well." 
"There's a lot of me in this film," Mr. Schutt said. "It's been a fun movie to write. It's a real love letter to the Hamptons, too. Our costume designer has been amazing. Jordana is wearing a T-shirt from the Candy Kitchen, we've got shout-outs to the Grindstone in Sag Harbor."
The cast also includes Reid Scott, who defined his character as "a money-obsessed hedge fund guy who scurried his family out of the city at the onset of the pandemic." Mr. Scott, best known as Dan Egan in "Veep," lives in Los Angeles, and said he was happy to be "where there are no people around."
The shooting schedule, which was set to wrap last Thursday, began with five days in New York City and concluded with 14 in Wainscott. "New York tries to kill you," Mr. Schutt said of filming there. "Never again, never again."
Of the relatively short shooting schedule, he said, "It's an indie. These things are held together with gum and Scotch tape. With every movie, every project, there are unique challenges. But every time we felt we were down for the count, everybody rallied around."
In addition to Mr. Reid and Ms. Brewster, the cast includes Dylan Penn, Xosha Roquemore, Peter Dager, and Adam Pally as Charlie, the interloping friend. Mr. Pally, whose family has had a house in Water Mill for almost 15 years, has spent the entire pandemic here, with frequent indulgence in Suki Zuki's chicken teriyaki salad.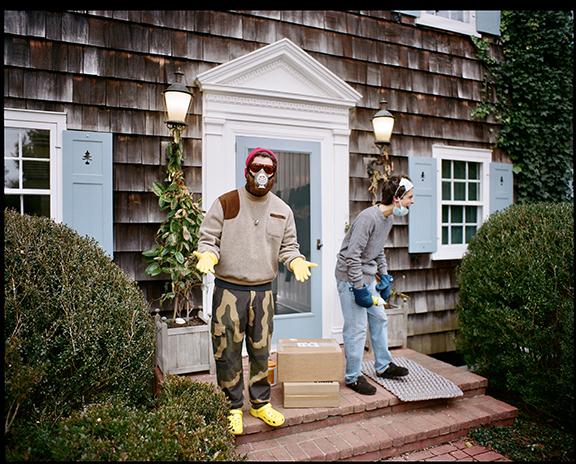 Adam Pally and Reid Scott in a scene from "Charlie in the Pandemic"
"Charlie is a free spirit," Mr. Pally said, agreeing with Ms. Brewster that Charlie's development was "a little arrested. He's had some tough times and is trying to figure out how to get out of it. When the pandemic hit, a lot of people looked for companionship. So, he found an old friend."
Mr. Schutt cited as his "day job" his position as executive story editor and writer for the popular young adult Netflix series "Outer Banks." After the filming of "Charlie" concludes, 15 weeks of postproduction in New York City will follow, but Mr. Schutt will return to Los Angeles to start season three of "Outer Banks."
" 'Charlie' is one of the more heartwarming things I've written. I think it's something we can all relate to. We're not taking any sides. This is a movie everyone can come together and enjoy, no matter where you fall. Mask or no mask, vax or no vax, we have no opinion on any of that."