Although not yet publicly announced, Phillips auction house proclaimed its presence in the Hamptons this week with a demure and obviously temporary sign at the rather showy location of 1 Hampton Road in Southampton Village.
On Tuesday evening, art handlers were hard at work hanging paintings on the walls for their fall sales and readying the space for some polished installation shots to use in its official opening announcement.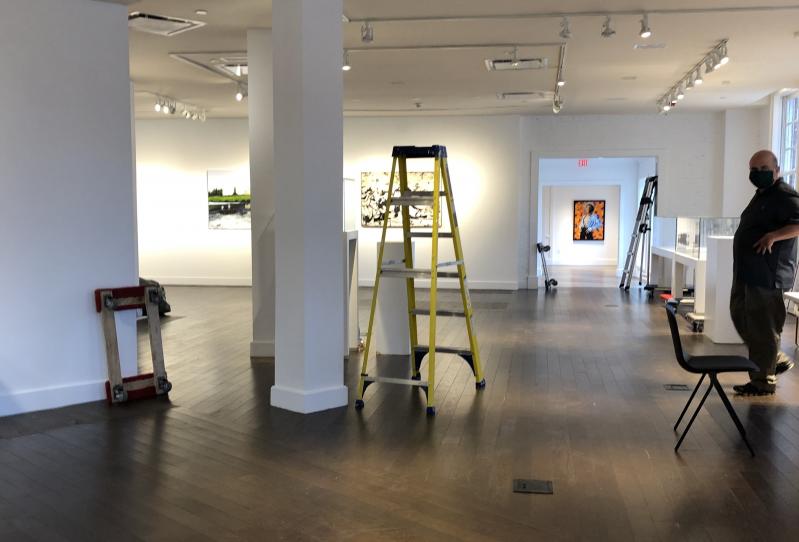 Sean Cleary, Phillips's chief operating officer for the Americas, who was inside and warmly welcomed a visitor, said the official opening would take place on Friday. Opening hours will be Tuesday through Sunday from 11 a.m. to 6 p.m.
The building, which is on the corner of Main and Nugent Streets, is perhaps the most high-profile location in the village and very hard to miss going into or out of downtown. Once the town hall, it has more recently housed Saks Fifth Avenue and Pottery Barn.
"We're very much popping up here," Mr. Cleary said of the quick takeover of the space, which still has a "for rent" sign out front.
He said the auction house will bring art, watches, and other items for its fall sales to the space, which has multiple floors, high ceilings, track lighting, an enviable amount of exhibition space, and the requisite white walls.
The building's Georgian and Neo-Classical style would fit in well in London, where Phillips was founded in 1796. It has locations in New York, Paris, Tokyo, Moscow, Geneva, Hong Kong, Taipei, Antwerp, and Seoul.