With New Yorkers hunkered down in their second homes here since March and in no hurry to return, other New Yorkers -- particularly gallery owners -- have realized the mountain must come to them. As a result, some galleries have opened spaces on Newtown Lane and nearby, or plan to, for an extended season or even multiple years.
Marc Glimcher, the chief executive officer of Pace Gallery, which has galleries in Manhattan, London, Seoul, Hong Kong, Geneva, Palo Alto, Calif., and now East Hampton, credited his wife with the suggestion that they "take a little spot in town . . . for people to come in and look at art."
After months of staying in their own East Hampton getaway, he thought that sounded like a great idea. "So we did," he said last week. Pace has taken over the 1,700-square-foot space long associated with the Vered gallery on Park Place. It will open on Wednesday with work by Yoshitomo Nara to coincide with the publication of Yeewan Koon's monograph on his work.
Noting that the collectors, artists, curators, and writers here are not likely to go back to the city this summer, "there is a whole community here that we and artists depend on. There's also this moment here where people need to re-engage with art and what art is in their life." He said opening a space here "is a really nice way to get started."
Pace's galleries in New York will open soon by appointment, continuing through mid-August the exhibitions (including a show of Julian Schnabel) they had on view when they closed. Mr. Glimcher said, however, that it's an accepted notion that New York's art scene won't really recommence in earnest until September.
With that in mind, he is planning to change the East Hampton shows every week, an accelerated schedule from the three-to-four-week run that is the norm. "We're just jamming them in, my people are trying to make me stop," he admitted. The shows they are mounting are not simply a transfer of those they had originally planned for the spring and summer, but a new program constructed just for this space.
Skarstedt, which has an Upper East Side gallery, has taken a storefront at 66 Newtown Lane and installed work that had been planned for the last week at Art Basel before it was canceled. Pace will do the same in August, but did not put those works online in the virtual booths at Basel. Instead, it showed monumental sculptures that would never fit in an art fair booth. Artists Pace plans to feature this summer include Lee Ufan and debut shows by Torkwase Dyson and Sonia Gomes. 
Asked how sales were during the months when works could be seen only virtually, Mr. Glimcher said, "We surprised ourselves with as much as we did do." But the sales came from "people super familiar with the work, people looking for something specific." The interest built from seeing the art "maybe at shows, or going to museums. That's how the fuel gets in the tank in the art business, people physically interacting with art." 
Per Skarstedt agreed and said last week that he was excited to be in East Hampton. "Our clients are eager to view artworks in person again." The gallery has committed to a three-year lease, making it likely it will become a permanent location. 
Skarstedt opened last week and has work by a number of East End-affiliated artists such as George Condo, Willem de Kooning, Eric Fischl, Barbara Kruger, Richard Prince, David Salle, Cindy Sherman, and Andy Warhol, as well as Albert Oehlen, Rebecca Warren, KAWS, Martin Kippenberger, and Christopher Wool.
Van de Weghe Fine Art, a neighbor of Skarstedt on the Upper East Side, has taken a 1,600-square-foot space at the same address. Christophe Van de Weghe told Artnet News he envisioned showing work by Jean-Michel Basquiat, Alexander Calder, Roy Lichtenstein, and Andy Warhol there. He too has signed a three-year lease.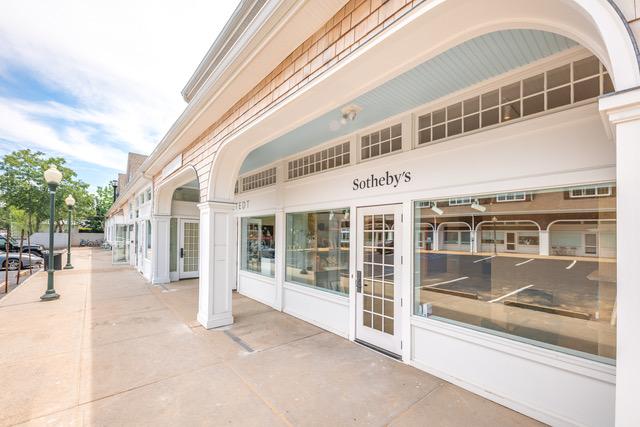 Even though Sotheby's started live auctions again on Tuesday with its American Art sale, it too has opened a gallery at 66 Newtown Lane, for art, design, and luxury goods such as vintage watches and jewelry by David Webb and Van Cleef & Arpels. On view are works by Warhol, Ed Ruscha, and Mr. Condo.
Sotheby's will hold events such as virtual wine tastings and trunk shows and will be open seven days. Mr. Glimcher is also eager to hold events. "Whenever they tell me I can, I'm going to do it." Although "jamming people into that little space in town is probably out of the question," he said they'll find another way. "We'll probably have some outdoor sculpture shows out here at my place that people can come to."
He said he hopes his New York colleagues across the street and the local galleries might want to participate in having a night every week when "people can stroll around" East Hampton Village, similar to how galleries in the city in the same neighborhood often coordinated their opening evenings before the pandemic. No matter what, he said, "we will follow every rule and regulation to the letter."
"The more the better," said Eric Firestone, whose gallery at 4 Newtown Lane is a short walk from the others. "It's more visibility for all of us." He added that those galleries committed to staying for a while were a good thing. "We're all doing different things."
With his own gallery in the city at Great Jones Street, he sees the future for the art market during Covid-19 as shaky if the trends continue. "I think you are going to see that at least 50 percent of galleries in New York will no longer exist, if not more," he predicted. These would be "the smaller galleries of emerging artists and mid-tier galleries that can't sustain a shutdown for long periods of time. "
Mr. Firestone said he would continue to do what he has been doing, in his gallery and at a 7,000-square-foot storage area where he can show more art to his clients individually. This year, he won't have a specific program, but he will mount his "Montauk Highway" show in August, which has become an annual tradition.
Mark Borghi, who has a space in New York and is expanding to Sag Harbor from his established gallery in Bridgehampton, said the city galleries' arrival for the summer and beyond "shows the depth of the collecting base that exists from Southampton to Montauk." He will continue to highlight the New York School and women artists in his spaces.
Mr. Glimcher's commitment is only through Columbus Day, so far. "It may end up being that it was a dumb idea not to do it before, and we may have such a great time this summer doing it that we're going to keep doing it." Asked why he never pursued a space here before, he said, "It probably falls under the category of there's so many things to do, you can't do everything."
Like many business owners out here, he realized if he wanted a staff, he would have to find housing. So he rented a house where his employees can rotate in and out each week. "It was the only way to do it."
He said galleries are "not really like a retail business, but a relationship business. All of our gallery locations -- and all gallery locations -- don't serve as a store that you walk in, find something to buy, and buy it. They function as a place for artists to show a lot of people in a community what they are doing."
There are plenty of people who may buy something they see there, but "it's really the result of having an ongoing relationship with us and artists. So, it's a little more complicated than opening stores all over the world like a luxury brand. It's not a luxury brand; it is much more of a hybrid-type thing, but it feels like this is an important place for us to do that."