After a six-month hiatus, the Watermill Center's residency program resumed on Oct. 21 with the arrival of five artists who will enjoy an interlude of safely distanced creativity. They are Regina Parra, who lives in Brazil; Tahir Carl Karmali, who was brought up in Kenya and is based in Brooklyn; Paige Mazurek of Portland, Me., Zeinab Shahidi Marnani, who divides her time between Iran and New York City, and Claire Watson, who lives and works within walking distance of the center.
In Process at the Watermill Center, a series that fosters engagement between artist residents and members of the community, will resume on Saturday afternoon at 2, but, like so many cultural events these days, will do so virtually.
Saturday's program will also be the first since the Watermill Center entered into a partnership with the National YoungArts Foundation, which identifies accomplished artists in the visual, literary, and performing arts between the ages of 15 and 18, or grades 10 to 12, and provides them with creative and professional development opportunities throughout their careers. 
In its inaugural year, the partnership, which provides YoungArts alumni with a residency at the center, will launch with Ms. Mazurek, a YoungArts graduate, who will be mentored at the center by Ms. Marnani, a Watermill alumna and former Maren Otto Fellow.
Ms. Mazurek, a multidisciplinary artist who works in photography, sound, collage, and sculpture, is studying audio storytelling at the Salt Institute for Documentary Studies at the Maine College of Art. 
"I'm so excited to be at Watermill because of the access to a creative community it's given me, during a time that's otherwise been extremely isolating," Ms. Mazurek said. "Being able to have the types of interactions and conversations that really push your work, thinking, and perspective forward, is invaluable."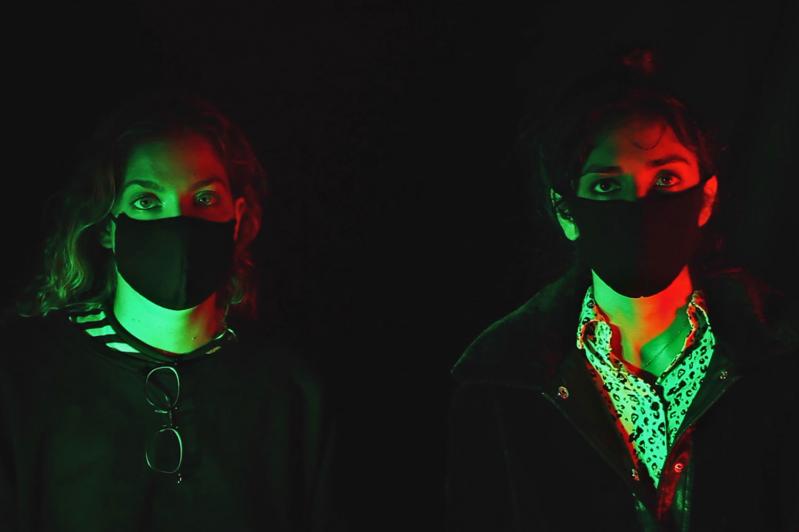 Her most recent project is a crowd-sourced audio stream of voices recorded during this year's Black Lives Matter protests. While at the center, Ms. Mazurek, with guidance from Ms. Marnani, will develop an immersive installation that will transform the recordings into a dynamic experience for the audience.
The art of Ms. Marnani, who has a degree in visual communication from Tehran University and an M.F.A. in sculpture from the Yale School of Art, initially explored the concepts of time and memory, but she eventually began to experiment with time-based mediums such as film and photography. 
Her latest project, "Soliloquy III," focuses on the role of the artist as documentarian through a series of videos made with artists from different disciplines, one of whom, Ms. Mazurek, talks about her creative process. "In a series of rounds," said Ms. Marnani, "Paige plays a recording of herself, and pauses and comments on her earlier statements. The comments are edited in right at the moment she paused the file. The final result will be a multichannel video of her that I am hoping will unveil different aspects of her work."
A multidisciplinary artist, Mr. Karmali works in painting, sculpture, sound, and photography to address global environmental, political, and socioeconomic issues as well as his personal experience moving across borders. His "Strata" series consists of eight sculptures made from dyed raffia stained with cobalt, a metal commonly found in mines in the Congo. "Paradise" features images of his mother in the Seychelles, her home country, screen-printed on canvas.
Painting, video, and performance are the mediums Ms. Parra uses to address issues such as resistance and subversion. She focuses on the social body of women as a site of affirmation and potential power, but also sees the human body as vulnerable and works with the possibility of overcoming its constraints. Her performances often draw from classical sources -- Shakespeare's "Hamlet" and Euripides' "The Bacchae," for example.
While at the Watermill Center, Ms. Watson is developing new collage constructions that are influenced by her research into its library and collections, with a focus on textiles. She will present aspects of her research and some finished or almost finished new works on Saturday.
Speaking of the residency, she said, "There is on one hand a set of very strict protocols that we've agreed to follow, out of regard for each other's safety, and on the other, the incredible freedom that comes with having the time and space to focus so intensely on our projects. It's been exciting and rewarding to have this chance to live and work with four amazing artists from across the globe, to exchange studio visits, and to discover all kinds of crosscurrents in our ongoing conversations."
Registration for In Process can be completed on the center's website.