Lonnie Holley introduced himself as "a self-taught artist from Alabama, and I'm living in Atlanta, Georgia. I work with found objects, as you can see," he said, gesturing to a sprawling pile of fabric, tree branches, strips of paper, leaves, silver and gold wire, an ax handle, and various other things he at one point referred to as "debris."
Mr. Holley is in residence at the Elaine de Kooning House in East Hampton's Northwest Woods along with Matt Arnett, a longtime friend whose family's history is entwined with Mr. Holley's. Mr. Arnett is the founder and curator of Grocery on Home, a nontraditional music venue in Atlanta where Mr. Holley, who also makes music, has performed.
Mr. Holley was born in 1950, and his early life was, according to his website, in a considerable understatement, "chaotic." One of 27 children, from the age of 5 he worked at such jobs as grave digging, picking up trash at a drive-in movie, washing dishes, and picking cotton.
His education ended in the seventh grade, and he spent two and a half years in the Alabama Industrial School for Negro Children, a juvenile corrections facility that, as described by Mr. Holley, calls to mind the notorious Dozier School of Colson Whitehead's novel "The Nickel Boys."
Mr. Holley said he began making art when he was about 5 years old, "but I didn't know I was an artist. I was just doing things." It was after his sister lost her children in a house fire that he started carving tombstones for her babies. He drove his truck, which had 120 pieces on it, to the Birmingham Museum of Art.
"The registrar came to the door, and I told them I had some stuff, since I didn't know what art was. And the lady went and got the director, and he said, 'You did this?' He told me to bring it in." The museum now has nine pieces of his in its collection, including two of the sandstone carvings. Another carving, "Ruling for the Child," belongs to the Metropolitan Museum of Art.
In 1986, William Arnett, Matt's father, a collector of antiquities from around the world, visited Mr. Holley's home in Birmingham and bought one of his assembled sculptures. According to Mr. Arnett's obituary in The New York Times, "It inspired him more than anything he had seen in Europe, Africa, or Asia ever had."
"I'm proud of William Arnett," Mr. Holley said. "I'm proud of him because he gave me the opportunity to do my work. He said, 'Lonnie Holley, you do you.' " After a pause he pointed out the "debris" on the floor of the de Kooning studio. "This is Lonnie Holley," he said. Then, picking up a branch to which he began attaching pieces of quilting and silver wire, he said, "We are the branches. I am the branches of my ancestors' tree."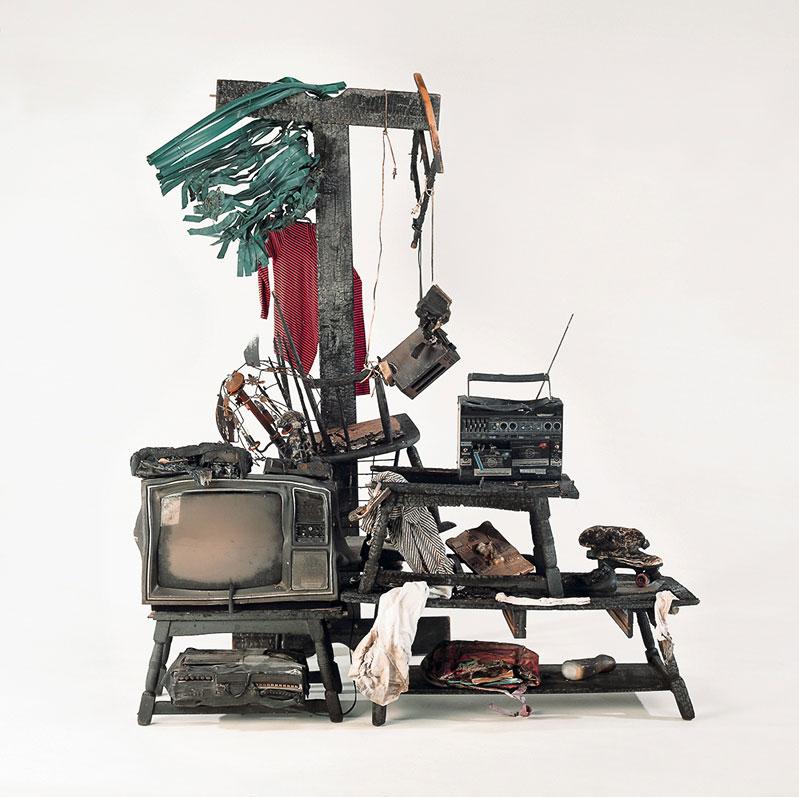 The work in the studio includes large panels covered in quilts and then painted, other spray-painted wood panels whose images were created in part using self-made stencils, and assemblages using metal armatures, wire, wood, cloth, and whatever else he might have gathered in the woods behind the studio. Everything he makes, whether objects or music, derives from his experience and heritage.
Of a black piece of wood hanging from the wall, he said, "It looks like a ship." Then, alluding to the strips of fabric he often incorporates in his artworks, "But I'm trying to remind them about the clothes that came along with the slaves, what were they wearing, who made what for them to wear. The ship looks like it's just rotted away, it's so beautiful. When I found that piece I said I've got to have it. It called out to me."
Matt Arnett has been involved with Mr. Holley's music for years and now manages his music career. "Lonnie has been making music since the early 1980s," he said. "He would record himself singing." In 2006, Mr. Arnett was working on a record project and invited Mr. Holley to the studio so his music could be recorded professionally.
His first album, "Just Before Music," released in 2012, was named one of the year's top 10 albums by The Washington Post. Three more albums have followed, as has extensive touring throughout the United States, Canada, and Europe.
In a review for pitchfork.com of his fourth album, "National Freedom," Madison Bloom called Mr. Holley "one of America's great alchemists. . . . As a songwriter, [he] builds rich compositions on the foundation of American roots music, but reshapes them into works that are beyond genre."
Guild Hall will provide an opportunity to hear Mr. Holley's music on Nov. 22 at 6 p.m. with a free virtual performance and conversation with the artist.
"A lot of artists make art to show it," said Mr. Arnett. "Lonnie just lives art and music. He's constantly creating, so the idea is to get him into a setting where it can be properly documented as often as possible." His music is different every time he performs because he responds to where he is at that moment and what is happening in the world.
"Coming into a place, I get an idea and I'll sing off of that idea," Mr. Holley said. "Gathering thoughts is like gathering different pieces of material . . . I get little bits maybe of the architecture of the city. . . . In North Carolina it might have been tobacco fields, or going to Tennessee, coal mining and all those other things. Whatever I feel about that place I try to mix it into a song or two. . . ."
"Just last week," said Mr. Arnett, "Lonnie was singing, and he said to the band beforehand, 'Bring me up out of the bayou.' You can't write that on a chart, but the musicians he was working with have collaborated with Lonnie enough that when he said that, they knew he wanted it swampy."
Mr. Arnett said that the improvisatory nature of Mr. Holley's performances is rooted in centuries of the Southern African-American culture. Moreover, his music is based on decades of experience and thousands of hours of rehearsing by himself, trying out how words sound together.
"Then, when something happens in the world, whether it's George Floyd or the virus or all the times Lonnie has been profiled and beaten by the police, he's taking all those experiences and singing about them. I've known him 35 years, and almost every time he performs he blows my mind."
It was Mr. Arnett, who knows Chris Byrne, the owner of the de Kooning house, who arranged for the residency there. Other artists, including Joe Bradley and Eric Haze, have acknowledged the resonance of the space and its connection, through Elaine de Kooning, to the New York School.
"This is just a little bit of me," Mr. Holley said of the profusion of work in the studio, adding, "I think it's a beautiful thing for artists to be able to use this space. I call it a collaboration with the spirits."