When Suzanne Anker was growing up in Brooklyn, she often explored the empty lot behind her apartment building. "I collected caterpillars and brought them into my house, turned them into cocoons, and watched them hatch." For her 2014 installation in Shanghai of "Rainbow Loom," she gathered specimens from nature as well as local products from supermarkets and other stores and arranged them in petri dishes based on color.
Specimens, natural and man-made, and petri dishes figure prominently in Ms. Anker's work, as do medical museum artifacts, microscopic images, LED lights, genetic coding, all that and more feeding into a body of work that exists at the intersection of art and science.
Born and raised in Brooklyn, she started out studying chemistry at Brooklyn College, "but then I realized I did not have the sensibility for the precision of measurement," so she changed her major to art. There was always a question for her of whether it was going to be science or art, and a number of years passed before the two were fully reconciled in her practice. 
That resolution has found expression since the 1980s in her artwork, her writings, and, more recently, in the Bio Art Lab she established in 2011 as part of the School of Visual Arts B.F.A. fine arts department, which she chairs. No longer torn between science and art, she is now "an artist who uses science in terms of its theories and iconography."
During a conversation in her East Hampton studio, she cited the artist Ad Reinhardt, one of her teachers at Brooklyn College, as "probably why I'm sitting here with you today. He was the first person who interested me in art as a philosophical undertaking." While she became immersed in the New York art scene while still an undergraduate, she decided the experience of being an artist was "just too hard, really iffy." 
After graduation, she taught art in the New York City public schools and married a medical student. In the early 1970s, at the height of the Vietnam War, he won a draft deferment to become a prison psychiatrist in Boulder, Colo.
Inspired by the landscape, she enrolled in the M.F.A. program at the University of Colorado. "I started experimenting with different kinds of iconography and materials, because in Colorado you didn't have the heavy duty pressure of the New York School and the whole idea of being part of history." 
She began making abstract, topographical relief pieces in cast paper, which led her to an experimental workshop in Santa Cruz, Calif. Garner Tullis, who ran the program, put together a printmaking exhibition at the Martha Jackson Gallery in Manhattan in 1976. Ms. Anker was included in that show, as well as others in Chicago, England, and Poland.
"It was a big wake-up call," she said. "There I was escaping from New York and then I was being called back." It was two more years, during which she taught at Washington University in St. Louis, before she moved back to New York City and into the SoHo loft she still owns. 
In 1979 she was invited to have a solo exhibition at the Walker Art Center in Minneapolis, and the same year she was included in "The Great Big Drawing Show" at P.S.1. "On the wall next to mine were these drawings by someone I never heard of." She didn't know until nine years later, when she met him for the first time, that that "someone" was Frank Gillette, a pioneering video and installation artist. They have been together ever since and have been based in East Hampton since 1993.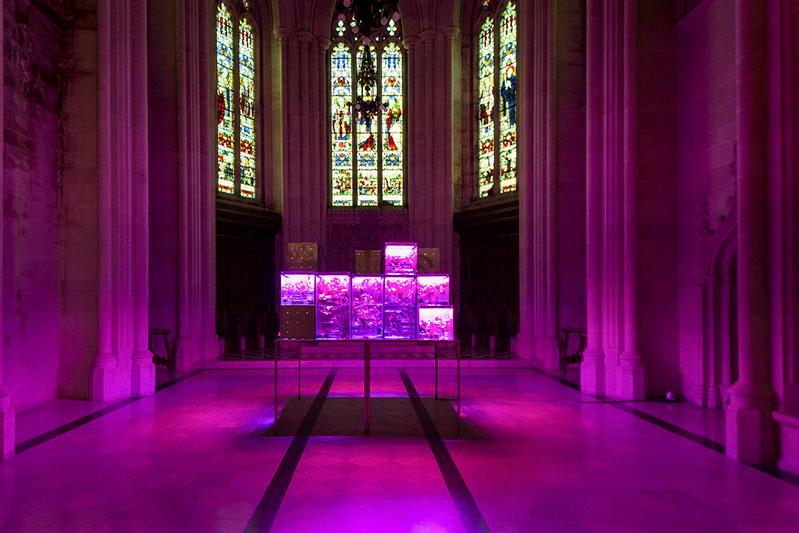 In 1989, she went to the University of North Carolina at Chapel Hill for a semester to audit classes in genetics. Two years later, back in New York, she created "Gene Pool," which included suspended pigment on large vellum sheets and sculptural arrays using metallic fibers of stainless steel, copper, aluminum, and bronze. Genetics, chromosomes, and DNA have figured in her work ever since.
Her 1993 installation "Zoosemiotics" was included in "Paradise Now: Picturing the Genetic Revolution," a show that opened at Exit Art in New York City in 2000. In that and other works, chromosome patterns resemble calligraphy. "Chromosomes are the writing in the body. There are 23 chromosomes and 26 letters in the alphabet, so for me there was this real balance."
While "Paradise Now" traveled widely and received extensive media coverage, mostly in scientific journals, "the art world didn't pay attention to it." Ms. Anker called Dorothy Nelkin, a renowned sociologist of science whom she had met several years before, to suggest they put the material into a book. "The Molecular Gaze: Art in the Genetic Gaze," which they co-wrote, was published by the Cold Spring Harbor Laboratory Press in 2004.
In 2005, after five years of teaching art history at S.V.A. -- "I'm not an art historian, but I can drive without a license" -- she was asked to take over the fine arts department, which subsequently relocated to a building in Chelsea. When she told David Rhodes, the school's president, that the department needed a bio art lab, he said, "I don't know what that is." 
"The Bio Lab was really the materialization of the way in which art, technology, and science can form a bond," she said. She explained that the lab was a cross between a 19th-century lab and a 21st-century one. It has had live animals such as coral, fish, Madagascar cockroaches, a lizard named Lizard of Oz, as well as materials such as microscopes, natural pigments, vegetables, and mycelium, which is being explored as an organic substitute for Styrofoam.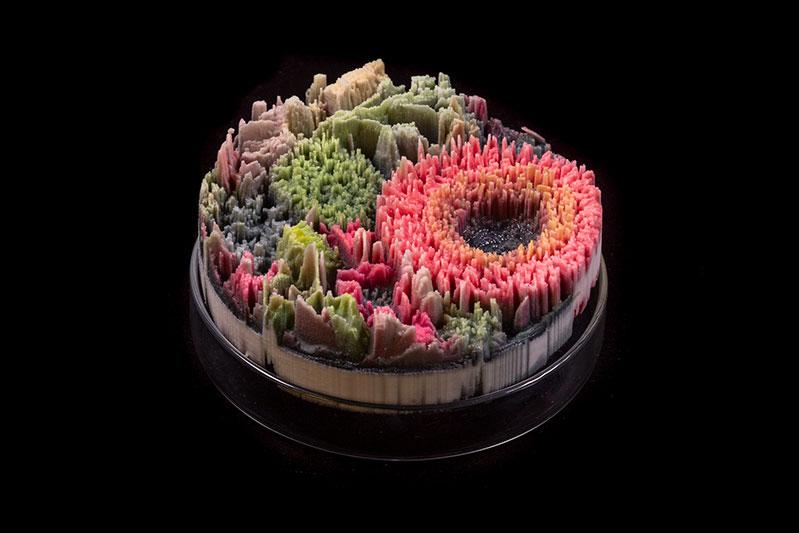 Petri dishes figure in much of her work. For "Vanitas (in a Petri Dish)," from 2013, Ms. Anker created compositions in small petri dishes from found objects such as dead insects, bones, skulls, minerals, flowers, eggs, and metals. Each dish was then photographed and printed in a large format. While many of the objects are commonplace, the colorful compositions set against black backgrounds are striking.
The photographs from "Vanitas" became the starting point for "Remote Sensing," a series she began in 2014. The data from the photographs was translated to a three-dimensional program, which directed a 3-D printer to generate three-dimensional objects from plaster, pigment, and resin that suggest micro-landscapes. Each piece was then photographed, and the images are exhibited with the objects.
The petri dish often serves Ms. Anker as a framing device. "It's very important in two ways: It's obviously a piece of scientific apparatus that allowed the birth of microbiology, in vitro fertilization, and so on, because it could keep things sterile, but it's also a cultural icon."
For another ongoing series, "Astroculture," Ms. Anker grows vegetables and herbs from seeds under LED lighting in chambers made of plastic and galvanized steel. The project is inspired in part by NASA's Space Project Development Program, which explores the possibilities of growing plant life in space. The boxes, which are stacked in various configurations, have been shown at Exit Art, St. John the Divine Cathedral in New York City, in Korea, and, recently, in the "Drive-by-Art" exhibition on the East End.
The conceptual underpinning of Ms. Anker's work does not diminish its visual allure. "Beauty is important to me," she said, "not only for its own sake but for the fact that it attracts people to think about stuff."