After long spring weeks of being cooped up in the house with nothing to do, both artists and laypeople turned their eyes, hands, and minds to new projects. Rosario Varela is no different.
The Amagansett resident and native of Argentina is known for her abstract ceramics and paintings, often loosely related to real scenes, subjects, and objects. They're not the kind of artworks that are meant for viewing in an open, outdoor setting. This was a problem when she was invited to participate in June's "Art Apart," an exhibition sponsored by the East Hampton Arts Council, which featured "drive-by" or "walk-up" art in socially distanced environments.
Contemplating something that could work under those circumstances, she said that "what I was doing were small intimate ceramics, testing glazes and clays. I thought I would sit this one out."
Having planned a trip back home to Argentina in March that was at first postponed and then eventually canceled as the virus and then lockdown spread, "I didn't get into my work in a way that I thought I could show."
But the appeal of and need for community in an isolated time became too loud for her to ignore. So she set about coming up with something more conceptual.
"It felt wrong to sit it out.  I wanted to be part of things, part of the community," she recalled. She had joined marches after the death of George Floyd, which reconnected her to her neighbors as well as those national protests.
Eventually, she found a roll of red signage paper. It brought forth thoughts of blood, Covid-19, and the civil unrest going on in the rest of the country. She acknowledged that these were all awful things, but "I thought, what if I made a web or some kind of connective tissue that brings us all together, a symbol."
She used the paper to make links of varying sizes, from small to extra-large, and connected them at different points with gold tape. On the morning of "Art Apart," she and her son took the piece outside and began hanging it from a few branches facing her front sidewalk and anchored it to the ground in a few places.
"It looked all right, not all that, but it did what I wanted. More than anything, I liked participating, being part of it."
One of those who viewed the piece that day was Anthony Madonna, Guild Hall's education fellow. He asked her if she was interested in expanding on the piece and then visited her studio. At first, she wasn't sure, "I'm more in touch with clay than anything else right now."
Then she saw the Minikes Garden -- "very European, very serene -- I totally saw it hanging there." She said she loved the symmetry of the four trees and the four stone benches. "As I was speaking, Anthony was very much into it and contributing as well." Casey Dalene, a curatorial assistant and associate for museum education at Guild Hall, joined him as co-curator.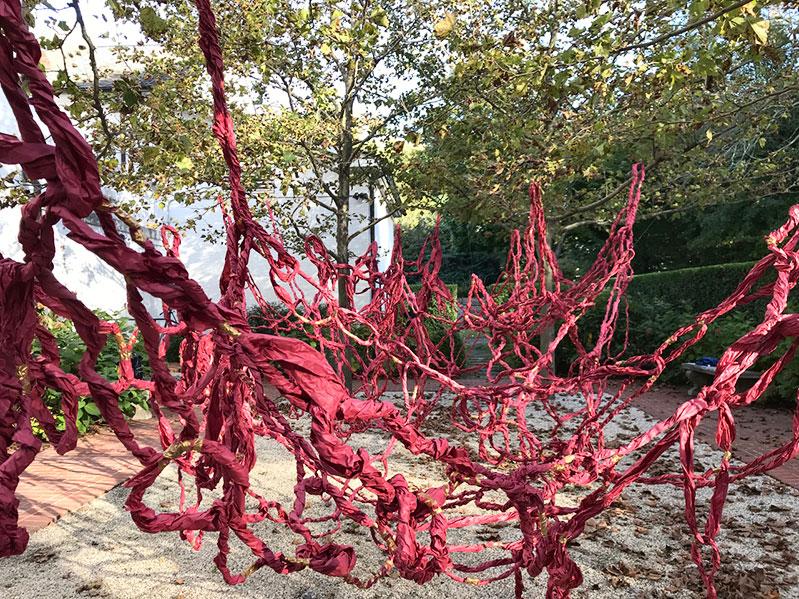 The resulting show, "Red, Gold, and You," which opened last weekend and continues through Monday, allows Ms. Varela to explore the same concept in a much larger format and setting. She has also added a durational element. After contemplating the piece, the viewer can modify it by instructing on-site facilitators, including the artist and members of Guild Hall's Teen Arts Council, to make changes to the links. "Little by little, you can change the whole thing. . . . It will change and stay changed."
The installation and following interactions will be filmed as well to track those changes. Likening it to the idea of one person, one vote, she said, "It's the power of one person's move over time and many people with single moves." The vote matters, the move matters.
She admits that giving up one of her artworks to chance is a change of pace for her, even though she has said her work is the result of "a steady search for the enigmatic in a universe where the unexpected is a crucial element."
"I'm totally up for anything, but I am fairly controlling and perfectionistic when it comes to my work." Ceding that control is "part of the concept, part of the challenge. It's embedded in the offering, that taking a risk and getting out of the comfort zone."
A blood drive that is loosely tied to the exhibition but aimed primarily at the pressing need for donations will be held at Guild Hall on Friday. Reservations for viewing the installation and for the blood drive are recommended and can be made through the Guild Hall website.